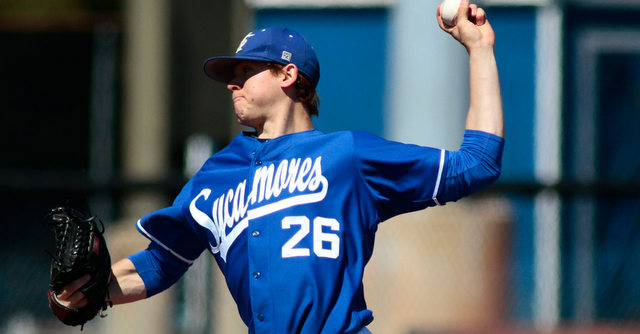 According to Bob Elliott, the Yankees have signed second round pick LHP Jeff Degano to a $650,000 signing bonus. That is well below the $1,074,400 slot value for the 57th overall pick. We heard Degano was in Tampa two weeks ago, indicating the two sides were close to a deal.
Degano, 22, was at Indiana State from 2013-15 but missed most of 2013 and all of 2014 due to Tommy John surgery. He returned to the mound this spring and pitched to a 2.36 ERA with a 126/28 K/BB in 99 innings, and he was especially strong down the stretch after shaking off the elbow reconstruction rust. Keith Law (subs. req'd) recently said Degano has "first-round stuff" but fell in the draft because he is almost 23 and because of his injury history.
When healthy, Degano sits 90-93 mph with his fastball and will touch 95 from the left side. His go-to pitch is a hard slurve — not quite a slide, not quite a curve, it's in between — in the 78-82 mph range. Degano also throws a changeup but it needs work. He has the size (6-foot-4 and 200 lbs.) and stuff to start. I'm guessing Degano will head to Short Season Staten Island sometime soon.
As our 2015 Draft Pool Tracker shows, the Yankees now have almost $650,000 in draft pool savings to spend. I'm guessing some of that will go to an overslot bonus for first rounder UCLA RHP James Kaprielian and the rest to players taken after the tenth round. New Jersey HS LHP Andrew Miller (34th) seems like a prime overslot candidate.