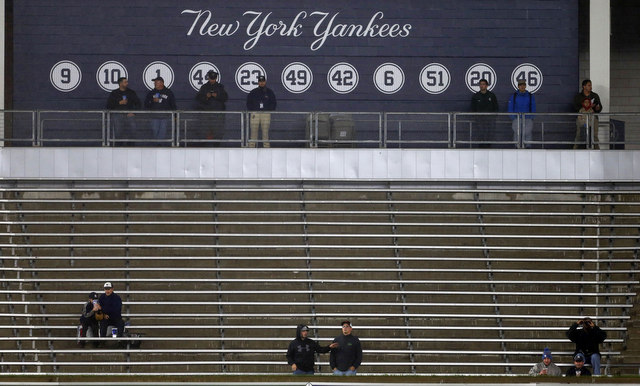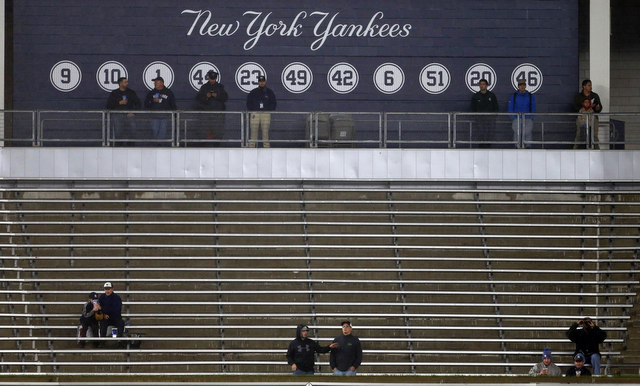 At long last, our 2016 Season Review series comes to an end today. Every year I wrap the season review up with a post on some random stuff I found interesting or caught my eye or whatever. Just stuff that's worth touching on but isn't worth a full post, you know? Some quirky stats and whatnot. Time to put a bow on the season review. Here's our last little bit of 2016 coverage.
Attendance
Attendance at Yankee Stadium was down this season. We all saw it. We watched on television. It wasn't entirely unexpected either, even after the wildcard berth a year ago. The Yankees have been mostly mediocre the last few seasons and that doesn't exactly sell tickets. Here are the attendance numbers the last few seasons, via Baseball Reference:
2012: 3,542,406 (43,733 per game) — swept in ALCS
2013: 3,279,589 (40,489 per game) — Mariano Rivera's final season
2014: 3,401,624 (41,995 per game) — Derek Jeter's final season
2015: 3,193,795 (39,430 per game) — lost Wildcard Game
2016: 3,063,405 (37,820 per game) — missed postseason with no farewell tour
It's worth noting the Yankees were second in the AL in total attendance this season behind the Blue Jays (3,392,099) and sixth in all of MLB in attendance. It's not like they were near the bottom of the league or even middle of the pack. Relative to the rest of the league, attendance was very good this year. Relative to Yankees' standards, attendance was down. Especially considering the attendance numbers are tickets sold, not tickets used. There were large swaths of empty seats late in the season.
On a per game basis, the Yankees' attendance this past season was their lowest since drawing 36,484 fans per game in 1998. Not too many folks wanted to see a 114-win juggernaut, I guess. In all seriousness, the relatively low 1998 attendance is because there is a lag between team performance and attendance change, historically. Got a great team? The big attendance spike comes the following season, not that season. (The 1999 Yankees drew 40,651 fans per game.) That's because most tickets are sold before the season and early in the season.
The Yankees made the Wildcard Game last year and there were reasons to feel good about the team coming into 2016, but they got off to a slow start, slow enough that they sold at the deadline. That's a pretty significant event that could have an impact on attendance. Sure enough, the Yankees drew 38,588 fans per game before the trade deadline and 36,515 per game after the deadline. Can't say a drop of 2,000 fans per game surprises me. The team essentially threw in the towel.
It's possible if not likely attendance will drop again next season, even though a mediocre team with young players is far more exciting than a mediocre team loaded with veterans in my opinion. Given their attendance this year, it's not unreasonable to think the Yankees could draw fewer than 3,000,000 fans in 2017 for the first time since 1998. If it happens, it happens. Whatever.
The Shift
Over the last few seasons the Yankees have become one of the most shift happy teams in baseball. According to the fancy Baseball Info Solutions data I have access to through CBS, the Yankees used the seventh most shifts in baseball this season, though they were close enough to bunch of other teams that they were a few more David Ortiz and Chris Davis at-bats away from being third.
Overall, New York's performance with the shift was not great, at least according to the data we have. Chances are the team sees something different with their internal data. Here are the numbers, via FanGraphs:
| | No Shift | All Shifts | Traditional Shifts | Non-Traditional Shifts |
| --- | --- | --- | --- | --- |
| Yankees | .284 | .304 | .301 | .329 |
| MLB AVG | .298 | .297 | .298 | .293 |
A shift qualifies as a traditional shift if one of three things happens: three infielders on one side of the infield, two players are significantly out of position, or one infielder is playing in the outfield. If any of those three conditions are met, it's a traditional shift. Anything else is considered non-traditional.
Anyway, those numbers in table are both AVG and BABIP. They're identical because strikeouts, walks, and home runs are not included in the shift data. Interestingly enough, the overall MLB batting average was essentially the same when there was a shift and no shift on this past season. You'd think batting average would be lower with the shift since that's the whole point, but nope.
For the Yankees though, their overall AVG/BABIP allowed with the shift employed was 20 points higher than without the shift. That's backwards. The whole idea is bringing down your AVG/BABIP allowed by using the shift. This could be a statistical blip, but last season the Yankees allowed a .292 AVG/BABIP without the shift and .322 with. The year before it was .298 vs. .299, and the year before that it was .302 vs. .304.
Over the last two seasons the Yankees have allowed a much higher AVG/BABIP while employing the shift than without, according to the numbers we have. That's a problem! The shift should be helping your pitchers, not your opponent. I don't know what the problem is either. Bad positioning? Pitchers not executing? A bad pitching plan? It could be many things. This has happened two years running now. The shift upped the opponent's AVG/BABIP by 20 points this season. Last year it was 30. 30!
Does this mean the Yankees should stop shifting all together? Of course not. That's an overreaction. Intuitively, placing your defenders where the batter is most likely to hit the ball is a very smart thing to do. I'm surprised it took teams so long to start doing it regularly. For all we know the AVG/BABIP numbers we have above are wrong. Remember, this stuff is being recorded by human stringers watching video, so there is scorer bias.
I'm not sure I fully buy the huge gap in AVG/BABIP the last two years, but based on the eye test, I won't argue with anyone who says the Yankees allow more hits with the shift on than without. If the numbers we have are even close to right, this is something that has to be fixed. Can't keep shooting yourself in the foot like that.
Ellsbury and the First Pitch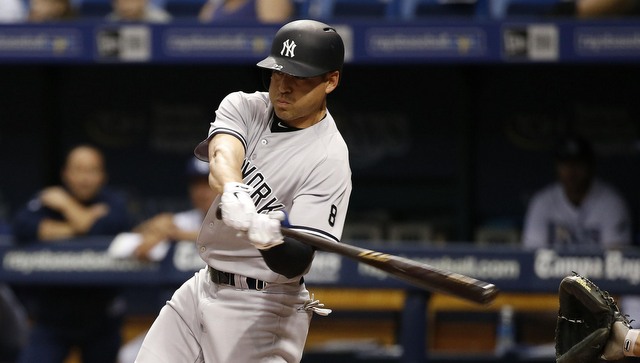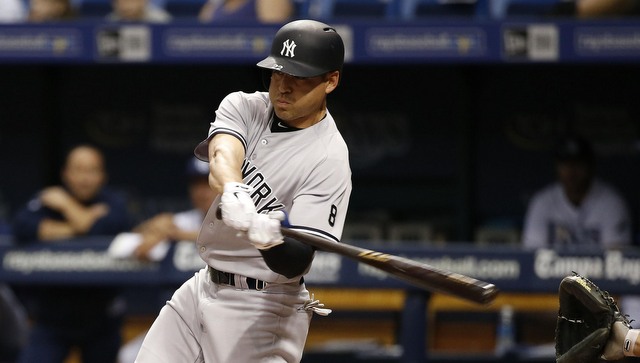 One thing I neglected to mention in Jacoby Ellsbury's season review was his propensity to swing at the first pitch this season. He became such an extreme first pitch hacker at times that even Michael Kay noticed and commented about it. Here are the numbers, with an assist from Baseball Savant:
2013: Swung at the first pitch in 23.9% of all plate appearances.
2014: 27.6%
2015: 31.0%
2016: 30.5%
MLB AVG in 2016: 28.3%
Those are all instances in which Ellsbury swung at the first pitch. It includes balls in play, foul balls, and swings and misses. If he swung at the first pitch, it's included in those numbers regardless of outcome. That isn't just the percentage of first pitches put in play.
Ellsbury didn't swing at more first pitches this year than last year. Fewer actually, but by a tiny little amount. Compared to two and three years ago though, Ellsbury is swinging at way more first pitches these days. Swinging at the first pitch is not inherently a bad thing. In fact, I advocated for doing it more often coming into the season. Many times the first pitch of the at-bat is the best one to hit. Why let it go by? It's not like starters pitch deep into games these days. You're going to get to the bullpen eventually.
Swinging at the first pitch so often wouldn't be so bad if Ellsbury had hit well in those situations. He hit .298 with a .131 ISO on the first pitch in 2016. That seems pretty good, especially compared to his overall season numbers (.263 AVG and .111 ISO). The problem is the league averages were a .346 AVG and a .236 ISO on the first pitch this year. Ellsbury was well below that. He rolled over and grounded out to second on a ton of first pitches.
Ellsbury has never been a guy who works deep counts. (He actually set a new career high with 54 walks in 2016.) He's up there to swing and that's fine. Hits are better than walks. He just hasn't hit much the last two years, and when you're not producing as expected, a lot of quick one-pitch outs gets mighty frustrating. Had Ellsbury hit, say, .350 with a .200 ISO on the first pitch, I don't think anyone would care. But when his numbers are that far below league average, it gets old in a hurry.
Differences of Opinion on Baserunning
Depending who you ask, the Yankees were either one of the better baserunning teams in baseball this season, or one that was below average. They were successful with 77% of their stolen base attempts, fifth best in baseball, but they also attempted only 94 steals, which was 23rd most among the 30 teams. The Yankees took the extra base (first-to-third on a single, etc.) only 37% of the time, the fourth lowest rate in baseball.
So the Yankees didn't take the extra base all that often — obviously that is largely due to personnel, because guys like Brian McCann and Mark Teixeira and Alex Rodriguez aren't burners — but they were sneaky efficient at stealing bases. They just didn't do it often. Here's what the all-encompassing baserunning metrics say:
Hmmm. Which one is correct? I lean towards BRR myself. The eye test told me the Yankees were not a good baserunning team overall, mostly because they had so many slow players. They didn't take the extra base often, didn't advance on wild pitches and similar opportunities all that much, and they didn't steal often either.
The difference in BsR and BRR boils down to the way the two stats are calculated. Both essentially compare the team's actual baserunning success to their expected baserunning success — how often does a runner go first-to-third on a single hit to that location? That sort of thing. BRR includes some more adjustments for ballparks and things like that, which are important.
You're welcome to feel differently, but I agree with the BRR number more than the BsR number based on everything I saw this season. The Yankees weren't a great baserunning team at all in 2016. Teixeira, A-Rod, and McCann are all gone though, and with the new infusion of younger players, this number will hopefully tick up in the future. Baserunning is a weird thing. It's easy to overlook but it's very obviously important, and it can often be the difference in an individual game. It's something the Yankees can improve going forward, for sure.