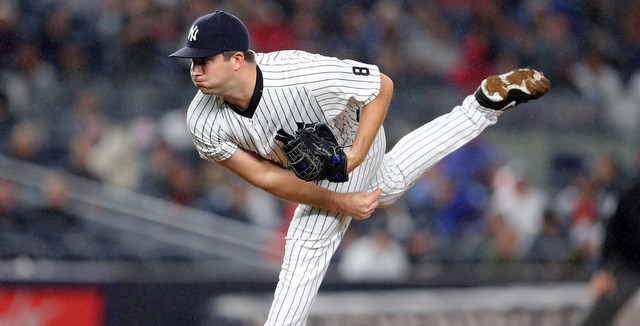 The Yankees opened the season with maybe the most dominant bullpen trio in baseball history. For a few months a lead after six innings was close to an automatic win. Dellin Betances, Andrew Miller, and Aroldis Chapman protected basically every lead they were given. The Yankees weren't very good overall, but they always had the advantage in the late innings.
Things changed dramatically at the trade deadline. The Yankees were far back in the wildcard race with no real indication they could make a run in the second half. So, the front office acted appropriately, and cashed in Chapman and Miller as trade chips. Betances remained and took over as closer. The seventh and eighth innings looked much different the rest of the way.
Return of the Bullpen Handyman
Second base was a priority for the Yankees over the winter. The Brian Roberts and Stephen Drew types weren't cutting it, and it has been made pretty clear the team doesn't believe Rob Refsnyder can hack it at the position defensively. At least not on an everyday basis. At the Winter Meetings the Yankees acquired their second baseman of the present and the future by picking up Starlin Castro from the Cubs. Chicago had just signed Ben Zobrist and Castro was superfluous.
The cost to get Castro: Adam Warren. It was a straight up, one-for-one trade. Warren was rock solid for the Yankees from 2013-15 in a variety of roles, but Castro has obvious natural talent, plus he's young and signed affordably. That was the price they had to pay. I didn't love the trade, but I understood it. Starlin was good enough with the Yankees in the first half. Warren was a mess with the Cubs, pitching to a 5.91 ERA (5.83 FIP) in 35 innings.
Warren was so bad with Chicago that when time came to complete the Chapman trade, the Cubs were willing to send him back to New York. In fact, Brian Cashman indicated getting Warren back was a key to the trade. "We got a Major League piece that was a high-performer for this franchise for the last few years," said the GM. "That was important. I think I can represent that was important for Hal Steinbrenner."
In the past, Joe Girardi used Warren to do whatever was needed at the time. Two innings to bridge the gap between the starter and Betances? Go to Warren. Fill-in eighth inning guy for a day? Warren. Spot start? Warren. He did it all for the Yankees, and when he returned this summer, his job was setup man. In fact, he took over the eighth inning guy after Miller was traded, albeit briefly.
Warren's first seven weeks back with the Yankees were typical Warren. He had a 2.91 ERA (3.70 FIP) in 22 games and 21.2 innings, with strikeout (22.1%) and walk (8.1%) numbers that were more in line with 2013-15 Warren than Cubs Warren. Of the seven runs he allowed in those 21.2 innings, four came in one game. Otherwise he was rock sold. Warren slipped little at the end of the season — he allowed a run in four of his last seven appearances — though it wasn't a total meltdown.
All told, Warren finished with a 3.26 ERA (4.30 FIP) in 29 games and 30.1 innings with the Yankees. His strikeout (20.0%), walk (8.0%), and ground ball (44.3%) rates were right where they were from 2013-15 (20.5%, 7.8%, 45.3%). The only difference between this year's version of Warren and previous versions was home runs. He had a 1.52 HR/9 (14.5 HR/FB%) this season, including 1.19 HR/9 (1.18 HR/FB%) with the Yankees, compared to 0.75 HR/9 (9.1 HR/FB%) from 2013-15.
Home runs were up around the league overall, so I'm sure that contributed to Warren's long ball issues in 2016, especially since he played in two hitter friendly home parks this year. One thing the Yankees did is get Warren to throw his slider more often. He was at his best from 2014-15 when he threw his slider as often as his fastball. The Cubs had him throwing more changeups and fewer sliders. The Yankees put an end to that.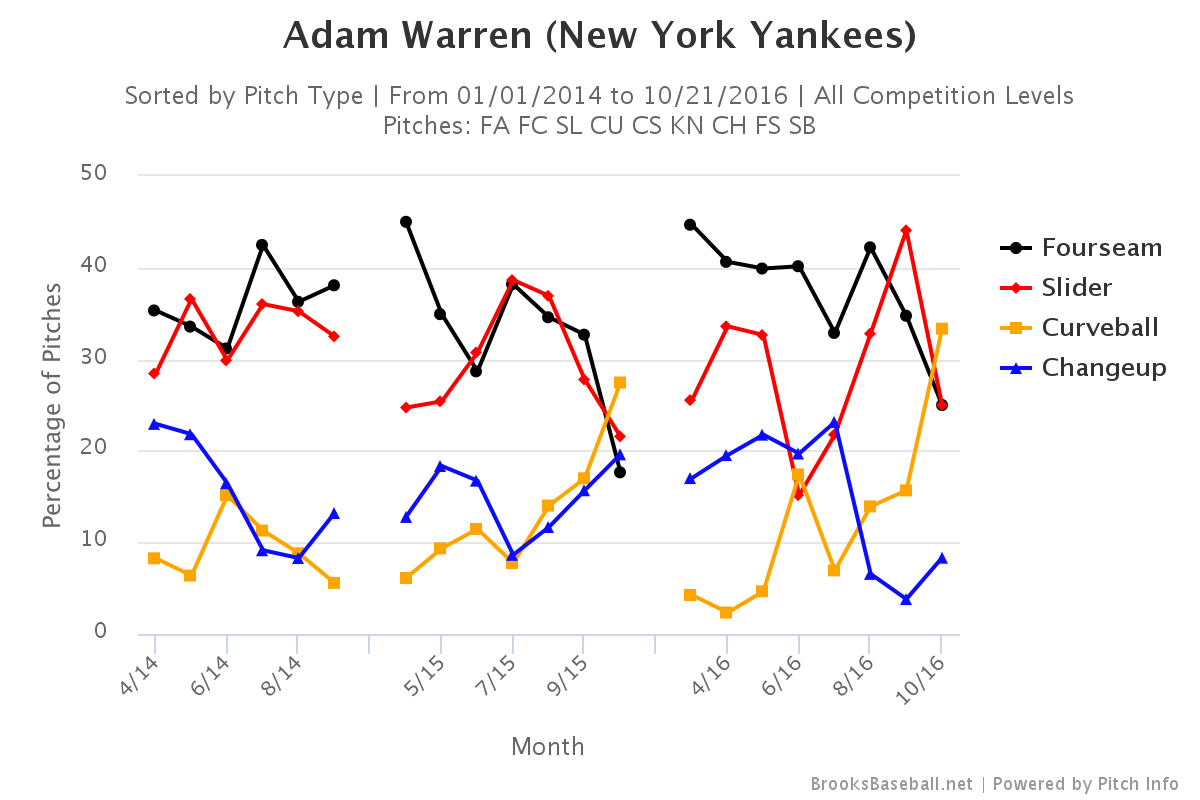 Maybe I'm just a giant homer, but I don't think Warren's success with the Yankees was a fluke. They know him a heck of a lot better than the Cubs and they used him more regularly. Warren routinely went four, five, six days between appearances in Chicago. "I never really had a set role. It's tough because I pride myself on my versatility, but not really knowing when you're coming in — that was the hardest thing, the unpredictability," he said after the trade.
Warren will remain under team control as an arbitration-eligible player through 2018 — MLBTR projects a $2.3M salary in 2017 — and while there's little reason to think he won't be back in pinstripes next year, a trade is always possible. I didn't think the Yankees would trade Warren last offseason, after all. I'm an unabashed Warren fan. I love that he does whatever the Yankees need and that his arm is resilient. He bounces back after heavy workloads no problem. That's a nice guy to have in the bullpen.
Back in the day the Yankees brought Warren to Spring Training stretched out and ready to start, and if they don't trade him this winter, I expect the same to be true next year. The team has a lot of back-end options (Luis Cessa, Luis Severino, Chad Green, Bryan Mitchell) and there's no reason not to throw Warren into the mix too.
Return of the Yankee Clippard
The Yankees did make one buyer's trade at the deadline. With Chapman and Miller gone, the team acquired Tyler Clippard from the Diamondbacks to help replenish some bullpen depth. Someone had to pitch the seventh and eighth innings, after all. The cost to complete the one-for-one trade: Vicente Campos, the second piece in the Michael Pineda-Jesus Montero trade back in the day.
Clippard's days as a dominant workhorse reliever ended a few years ago, though he is still a reliable late-innings option. Just not with the D'Backs, for whatever reason. He had a 4.30 ERA (4.31 FIP) in 40 games and 37.2 innings with Arizona. The D'Backs decided to gut their bullpen and shed salary at the deadline — they traded Brad Ziegler to the Red Sox as well — so Clippard became a Yankee again.
At first, Clippard was the seventh inning guy and Warren was the eighth inning guy. Girardi flipped them before long and wisely so. Not necessarily because Clippard was better than Warren (he was), but because Warren was better equipped to go multiple innings if Girardi needed him in the sixth inning too. It made sense to flip them, though either way, they were the new setup tandem.
Clippard was phenomenal immediately after the trade. He allowed three runs (one earned) in his first 21 games and 19 innings with New York. Opponents hit .164/.253/.224 against him. Like Warren, Clippard hit the skids a bit by the end of the season — he allowed six runs in his last 6.1 innings, including a pair of game-losing homers to Hanley Ramirez and Jose Bautista — but otherwise he was excellent in pinstripes.
All told, Clippard had a 2.49 ERA (4.05 FIP) in 29 games and 25.1 innings in his second tour of duty with the Yankees. His underlying stats were damn near identical to his career rates:
Clippard with Yankees: 24.3 K%, 10.3 BB%, 30.9 GB%, 1.07 HR/9, 7.9 HR/FB%
Clippard career: 26.8 K%, 10.1 BB%, 28.3 GB%, 1.08 HR/9, 8.7 HR/FB%
Clippard is a very unconventional pitcher. His fastball is mostly 91-93 mph these days and he pitches up in the zone with it an awful lot. The deception in his delivery allows him to do that, and the result is a lot of weak infield pop-ups. His pop-up rate was an unfathomable 34.2% (!) with the Yankees. That's double his career rate, which is one of the highest in history.
The Yankees let Clippard throw his slider again after the trade, which helps explain why he was much more effective in New York than he was in Arizona. Clippard is primarily a fastball/changeup pitcher, those are his moneymakers, but the slider gives him another weapon against righties. Something to keep them honest. He started messing with the pitch last year, shelved it with the D'Backs, and brought it back with the Yankees.
Arizona signed Clippard to a two-year contract worth $12.25M and the Yankees took on the remainder of the deal, so they owe him $6.15M in 2017. Perfectly reasonable. I don't think Clippard has a ton of trade value — Campos was basically a reclamation prospect trying to regain his form, and I can't imagine the Yankees could get more in return now — but we can't rule out a trade. More than likely, he'll be back next season in a late-inning capacity.