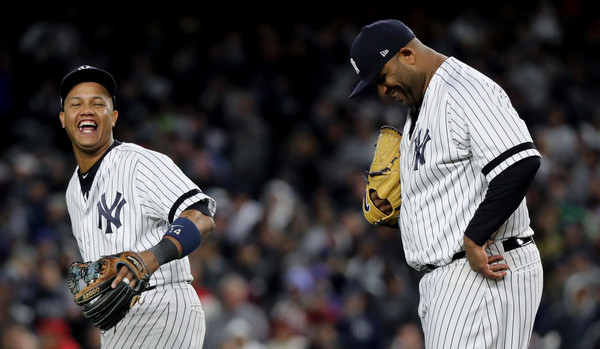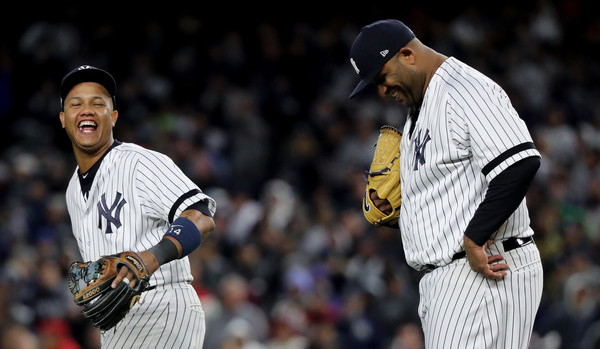 In just a few hours the Yankees will look to clinch a spot in the 2017 World Series. I still can't believe they've made it this far. They weren't supposed to contend this year. They weren't supposed to come back from down 0-2 to the Indians. They weren't supposed to come back from down 0-2 to the Astros. Now here they are, one win away from the American League championship. Pretty amazing.
The story of the ALCS so far has been the Astros' lack of offense, or, as I prefer to frame it, the Yankees' pitching. They've completely shut down the highest scoring offense in baseball in the five games so far. The 'Stros have scored nine runs (seven earned) on 22 hits and 16 walks in the five games so far. That works out to a 1.45 ERA for the Yankees and a .147/.234/.213 batting line for the Astros. Yeesh.
"It's rare (for this lineup to struggle so much), because of how much offense we put up through the first six months of the season and even in the Division Series," said Astros manager A.J. Hinch following Game Five. "We've swung the bats very well and to this day I believe we're one game (away from) coming out of it. We're going to go home. We hit well. We get a day off, which is probably the most important thing, and try to make some offensive adjustments … We haven't stayed in our game plan quite well enough to make adjustments."
The last few games, you could see the frustration beginning to mount in the Astros hitters based on their body language. Carlos Correa slammed his bat after popping up with the bases loaded in Game Four. Jose Altuve struck out in the same game and was yelling at himself as he walked back to the dugout. Josh Reddick threw his helmet after swinging at this pitch …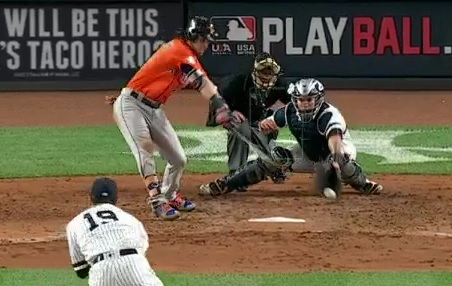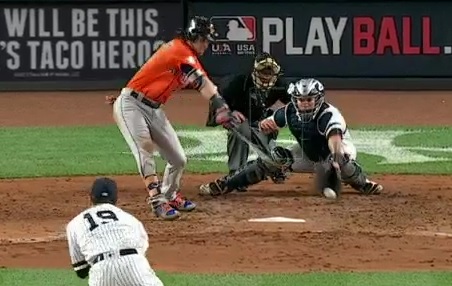 … to strike out in Game Five, stranding two men on base in the fifth inning. The Astros are struggling offensively and they know they're struggling offensively. The frustration has built up and now it's boiling over. For the Yankees, that's a wonderful thing. You want the Astros squeezing sap out of the bat. You want them trying to hit a five-run home run with each swing. The less relaxed and comfortable they feel at the plate, the better. The pressure is on big time.
Here are some quick numbers comparing Houston's offense this series to their offense during the regular season and the ALDS:
| | Regular Season | ALDS | ALCS |
| --- | --- | --- | --- |
| AVG | .282 (1st in MLB) | .333 | .147 |
| ISO | .196 (1st) | .238 | .067 |
| wOBA | .355 (1st) | .419 | .210 |
| xwOBA | .330 (3rd) | .377 | .293 |
| Avg. Exit Velo | 87.6 (3rd) | 88.3 | 86.2 |
| Avg. Launch Angle | 12.0° (9th) | 18.9° | 7.1° |
| BABIP | .313 (4th) | .376 | .183 |
Just about everything in that table is a descriptive stat. It's telling you what actually happened on the field. The one exception is xwOBA, or expected wOBA based on exit velocity and launch angle and all sorts of other factors. It's telling you what a player or team would be expected to hit based on the type of batted ball. A .293 xwOBA — wOBA is on the same scale as OBP, so .293 is terrible — tells you the Astros aren't making good contact at all. There's not much bad luck here, if any.
The Yankees, based on what I've seen, haven't changed their pitching approach much in the ALCS. The Indians went breaking ball heavy in the ALDS, as we saw. The Yankees have not done that. Masahiro Tanaka pitched like Masahiro Tanaka. CC Sabathia pitched like CC Sabathia. So on and so forth. And yet, they've completely dominated. They're not giving up much hard contact, and they've been able to limit baserunners. The Astros have had 44 offensive innings this series and in only ten of them have they multiple runners on base. Crazy.
Now, here's the thing: the Astros aren't really this bad. Give them enough time and their offense will snap out of it. And that's why it's important to end the ALCS as soon as possible, meaning tonight. I have to think the Astros will be energized by their fans and playing at home tonight, the same way the Yankees were energized by their home fans the last three games. Know how the Yankees are 6-0 at home this postseason? Well, the Astros are 4-0 at home.
What's done is done though. The Yankees have silenced Houston's offense through five ALCS games and, as a result, they lead the series 3-2. It happened. It's in the books. As cool as it would be, I don't think the Yankees have truly found the magic formula to shutting down the Astros. It's baseball. This stuff happens, and it happened at a bad time for Houston. And if it continues in Game Six, great. If not, the Yankees are good enough to win anyway.