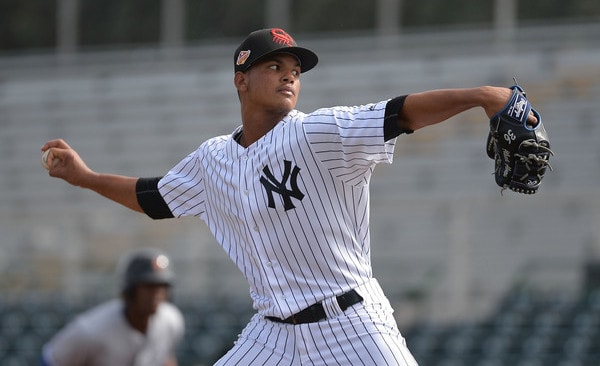 Major League Spring Training opened last week but minor league camp is still a few weeks away. Minor league camp doesn't open until early March. A bunch of prospects are already working out at the complex in Tampa though. Anyway, here's one last link back to my Top 30 Prospect List and here are some minor league notes.
Baseball America, Keith Law release farm system rankings
Both Baseball America (subs. req'd) and Keith Law (subs. req'd) released their annual farm system rankings in recent days, and they both have the Padres and Rays ranked first and second, respectively. Their lists diverge from there. They ranked the Yankees similarly:
Baseball America (20th): "After graduating Aaron Judge, Gary Sanchez, Gleyber Torres and Miguel Andujar the last two years, the system has dropped without an elite, near-ready prospect, but they are deep in young pitching."
Keith Law (19th): "The Yankees' top end has thinned out significantly, but from low-A down they at least have a strong collection of guys who show enough to grab your attention — elite speed or power, big velocity, huge spin rates — and create some potential trade value."
Readers ask me where I think the farm system ranks every week in our chat, and I've been saying the 15-20 range since the Justus Sheffield trade. Bottom half of the league but closer to middle of the pack than last. The Yankees are loaded with high-end kids in the low minors, so the potential is there for rapid improvement. That's also a risky profile. There is lots of boom or bust potential in the system and the rankings reflect that.
Law, FG, BP release top Yankees prospects lists
FanGraphs, Keith Law (subs. req'd), and Baseball Prospectus (subs. req'd) all released their top Yankees prospects lists recently and they go well beyond the top ten. FanGraphs ranked 38 (!) prospects and their list is free. Go read all the scouting reports. Law ranked 20 players and mentioned ten others. Baseball Prospectus ranked 15 and mentioned another four. Here are the top tens:
FanGraphs
1. OF Estevan Florial
2. RHP Jonathan Loaisiga
3. RHP Deivi Garcia
4. OF Antonio Cabello
5. RHP Roansy Contreras
6. RHP Albert Abreu
7. OF Everson Pereira
8. C Anthony Seigler
9. RHP Luis Gil
10. RHP Clarke Schmidt
Keith Law
1. RHP Deivi Garcia
2. OF Everson Pereira
3. OF Estevan Florial
4. RHP Jonathan Loaisiga
5. C Anthony Seigler
6. RHP Freicer Perez
7. RHP Clarke Schmidt
8. RHP Albert Abreu
9. OF Anthony Cabello
10. SS Thairo Estrada
Baseball Prospectus
1. RHP Jonathan Loaisiga
2. OF Estevan Florial
3. OF Antonio Cabello
4. RHP Deivi Garcia
5. OF Everson Pereira
6. RHP Luis Gil
7. RHP Mike King
8. RHP Roansy Contreras
9. RHP Clarke Schmidt
10. RHP Chance Adams
Law picked Cabello as his sleeper for 2019. "Cabello has so much upside that I even had suggestions to put him in my top 100, although I think that would have been premature. But he could belong in a year," says the write-up. He also notes the big money 2014-15 international signings (3B Nelson Gomez, OF Juan De Leon, OF Jonathan Amundaray, etc.) have flamed out. "Only (SS Hoy Jun) Park looks like he might ever even see a day in the majors," he writes. The spending spree was a good idea but wow did it not work out as expected. Lotta money for nothing.
FanGraphs posted their top 132 prospects list last week, which had Blue Jays 3B Vlad Guerrero Jr. in the top spot, and included only one Yankee: Florial at No. 106. Why is Loaisiga above Florial in the Yankees top ten but not on the top 132 list? Beats me. In a separate piece FanGraphs looked at players they expect to be a top 100 prospect next year. Cabello, OF Kevin Alcantara, and RHP Trevor Stephan are among them. The Yankees gave Alcantara a $1M bonus last summer and all indications are he is about to become a Very Big Deal.
Yankees connected to another top international free agent
Last week we learned the Yankees are
expected to sign Dominican OF Jasson Dominguez
when the 2019-20 international signing period opens July 2nd. Dominguez is considered the best available player this summer and he's expected to receive a massive bonus in the $5M range.
Ben Badler
(subs. req'd) now connects the Yankees to another top international player, Dominican OF Jhon Diaz. From Badler:
Diaz is smaller than the other top players in the class, but he's one of the most skilled game players for 2019. He's a lefty who consistently performs well in games with a quick, simple swing and a knack for barreling the ball against live pitching. He's a center fielder with good defensive instincts and one of the smartest baseball IQ players in the country.
Diaz looks like he's about nine years old in the video embedded above. Total opposite of Dominguez, who looks like a grown man (in the very limited video I can find).
Badler says the Red Sox were expected to sign Diaz but "more recently there's been buzz" about the Yankees signing him. That's not as firm a connection as Dominguez, but it is a connection nonetheless. The bonus pools will be announced in a few weeks and the Yankees figure to be in the $5M to $5.25M range. They'll have to trade for additional pool space to sign anyone other than Dominguez. (Teams can trade for an additional 60% of their pool. It used to be 75%. Now it's 60%.)
Yankees were ready to draft Stowers
In the least surprising news ever, George King (subs. req'd) reports the Yankees were ready to select OF Josh Stowers with their second round pick last summer. The Mariners beat them to the punch and grabbed Stowers with the 54th overall pick. The Yankees held the 61st overall selection and used it on C Josh Breaux. They got their man last month when they acquired Stowers from the Mariners in the Sonny Gray three-team trade.
"We had him rated in the vicinity of 50th (overall), close to the bottom of the second round. He can run and is a basestealer who plays center field and has power. He is a very good athlete. The ceiling on him is he has power and speed," said scouting director Damon Oppenheimer to King. As soon as the trade went down, I figured Stowers was someone the Yankees had targeted in the draft last year. I assume the LHP Ronald Roman situation is similar. He's a 17-year-old kid the Diamondbacks signed as an international free agent last summer. The Yankees got Roman, who has yet to play a pro game, in the Tim Locastro trade last month. They probably tried to sign him last summer.