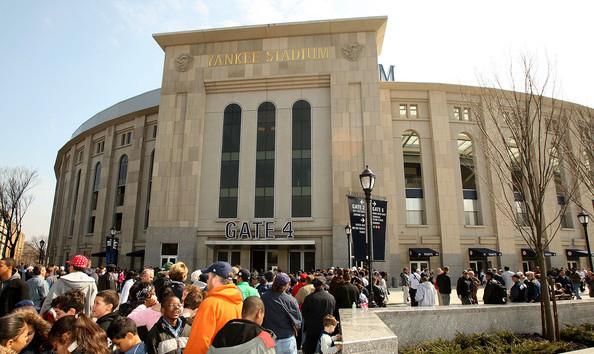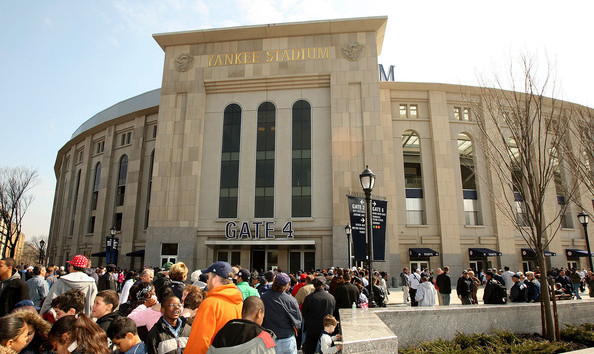 The Yankees continue their nine-game, three-city West Coast trip with the series finale in Anaheim later tonight. Until then, here are some miscellaneous links and notes to check out.
Yankees again ranked MLB's most valuable franchise
Once again, Forbes has ranked the Yankees as the most valuable franchise in baseball. The franchise is valued at $4.6 billion right now, up from $4 billion last year. The Dodgers are a distant second at $3.2 billion. The gap between No. 1 and No. 2 is the same as the gap between No. 2 and No. 8. Here's part of the write-up:
The New York Yankees are the most valuable team ($4.6 billion) and had local revenue of $712 million last year, the most in MLB and more than the bottom six teams (Miami Marlins, Tampa Bay Rays, Oakland Athletics, Kansas City Royals, Cincinnati Reds and Baltimore Orioles) had combined. The Dodgers ($3.3 billion), Boston Red Sox ($3.2 billion), Chicago Cubs ($3.1 billion) and San Francisco Giants ($3 billion) round out the list of teams worth at least $3 billion.
Forbes estimates the Yankees' revenue at $668M and operating income at $28M last year. If you believe the Yankees (or pretty much any team, for that matter) only made $28M in profit last year, I have a few bridges for sale in Brooklyn. Forbes has been compiling their estimated franchise values more than 20 years now, and the Yankees have topped the list every single year. If they ever slip into second place, someone's doing something wrong.
Yankees among team scouting Roki Sasaki
According to Yahoo! Japan (via NPB on Reddit), the Yankees are among the many MLB teams scouting hard-throwing Japanese high schooler Roki Sasaki. Sasaki's fastball was recently clocked at 101 mph, according to Dylan Hernandez, which broke Shohei Ohtani's national high school record. Here's some not great video of the kid in action. Sasaki reportedly throws a slider, curveball, and splitter. No word on the quality of his secondaries or his command.
Japanese high school players can sign with MLB teams as international free agents after they graduate, though it never happens because Nippon Pro Baseball would freak out. They want the best Japanese players to play in Japan before coming to MLB. MLB goes along with it to help maintain a good working relationship between the two leagues. Will Sasaki change that? Who knows. Is he even good? Who knows! Teams are already scouting him though. They're starting to build the information bank.
Baseball America's mock draft v1.0 and v2.0
Draft season is heating up and
Baseball America
(subs. req'd) posted their first and second mock drafts in recent weeks. For whatever reason they've decided to have one mock draft page that gets updated, not separate pages for each mock draft version. That's … weird. Also kinda inconvenient.
Anyway, both mock drafts have the Orioles taking Oregon State C Adley Rutschman with the top selection. He's such a stud. Switch-hitting catcher with a .420/.584/.821 batting line who projects to be an above-average defender. Baseball America had the Yankees taking New Jersey HS RHP Jack Leiter in their first mock draft and Florida HS 3B Rece Hinds in their second mock draft.
Imagining Hinds playing in Yankee Stadium in a few years is fun, and New York's gamble on a previous large, righthanded-hitting power hitter with swing-and-miss concerns paid off nicely—RE: Aaron Judge.
Leiter is indeed Al's son and he's arguably the best prep pitcher in the country. Not huge velocity, but great secondaries and excellent command. The question is signability. Leiter is strongly committed to Vanderbilt and he and his family presumably do not need the money. The Yankees have a big bonus pool and can offer a huge overslot bonus, but it may not matter. Leiter may be an impossible sign.
I have no real opinion on Hinds at this point. He does fit the Yankees' profile as a very athletic and very toolsy high schooler with unteachable power though. It's a little too early to start matching teams and targets, especially late in the first round. Instead, I recommend sifting through MLB.com's top 50 draft prospects list. Southern California kids are always a good place to start with the Yankees.
MLB wants to gain control of local broadcast rights
According to Ron Blum, Major League Baseball has put in a bid to purchase regional sports networks from Disney in an effort to gain control of local broadcasting rights. The Yankees have right of first refusal and already have a deal in place to buy back controlling interest in the YES Network. MLB is trying to purchase the remaining networks. From Blum:
"There's tremendous revenue disparity in our game, and I think that if we had more of a national model closer to where the NFL is it would solve a lot of those competitive issues for us, kind of level the playing field." baseball Commissioner Rob Manfred said Wednesday. "I think that all of the difficult issues for baseball, if you took that revenue disparity out of the picture, would be easier."
Long story short, MLB wants to pool all the local television money together, then distribute it evenly among the 30 teams. That's how the various national television contracts (FOX, ESPN, etc.) work and that is the long-term goal locally. Doesn't seem all that close to happening, but MLB is working on it. The good news? Such a broadcast model would likely mean the end of local blackouts. That would be a huge plus for cord-cutters everyone.