Going into last season, I don't think anyone expected the Yankees to have to reinforce their bullpen at the trade deadline. There's nothing wrong with adding to a strength though, plus Aroldis Chapman's knee was aching and Tommy Kahnle had crashed hard, so the Yankees shipped three second tier pitching prospects to the Orioles to rent Zach Britton. It was the first Yanks-O's trade since the Jaret Wright-Chris Britton deal. (They only trade with each other when Brittons are involved, apparently.)
Early control issues faded away and, by the end of the regular season, Britton looked a lot like the guy we saw in Baltimore all those years. The sinker was killing worms (77.8% grounders) and Britton even closed out some games when the knee sent Chapman to the disabled list for a few weeks. He quickly entered Aaron Boone's Circle of Trust™ and the summer fling worked so well that it turned into a long-term relationship over the winter.
"We kept in contact immediately once free agency started," Britton said during a conference call after re-signing with the Yankees. "The fact that I had been a closer and knew that I could do it at a high level, I felt I didn't need to prove myself. I had some opportunities to close with other teams, but I didn't feel like they were as close to winning as New York. I wanted to go back to a team that could win year in and year out."
Being part of such a deep bullpen played a role in Britton's decision — "They were one of the reasons I was trying to come back," he said of his bullpen mates — and it didn't hurt that Brian Cashman and Scott Boras were able to work out a creative (but increasingly popular) contract framework. The terms:
Two years and $26M guaranteed.
Two-year club option worth $27M.
If the Yankees decline the club option, Britton has a one-year player option at $13M.
Britton accepted a non-closing role, Zach became Zack, and the Yankees now have their best setup lefty reliever since … geez, I don't even know. Mike Stanton? Boone Logan and Chasen Shreve had some moments, but yeah, it's been a while since the Yankees had a non-closing lefty reliever with Britton's ability and credentials. (Andrew Miller closed more than he set up with the Yankees). Let's preview Britton's first full season in pinstripes.
Is the old Britton ever coming back?
Zack Britton hasn't been ZACK BRITTON in two years now. I don't think we're ever going to see 2016 Britton again, that guy was historically great, but the last two seasons Britton had a 3.00 ERA (3.83 FIP) in 78 innings. That's still really good, obviously, but it is a far cry from the 1.38 ERA (2.40 FIP) he posted from 2014-16. The $13M annual salary indicates the Yankees expect him to be something closer to 2014-16 Britton than 2017-18 Britton.
The primary difference between 2014-16 Britton and 2017-18 Britton was health. A forearm strain sent him to the disabled list twice in 2017, and last winter he blew out his Achilles during an offseason workout, and was unable to return to the mound until late-May. And, when he did return, he didn't have a proper Spring Training and was rushed. The O's wanted him back as soon as possible so they could showcase him for trades.
Forearm problems are a common precursor to elbow trouble, so that's worrisome, though it's worth noting Britton's forearm and elbow have given him no problems since 2017. The Achilles injury was a fluky offseason thing. That doesn't mean it didn't have a lasting impact though. Britton required surgery, and a few weeks ago he admitted he never felt right on the mound last season. His legs weren't underneath him and his mechanics weren't right.
"The surgeon told me I was completely healthy last year, but I just didn't have the lower-body strength that I'm accustomed to, which made me throw from a different delivery and change my arm slot," Britton said to Randy Miller. "The results were fine at the end of the year, but I knew that wasn't me. I was just kind of getting by because my stuff was moving and I was getting away with some stuff. But I wasn't who I wanted to be. This offseason, I got most of my leg strength back. My calf strength has come back."
Statistically and velocity-wise, Britton certainly got better as the season went on last year. It's worth embedding this rolling average sinker velocity and ground ball rate graph again: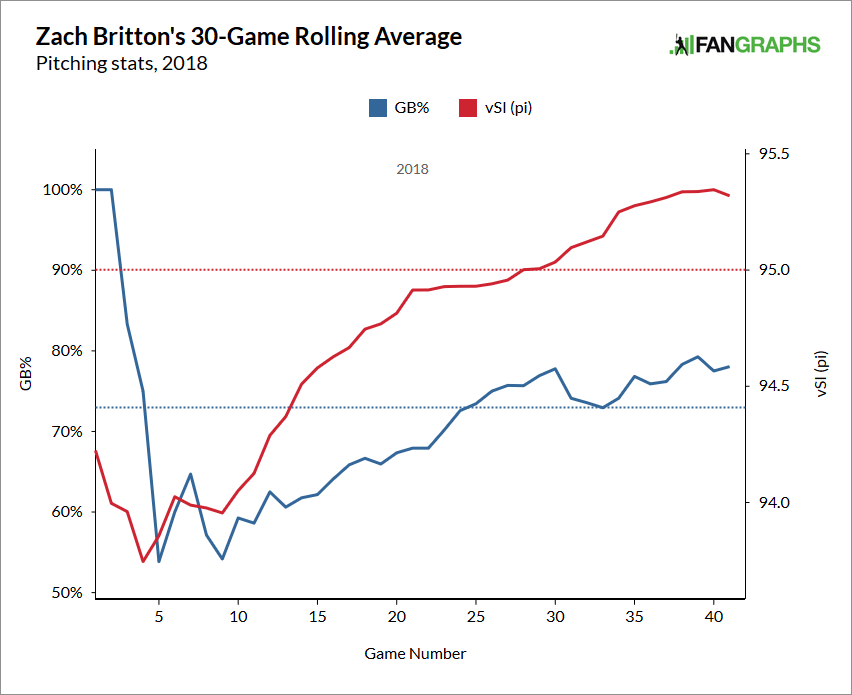 That said, when a guy comes back from a major injury (and surgery) and says "I wasn't who I wanted to be," you can't brush it off because the results were okay. Britton didn't feel like himself last season. We all worry about arm injuries with pitchers, but leg injuries are no joke. The lower half is crucial mechanically and you need strong legs to generate power. Everything in baseball (hitting, throwing, etc.) starts from the ground up.
Britton was able to have a normal and healthy offseason this past winter, something he hasn't been able to do in two years now. He was pretty good last year with limited command and his sinker not moving the way it usually moves. When his legs underneath him and a proper Spring Training, yeah, there is reason to believe Britton can back to being the guy he was prior to 2017. Or at least be better than he was the last two seasons.
At age 31, chances are Britton's best years are behind him. The Orioles enjoyed them. That doesn't mean Britton can not be highly effective going forward, especially now that he's healthy. Last year's uptick in velocity sure looks like a guy getting back to normal as he gets further away from the injury, and it seems his command has been there this spring. He looks more like September 2018 Britton than August 2018 Britton. That is a positive.
Britton vs. The Infield Defense
Objectively, the Yankees' infield defense kinda stinks. We know all about Miguel Andujar's deficiencies at third base — he's looked kinda better this spring? hard to tell in limited looks — and neither Luke Voit nor Greg Bird will be confused for Mark Teixeira over at first base anytime soon. Gleyber Torres has very good defensive tools but has been error prone early in his career. Troy Tulowitzki? Who knows. He's looked surprisingly nimble at shortstop this spring. Let's see how he looks a few weeks into the season as the wear and tear accumulates.
Britton is an extreme ground ball pitcher. Even the injured and not quite himself version of Britton was generating ground ball rates north of 60% the last two years, and at his peak his ground ball rate was closer to 80%. The better the infield defense, the better you can expect Britton to be, because those ground balls are coming. The Yankees have three defensive options when Britton is on the mound.
Stay with the status quo. Leave whoever's out there out there.
Go with a five-man infield. Aaron Boone has mentioned it this spring.
Go max defense with DJ LeMahieu and Tyler Wade replacing Andujar and Tulowitzki, respectively.
There doesn't have to be one solution. There's a time and a place for all three scenarios. Down a few runs? Then leave your best players in the game. Ground ball hitters coming up? The five-man infield wouldn't be a bad idea. Unconventional? Sure, but not necessarily bad. Replacing Andujar and Tulowitzki with LeMahieu and Wade certainly makes sense when the Yankees have a lead and those two aren't likely to get another at-bat.
Britton struck out 20.1% of the batters he faced last year, and if he can get back to being the 30% strikeout guy he was earlier in his career, it'll mitigate some of the damage done by the porous infield defense. It'll only help so much though. Britton relies heavily on his infield defense and there are likely to be times it'll cost him given the team behind him, especially while Didi Gregorius is out. That's just something the Yankees will have to live with. You take the good with the bad.
* * *
Dellin Betances will start the season on the injured list and my guess is Britton will be the primary eighth inning guy come Opening Day. Perhaps Aaron Boone will platoon Britton and Adam Ottavino — Britton faces the tough lefties in the seventh or eighth while Ottavino gets the tough righties — though the Yankees believe in defined bullpen roles. They had them with Joe Girardi and they had the with Boone last year. Britton is willing to pitch whenever and he showed last year he can pitch whenever. That buy-in shouldn't be overlooked.
My preference would've been re-signing David Robertson over re-signing Britton, though what's done is done, and it's not like Britton is a slouch. Even when less than 100% physically last year, he was still pretty good. Now he's not coming off forearm trouble and he's not rehabbing from Achilles surgery. He's healthy, he's had a normal Spring Training, and he's familiar with the team (coming over at midseason isn't easy!). As long as the infield defense doesn't completely betray him, Britton can still be a difference-maker out of the bullpen.