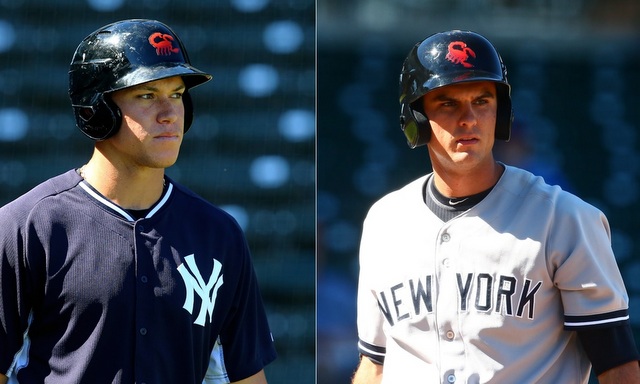 Baseball America's look at the top 20 prospects in each minor league continued earlier today with the Double-A Eastern League. As always, the list is free but the scouting reports are not. Nationals RHP Lucas Giolito claims the top spot and is followed by Phillies SS J.P. Crawford and Mets OF Michael Conforto.
The Yankees have two players on the stacked — seriously, Giolito and Crawford are the two best prospects in the minors right now — Eastern League list: OF Aaron Judge ranks 15th while 1B Greg Bird ranks 16th. RHP Luis Severino only threw 38 innings with Double-A Trenton and did not qualify for the list. Josh Norris did not take any Yankees questions in the subscriber-only chat, so there's no other information there.
"Having such a big body means Judge has a big area for pitchers to attack, with a greater probability of finding holes to exploit. The book on Judge this year read: work him hard inside before finishing him off with soft stuff away," said the write-up. "Even so, Judge's power is undeniable, and he has the potential to make an impact in the near future … Nearly all who watch him say he's more athletic than they'd estimate simply by looking at his body, and all praise his throwing arm as plus."
Judge, 23, hit .284/.350/.516 (147 wRC+) with 12 homers, an 8.6% walk rate, and a 25.0% strikeout rate in 63 games with the Thunder before being promoted to Triple-A Scranton. The relatively low ranking seems like an overreaction to Judge's strikeout issues in Triple-A more than anything, especially since the guy ranked one spot ahead of him (Phillies C Andrew Knapp) is older and had a similar strikeout rate (22.4%) while slugging .356. (Oops, read the wrong stat line.) Whatevs.
As for the 22-year-old Bird, the scouting report says he has "shown an approach at the plate advanced beyond his years, as well as enough power to stick as an everyday player at a corner position." He also received credit for showing "smoother actions around the bag at first base" this summer, although his defense is still not considered a plus. We've seen it firsthand the last few weeks.
Bird put up a .258/.358/.445 (133 wRC+) line with six homers in 49 Double-A games before being promoted to Triple-A. He struck out in 14.2% of his plate appearances and walked 11.3% of the time. 3B Eric Jagielo and C Gary Sanchez both qualified for the top 20 — at least based on their playing time compared to Bird's — but simply fell short of the list. OF Jake Cave and RHP Brady Lail were long shots for the top 20.
The next and final list of interest to Yankees fans it the Triple-A International League. That will be released later this week. Judge and Severino are right on the playing time bubble and might not qualify for the list. Bird and Sanchez will almost certainly fall short of qualifying. 2B Rob Refsnyder had plenty of playing time with the RailRiders and could be the only Yankees farmhand on the top 20. OF Ben Gamel and RHP Bryan Mitchell are long shot candidates.
Other league top 20s: Rookie Gulf Coast League, Rookie Appalachian League, Short Season NY-Penn League, Low-A South Atlantic League, High-A Florida State League