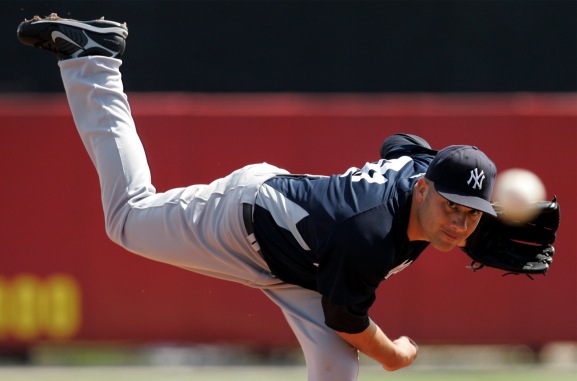 Photo credit: Tony Dejak/AP
In 2008 the Yankees featured one of the best bullpens in the American League. It got its share of work, racking up 543.1 innings, mostly because of the team's decimated starting staff. Even still, it led the league in K/9 and K/BB, finished second, by .001, in OBP, and finished third, by .002, in WHIP. Trying to build off that success, the Yankees brought back many of those successful relievers in 2009, including Edwar Ramirez, Jose Veras, Brian Bruney and, to a lesser extent, Jon Albaladejo and Phil Coke. The experiment turned foul pretty quickly, as the group allowed 55 runs, 51 earned, in 71 April innings.
Bruney had been lights out, but hurt his elbow mid-month. Edwar had faced 44 batters and allowed 11 hits, including three home runs, and walked eight. Hitters against him posted a ridiculous .306/.432/.583 line. Veras seemed a bit more snakebitten, a 1.09 WHIP vs. a 5.73 ERA, but he also walked way too many hitters. Albaladejo had allowed seven extra base hits to the 48 batters he faced. Clearly, something had to change in the Yankees' bullpen, or else the current crew would blow games for the next five months.
It's easy to cite Phil Hughes's move to the bullpen as the reason the unit ended up among the AL's best in 2009. He was absolutely lights out pitching in relief, allowing just nine runs, eight earned, in 51.1 IP, striking out 65 along the way. Even though his hit total was ridiculously low, 31, he still managed a sterling 1.93 FIP. Yet the bullpen transformation came before Hughes made his move to the eighth inning in July, even before he moved to the bullpen in June. The real change came at the beginning of May, when the Yankees recalled Alfredo Aceves from Scranton.
Through his first two months he helped stabilize the bullpen, allowing just eight runs over 33.1 innings. The runs came in clumps for the most part, two in a 4.1-inning appearance against Boston and three against Texas. Of his 18 appearances in May and June, 13 were scoreless. He allowed just one run three times, twice in completely meaningless situations. He did experience a few hiccups in late July and August, probably related to back soreness. Overall his season went well, though.
Aceves's soft-tossing style might make his performance seem like smoke and mirrors, but by secondary metrics he performed very well. His FIP sat at 3.75, mostly because he walked so few batters. He still struck out a decent amount, 7.39 per nine innings. His curveball and changeup proved effective swing and miss weapons. His walk and strikeout rates will help him in the future, when opponents will likely improve upon their .260 BABIP against him.
Another area where we might see some regression from Aceves is his home run rate. He allowed 10 home runs in his 84 innings, or 1.07 per nine innings. That might seem high, or average at best, but Aceves accomplished this while allowing a ton of fly balls. Of the 242 fair balls opponents put in play, 116 of them were fly balls, while another 42 were line drives. That led to an 8.6 percent HR/FB ratio, below league average. This is reflected in his xFIP, 4.09. Thankfully, that's still a quality mark.
In terms of future success, Aceves's willingness to throw all of his pitches should continue to help him. He threw just 43 percent four-seamers last year, mixing in a cutter, curveball, and changeup for the remaining 57 percent. The cutter appears to be a good straight fastball alternative, as he trades two to three miles per hour for a few inches of break. His curveball is strong, with a deep vertical drop. Lefties seem to have trouble against his changeup. In fact, Aceves performed very well against lefties in 2009, a huge plus if he can continue it in the future.
How do the projection systems see the Yankees' potential swingman in 2010?
It looks like most of the projection systems expect Aceves's hit total to rise, consistent with DIPS theory. We've seen it happen to countless relievers. They come on and perform very well in one season by not allowing many hits on balls in play. Then the next year their luck starts evening out, and they're all the worse for it. Thankfully, Aceves compensates with a low walk rate, though all the systems project that to rise as well. ZiPS is clearly the most pessimistic, forecasting increased home run, hit, and walk rates and a declining strikeout rate.
Given his pitch repertoire, however, I expect Aceves to once again provide a solid option out of the bullpen. Maybe he breaks camp as the fifth starter, though I still doubt it. He'll probably make a spot start or two during the season as well. Even if his BABIP does rise to the league average, he should still provide quality innings out of the pen. He won't be as key to the unit's success as he was last year, but he certainly strengthens the bullpen corps.