Four questions and four answers this week, the final mailbag before Opening Day. Hooray for that. Remember to use the Submit A Tip box in the sidebar to send us anything throughout the week.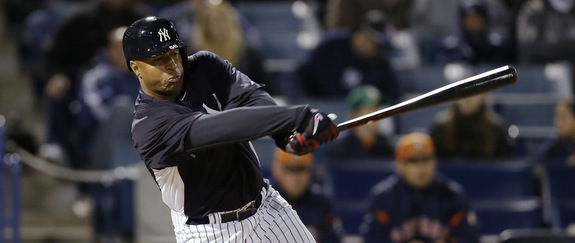 Ryan asks: The Vernon Wells trade … will essentially be the Yankees paying an above average one-year deal with help in the second year. My question is, where was this in the offseason, when they could have overpaid for one-year deals? Is this simply because they learned that Mark Teixeira's salary would be paid by the World Baseball Classic and freed up extra money?
I think it's a combination of things. First and foremost are the injuries — the Yankees probably didn't think they needed any more help in the offseason because they were already good enough. That's a dangerous way to think as we see now thanks to all the lost players and recent scrambling. Secondly is the WBC money, since it is a nice chunk of change they're getting back. Then again, spending those savings (and potentially more) on Wells might not have been the brightest idea.
Brian Cashman made it pretty clear Wells will be the team's everyday left fielder while Curtis Granderson is out — "So the rest of these guys are fighting for support positions," said the GM to Chad Jennings — and I can't help but think the team views him as a Granderson replacement for 2014. Maybe Wells will play his way out of that role, who knows. The Yankees have had a lot of success with these veteran scrap heap pickups in recent years, but dropping $13.9M on a player is beyond a scrap heap pickup to me. That's a big commitment.
Matt asks: Hindsight being 20/20n, would you rather have Wells for the reported two years, $13.9 million or Alfonso Soriano for the same?
Soriano, no doubt about it. He was actually good last season, hitting .262/.322/.499 (116 wRC+) with 32 homers. Wells … hasn't done anything close to that lately. There's also some tangible evidence — switching to a lighter bat at in mid-May, at which point his production took off — suggesting Soriano's revival was real and not a fluke. Even though he's three years older than Wells, he's much more productive.
The issue with Soriano is that the Cubs wanted a legitimate prospect in return. They didn't consider it just a salary dump like the Angels did with Wells. It's also unclear if they would have structured the money in such a way that Soriano would have counted as zero dollars towards the 2014 luxury tax threshold. I don't want either player, but if I had to pick one I would rather give up an actual prospect to get the much better player. The Yankees obviously disagree.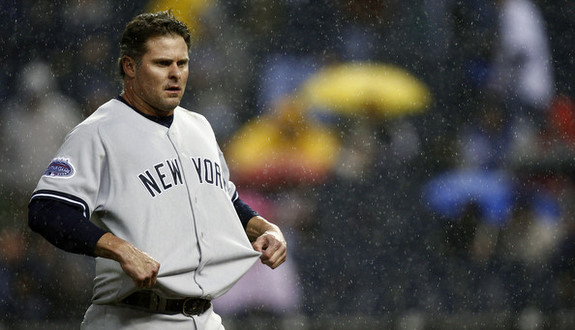 Mitch asks: Four years from now, which contract do you think will have been better for the Yankees — Mark Teixeira's or Jason Giambi's?
It's unfair to directly compare the contract terms — seven years, $120M vs. eight years, $180M — because of inflation and Collective Bargaining Agreement changes and all that. Let's keep it to on-field performance.
Giambi hit .260/.404/.521 (145 wRC+) during his seven years in New York while Teixeira is at .263/.357/.506 (128 wRC+) after year four with four more to go. Forget the wrist injury, I don't think there's any way his offensive production would catch up to Giambi's even if he was perfectly healthy. In terms of batting runs above average (wRAA), Tex is basically halfway to Giambi's total in pinstripes in ~60% of the playing time (107.4 vs. 214.1).
The question now is whether Teixeira's defense will be good enough to compensate for the offensive gap. Giambi was at -35 DRS and -22.4 UZR during those eight years with the Yankees while Teixeira is at +28 DRS and +19.6 UZR after year four. That's a huge gap and that figures to only grow larger. Combining offense and defense, Giambi averaged +25.6 runs produced per year in pinstripes. Teixeira is at 33.9 per year. It's a huge difference built largely on questionable defensive metrics. Giambi was a better hitter and I'm an offense first guy, so I'll say his contract will go down as the better one for the Yankees with the obvious caveat that Tex still has four years to change things.
Fred asks: With six starting pitchers to start the season, and maybe seven if Michael Pineda actually returns at some point, doesn't it make sense to employ a six-man rotation every two or three turns through the rotation? With CC Sabathia's innings load being an issue, plus the ages of Hiroki Kuroda and Andy Pettitte, doesn't it make sense to insert whoever the sixth starter is a couple times a month to help soak up innings, keep the other guys fresh? It basically means the top five starters go about two or three less starts for the year and the sixth man gets about a dozen starts. Helps everyone no?
Well, let's see all the starters get healthy at the same time before we start worrying about this. Phil Hughes has return from his bulging disk before anything can happen, and who knows how that will go. This also assumes all six (or seven) starters are actually effective and worthy of making starts. Someone is bound to disappoint, it's just usually how it goes.
Now, that said, yeah I do think the Yankees should consider sliding in a sixth starter now and then just to take the load off Sabathia and, in particular, Pettitte. They could use off days to push them back a bit or even skip them entirely if fatigue becomes an issue. It's a difficult thing to balance because the theoretical sixth starter has the remain stretched out, and if he's the long man they'll lose him out of the bullpen for a few days. If he's in the minors they'll have to make sure he's lined up properly to pitch on whatever days. As I said, Pettitte is the big one for me since he hasn't thrown a full season since 2009. The Yankees should monitor him carefully throughout the summer.