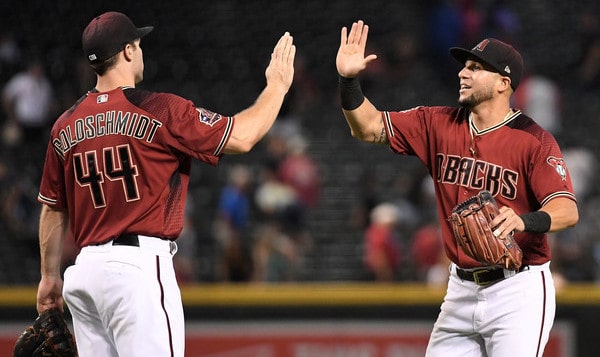 By almost any measure, the 2018 season was a spectacular failure for the Diamondbacks. Arizona spent more days in first place (125) than any other National League team this year, but they lost 24 of their final 35 games, and collapsed out of the postseason picture. The D'Backs finished 9.5 games back in the NL West and 8.5 games back of the second wild card spot. Ouch.
Patrick Corbin and A.J. Pollock are free agents this offseason and Paul Goldschmidt will be a free agent next winter, meaning the D'Backs' window is starting to close. It is no surprise then that Buster Olney reports Arizona is willing to listen to trade offers for their best players, including Goldschmidt. We all love Luke Voit, he was awesome down the stretch, but Goldschmidt sure would look good at first base in pinstripes, wouldn't he?
Anyway, the D'Backs have several players who could (should) be of interest to the Yankees this winter. These two teams have gotten together for five trades in the last four years (Brandon McCarthy, Martin Prado, Didi Gregorius, Tyler Clippard, Brandon Drury) and I'm sure they could work another deal or two if properly motivated. Here are some D'Backs players potentially of interest.
SS Nick Ahmed
Why would the Yankees want him? Well, the Yankees need a shortstop now that Gregorius has had Tommy John surgery, and Ahmed is a standout gloveman. One of the best defensive shortstops in the game. He can't hit much (.234/.290/.411 and 84 wRC+ in 2018) but he sure can pick it. Ahmed, 29 in March, has two seasons of control remaining and his arbitration salaries are relatively low (MLBTR projects $3.1M in 2019) because of the lack of offense. Keep in mind the Yankees reportedly had interest in Ahmed two years ago.
Why would the Yankees steer clear? He can't hit, for starters, and similar all-glove/no-bat shortstops like Adeiny Hechavarria and Jose Iglesias will be available for nothing but cash as free agents. Perhaps you buy last year's power breakout — Ahmed went from six homers and a 47.7% ground ball rate in 2017 to 16 and 40.8% in 2018, respectively — but there's not much offensive potential here at all. If the Yankees don't pursue Ahmed, it'll likely be because a) they're aiming higher, or b) they view the free agent shortstops as comparable.
RHP Archie Bradley
Why would the Yankees want him? The Yankees clearly valuable a deep bullpen and the 26-year-old Bradley had been among the best relievers in baseball the last two years, throwing 144.2 innings with a 2.68 ERA (3.15 FIP) and very good strikeout (26.3%) and walk (7.0%) rates. Bradley is under team control through 2021 (MLBTR projects $2.0M in 2019) and he's obviously very good. He'd help any bullpen. (I'm curious to see whether some team tries to pick him up and gives him another chance to start.)
Why would the Yankees steer clear? No good reason, really. I suppose the jump in home run rate is a red flag — Bradley went from a 0.49 HR/9 (7.4 HR/FB%) last year to 1.13 HR/9 (13.8 HR/FB%) this year — and the cost might be prohibitive given how hard it can be to acquire quality relievers these days. Otherwise Bradley seems like exactly the kind of reliever the Yankees would be interested in adding. Young, cheap, strikeouts. He right up their alley.
1B Paul Goldschmidt
Why would the Yankees want him? Goldschmidt is on the short list of the best players in baseball and I think he's the best first baseman in the game overall. He started slowly this year and still finished at .290/.389/.533 (144 wRC+) with 35 doubles and 33 home runs. Goldschmidt doesn't really steal bases anymore — he went 7-for-11 (64%) on the bases this season, two years after going 32-for-37 (86%) — but who cares when he hits like he does? Add in excellent defense and a cheap $14.5M salary for 2019, and adding this dude is a no-brainer.
Why would the Yankees steer clear? The only reason is cost. The D'Backs figure to have a high asking price (as they should) and the Yankees might not want to trade all those prospects for one season of Goldschmidt, even as good as he is. He turns 32 next year and I'm not sure signing him long-term would be the wise idea. Goldschmidt did set a new full season high strikeout rate this year (25.1%), though that's not excessive or worrisome at this point. That's an acceptable strikeout rate given what he does at the plate. Goldschmidt is one of the best players in the world and the only reason the Yankees might avoid him is cost. Arizona will probably ask for the moon.
RHP Zack Greinke
Why would the Yankees want him? The Yankees need starting pitchers, and, even with his 35th birthday coming up later this month, Greinke still threw 207.2 innings with a 3.21 ERA (3.71 FIP) with very good strikeout (23.1%) and walk (5.1%) rates this season. He got a good amount of ground balls (45.1%) as well. Greinke reminds me so much of Mike Mussina. He has a very deep arsenal (four-seamer, two-seamer, slider, curveball, changeup) and well as command and pitching know-how that borders on generational. Even the delivery and follow through remind me of Mussina. Greinke is durable (200 innings eight times in the last eleven years), he's never had a serious arm injury, and his pitching style should allow him to age well, in theory.
Why would the Yankees steer clear?
Dig in and you can find a reason to steer clear of any player. Greinke's average fastball velocity (90.0 mph) this past season was the lowest of his career and it's been trending downward the last few years, which is completely normal at his age. That reduced fastball has led to more home runs (1.21 HR/9 and 15.0 HR/FB% the last three years), which is no fun. Also, Greinke is owed $104.5M the next three seasons. That's a ton of money. Perhaps the D'Backs would eat money to facilitate a trade — would they turn him into a $20M a year pitcher? — but of course that means giving up better prospects. One thing to note: The Yankees have avoided Greinke whenever he's become available in trades or free agency because they don't think he'd mix well with New York.
OF David Peralta
Why would the Yankees want him? Peralta is a sneaky good fit for the Yankees. The former pitcher and independent leaguer hit .293/.352/.516 (130 wRC+) with 30 home runs and a more than acceptable 20.2% strikeout rate in 2018. He's a left-handed hitter who knows how to pull the ball with authority, and the various defensive stats rate him as an average left fielder. Also, Peralta is under team control another two years (MLBTR projects $7.7M in 2019). The Yankees need a left fielder and they could use another lefty bat, especially following Didi's injury. Peralta is both those things.
Why would the Yankees steer clear? Peralta is going to need a platoon partner. This past season he hit .318/.377/.568 (150 wRC+) against righties and .237/.294/.399 (86 wRC+) against lefties, and his career split (131 wRC+ vs. 77 wRC+) is drastic as well. At age 31, chances are he'll slow down a bit going forward and lose some value in the field as well. That's really about it. As productive as Peralta has been the last few years, he does need a platoon partner and I'm not sure he's actually an average defender in left field. There does appear to be a fit here, depending on the price.
LHP Robbie Ray
Why would the Yankees want him? The Yankees need starting pitching and the 27-year-old Ray has emerged as one of the best strikeout artists in the game the last few seasons. He posted a 3.93 ERA (4.31 FIP) with 31.4% strikeouts and 13.3% walks in 123.2 innings around an oblique strain in 2018. Over the last three seasons only Chris Sale (33.4%) and Max Scherzer (32.8%) have a higher strikeout rate than Ray (30.6%). He's a southpaw with good velocity (94.1 mph in 2018), two secondary pitches he throws at least 20% of the time each (curveball, slider), and two years of team control remaining (MLBTR projects $6.1M in 2019). Aren't the Yankees looking for someone pretty much exactly like this?
Why would the Yankees steer clear? Remember how I mentioned Ray has the third highest strikeout rate over the last three seasons? Well, he also has the fifth highest walk rate (10.8%) as well as a higher than you'd like home run rate (1.29 HR/9 and 16.1 HR/FB%). That's in the non-DH league, remember. Walks and home runs tend to not mix well with Yankee Stadium and the AL East in general. Also, the Yankees are spin rate believers — their average 2,364 rpm four-seamer spin rate was second highest in baseball this season behind the Astros (2,366 rpm) — and Ray's spin rates are not good. His fastball spin rate is almost exactly league average — you want either high spin (swings and misses) or low spin (grounders) on a fastball — and both the slider and curveball spin rates are below average, which is bad. Ray is intriguing, for sure, but he might not pass the analytics test.
* * *
As always, take this "they're willing to listen to offers" report with a grain of salt, because every team is willing to listen at all times. The GM wouldn't be doing his job if he didn't listen. In Arizona's case, their late season collapse and closing window suggests they will indeed consider trading away their top remaining players to kick start a rebuild. A rebuild feels imminent.
The D'Backs have several players who could interest the Yankees, most notably Goldschmidt and Peralta. Ahmed, Bradley, and Ray are possible targets as well. (Greinke strikes me as a long shot.) Those dudes are worth a deeper dive as we get into the offseason. Other possible targets include lefty Andrew Chafin, righty Zack Godley, righty Yoshihisa Hirano, and utility man Chris Owings. I suspect we'll hear the Yankees and D'Backs connected in several trade rumors this winter.