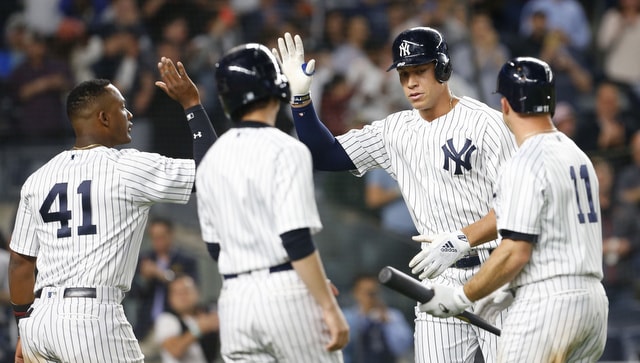 The Yankees have lost back-to-back games for the first time in a month, which is pretty annoying, but it was bound to happen at some point. Can't go 17-3 in a 20-game span without the three. Anyway, the Yankees are the only team in baseball yet to lose three straight games at some point this season. Every other team has done it at least once already. It would be cool to avoid the year's first three-game losing streak this afternoon.
On the mound today is rookie righty Domingo German, who was masterful in his first MLB start last weekend, tossing six no-hit innings against the Indians. Little Sunday has high-end stuff and he mixed his pitches well — he threw 25 fastballs, 35 curveballs, and 24 changeups last week. He throws hard but doesn't live off his fastball. Fun to watch. Here's to another good outing for German. Here are the starting lineups:
New York Yankees
1. LF Brett Gardner
2. DH Aaron Judge
3. SS Didi Gregorius
4. RF Giancarlo Stanton
5. C Gary Sanchez
6. CF Aaron Hicks
7. 1B Neil Walker
8. 3B Miguel Andujar
9. 2B Gleyber Torres
RHP Domingo German
Oakland Athletics
1. SS Marcus Semien
2. LF Matt Joyce
3. 2B Jed Lowrie
4. DH Khris Davis
5. 1B Matt Olson
6. 3B Matt Chapman
7. CF Dustin Fowler
8. RF Mark Canha
9. C Bruce Maxwell
RHP Andrew Triggs
The weather stinks today. It is chilly in New York and it was raining this morning, and it's going to rain again later this afternoon. The rain is supposed to start back up around 5pm ET or so. That should be enough of a window to get the game in. Fingers crossed. This afternoon's game will begin a little after 1pm ET and you can watch on YES locally and MLB Network out of market. Enjoy the game.
Injury Updates: Tommy Kahnle (shoulder, biceps) and Adam Warren (lat) are going to Tampa tomorrow to continue their rehab. Kahnle threw his second bullpen session today and Warren is scheduled to throw his first bullpen session Monday … Brandon Drury (migraines) has started wearing yellow-tinted glasses at the plate because his vision gets "very blurry" at night, according to DJ Eberle. Drury said he liked the way they brightened things up for him. Aaron Boone indicated the glasses are more of a temporary measure than a long-term solution.