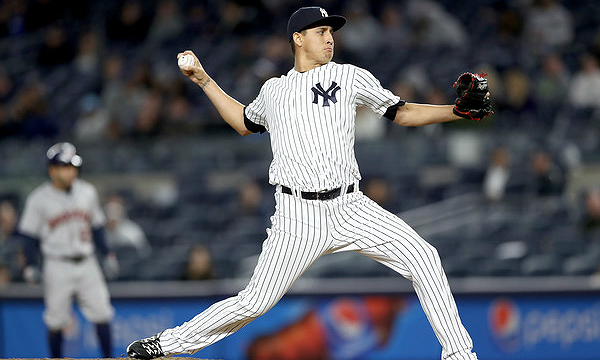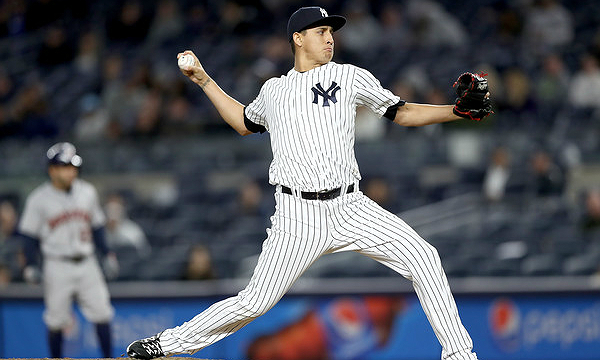 For the last 15 days, the Yankees have had eight men in their bullpen.
At first, it was out of necessity. The team was coming off an 18-inning marathon with the Cubs and had to play a two-game series starting the next day. Making a move to add a long reliever — in this case Chad Green — was a prudent move after everyone but Tommy Layne was used on that Sunday night/Monday morning vs. the Cubs.
But two days later, the team had an off-day. They had optioned Rob Refsnyder, the obvious 25th man, to make room for Green, so he wasn't available for a call-up. However, the team still had/has Mason Williams ready to call-up and an open 40-man roster spot to utilize for an extra position player, should they see the need.
By this time, it's obvious they don't see the need. They're fine with a three-man bench as it provides them the luxury of eight relievers. It's likely they'll go back to a four-man bench with Tyler Austin comes off the 60-day DL either later this month or in early June, but that would mean another week or so with this peculiar arrangement. And it truly is a luxury as they aren't all necessary.
When you look at the composition of the bullpen right now, there are the guys that are being used consistently and with purpose; Dellin Betances, Tyler Clippard, Adam Warren and Jonathan Holder each have their roles right now and are minimally influenced by another man in the bullpen. Chad Green has taken on Warren's long-man-in-close-game role and has been quite solid in said role.
But beyond those five guys, there hasn't been much to do. Tommy Layne and Chasen Shreve, the two lefties, have thrown just 4 1/3 and five innings, respectively, over a combined nine appearances. With few lefty-laden lineups with which to deal, there simply isn't much work for the duo. They've pitched in the same game twice, mostly as mop-up guys.
Giovanny Gallegos was used in a similar fashion, taking mop-up innings and helping the team get by during the Astros doubleheader. He's more of a 1-2 inning guy anyway, so the team called up Bryan Mitchell in his spot.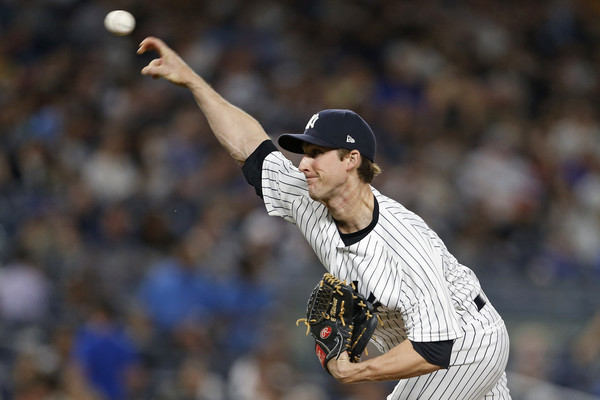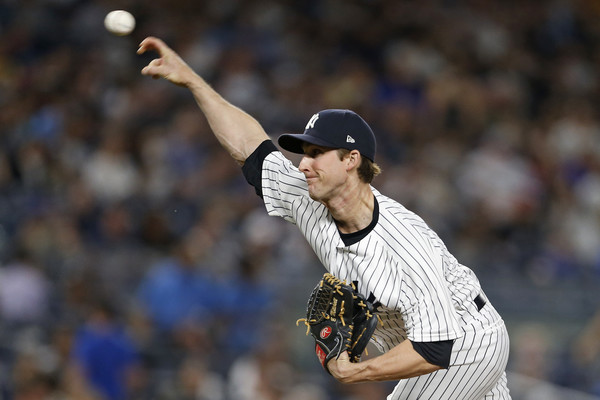 This seems like a poor use for Mitchell. Mitchell had been getting stretched out in Triple A and would be ready to call on as a spot starter. With the rotation's struggles, that seems like it may be on the horizon, particularly with few off-days upcoming. And with an eight-man bullpen, an extra long reliever is superfluous. Green and Warren can both go multiple innings. Even if you say that Warren is now a one-inning reliever, the nominal '7th-inning guy', you still have both Shreve and Layne sitting in the bullpen with little recent mileage most nights. They can take the long relief on any given night. With the current arrangement, Mitchell neither has a role nor a chance to develop further despite his ability to be either a solid back-end starter or quality reliever if given the opportunity.
The main reason to keep the eight-man bullpen going would be with the struggles in the rotation. Masahiro Tanaka has had a few short starts in a row, same with Luis Severino, while Michael Pineda and CC Sabathia have been the ones getting consistently through 6-7 their last few times out. The rotation has gone from 5.93 innings per start in April to 5.45 this month. This opens up about an inning every other game, yet that seems hardly enough to justify an extra reliever when the team was still barely using its last reliever when they had seven in April. If the innings trend continues to go down, both this season and in the future, an eight-man bullpen may become more of the norm to help spread innings among a taxed bullpen, but that isn't the Yankees reality right now.
Eight relievers were fully necessary during the doubleheader, but the team was also allowed to call up an extra man for the roster. If the team wants another long reliever but needed an extra position player right now, they could either jettison Layne or option Shreve to call up Tyler Webb, who has been effective in Scranton since he was returned from his Rule 5 stint with the Pirates, and use Mitchell's spot for a position player. Still, you run into the same issues with Webb that you did with Mitchell, as the team already has capable long men and at least one other lefty ready to go.
The question does need to be asked: Would the spot be better utilized for another position player? Ultimately, it seems like there hasn't really been a role for an extra position player. Perhaps they should have had Kyle Higashioka up vs. Tampa last Friday with Gary Sanchez feeling off — thereby allowing them to pinch hit for Austin Romine in a big spot — but a roster spot for one at-bat, maybe a couple innings of defense, doesn't seem like a better use than 4 1/3 innings.
So with the last 15 days, the Yankees have shown how little they utilize the 25th spot on their roster at the moment. With Greg Bird and Tyler Austin out and few ready-to-use and effective position players on the 40-man roster, the team seems more than content to get by the eighth reliever. Perhaps, this is a glimpse into the future of baseball yet, for now, it doesn't seem like an efficient use of resources, although there may not be a better use within simple reach.