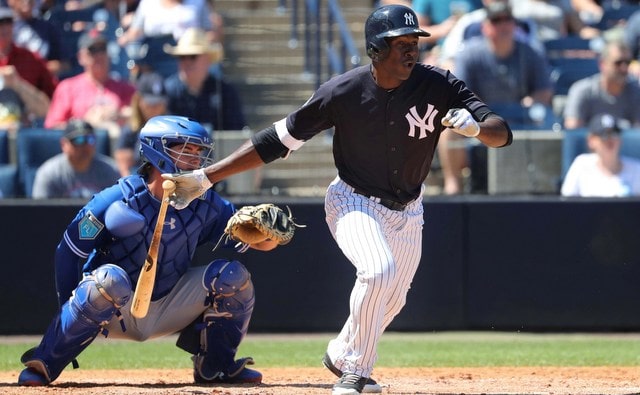 A year ago at this time we were all still kinda in awe of what Brian Cashman and the Yankees were able to accomplish in a relatively short period of time. Between trades and development, the Yankees built one of the top farm systems in the game, one with high-end prospects and depth. We were still waiting to see whether that rebuilt farm system translated to success on the field though.
Fast forward to this spring, and the Yankees are coming off an ALCS appearance thanks largely to those prospects. Players like Aaron Judge, Chad Green, and Jordan Montgomery graduated to the big leagues last year and became key contributors. Others like Dustin Fowler, James Kaprielian, Jorge Mateo, and Blake Rutherford were used as trade chips to land impact big leaguers with multiple years of control.
The Yankees were able to turn that highly regarded farm system into an enviable big league core, and, best of all, the farm system still ranks among the best in baseball. Look where the various scouting publications ranked the system this spring:
That is the good stuff. According to Baseball America, the Dodgers have the second best farm system among 2017 postseason teams. They ranked their system eighth. The Yankees have a top prospect pipeline on par with hard-tankers like the Padres and Braves and White Sox, except the Yankees are not tanking. They contended last year and there is every reason to believe they'll contend again this year. Let's preview the year ahead in the minors.
Top Prospects Who Could Help In 2018
Before the Brandon Drury trade and Neil Walker signing, the Yankees brought three top prospect infielders to Spring Training and ostensibly gave them a chance to win the big league second and third base openings. IF Tyler Wade was able to win a big league job anyway. 3B Miguel Andujar and IF Gleyber Torres will begin the season back with Triple-A Scranton for the time being. They'll be up soon enough. Here's our season preview for Andujar, Torres, and Wade.
Aside from the kid infielders, the top prospect most likely to help the Yankees this summer is RHP Chance Adams, a divisive prospect who doesn't necessarily receive the greatest reviews from scouts despite stellar minor league numbers. Adams had another strong minor league season last year, throwing 150.1 innings with 2.45 ERA (3.70 FIP) at Double-A and Triple-A. Spring Training didn't go so well (4.2 IP, 9 H, 6 R, 6 ER, 3 BB, 1 K, 2 HR), but whatever, it happens.
Larry Rothschild recently told Brendan Kuty that Adams' arm strength wasn't quite where the Yankees hoped it would be this spring, and hopefully that's just a "he threw by far the most innings of his career last year and is taking a little longer to get to full strength than expected" thing and not a "he's out of shape" or "he's hiding an injury" thing. "He has a pretty good track record, so we're not too concerned," said minor league pitching coordinator Danny Borrell to Kuty.
Either way, Adams will begin the season back with Triple-A Scranton, and it stands to reason he will be among the top call-up options when a starter is needed. Domingo German and Luis Cessa have big league time and are on the 40-man roster, but if Adams performs and gets his arm strength to where it needs to be, the Yankees will give him a shot. They'll go with whoever they believe gives them the best chance to win, and if they think it's Adams, he'll get the call.
Top Prospects Who (Probably) Won't Help In 2018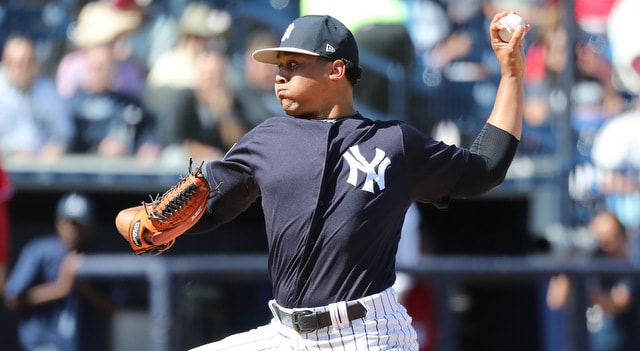 Never say never, but it seems likely to me LHP Justus Sheffield, the top pitching prospect in the system, will spend the year in the minors after being limited to 98 innings by an oblique injury last season. Sheffield showed the goods in Spring Training (mid-90s fastball and wipeout slider) and also showed the warts (lack of command) as well. Still, as a power southpaw with three pitches (he also has a pretty good changeup), Sheffield is rightfully considered one of the top pitching prospects in baseball. If he helps the Yankees at all in 2018, it'll be late in the season.
OF Estevan Florial, who some rank as the second best prospect in the system behind Gleyber, almost certainly will not reach the big leagues this season. Florial turned 20 in November and he has played only 19 games at High-A. More High-A time and a midseason promotion to Double-A is in the cards this year. Maybe a late-season stint at Triple-A. Maybe. Florial hit .219/.324/.406 this spring and impressed everyone with his athleticism and raw tools. From Bryan Hoch:
"He's one of those guys that I'm really excited to see these first couple of weeks, because he's going to get some opportunities to play," (Aaron) Boone said. "He's going to log some at-bats. We just want to get him as comfortable as possible. When we see him do that, even though that [triple] was the first one, it's not a surprise to us. The talent is real."
As with Sheffield (command), Florial has a flaw in his game that keeps him from being a truly elite prospect. He has problems making contact. His 31.1% strikeout rate last season was 29th highest among the 743 minor leaguers with at least 400 plate appearances, and Florial has the most trouble with non-fastballs. Double-A caliber arms gave him fits in the Arizona Fall League. Florial didn't play a ton of baseball growing up and the Yankees hope he'll make more contact as he gains experience. We'll keep track of that in the Prospect Watch this year.
In RHP Dillon Tate, the Yankees have a former high draft pick (fourth overall in 2015) who didn't quite take to some mechanical issues the Rangers tried to implement, but has since rebuilt prospect stock after being told by the Yankees to go back to whatever worked in college. He was slowed by a shoulder issue last year but he did reach Double-A by the end of the season, so I guess that makes him a call-up candidate this year. I think there might be a few too many names ahead of him on the depth chart. The Yankees are having Tate work on a two-seam fastball at the moment, a pitch that could be a real difference-maker for him.
RHP Albert Abreu and RHP Freicer Perez are two ultra-talented Single-A kids who we're not going to see this year. (Abreu has been slowed by an appendectomy and will probably start the season on the disabled list anyway.) Perez really broke out last year — he had a 2.12 ERA (3.19 FIP) with 25.3% strikeouts in his final 18 starts and 101.2 innings last summer — and is poised to be the next great Yankees pitching prospect. Abreu battled injury problems last year but has a golden arm. These two are a Big Deal now and they'll be a Very Big Deal next spring.
Secondary Prospects Likely To Help In 2018
Top prospects get all the attention and understandably so, but turning secondary prospects into regulars is often what separates good teams from great teams. Look what Green and Montgomery did for the Yankees last year. They were nowhere near any top prospect lists, yet both played very important roles for a postseason team.
This season the Yankees have several depth pitching prospects who figure to see MLB time, most notably RHP Domingo German, the presumed sixth starter at the moment. RHP Gio Gallegos, RHP Ben Heller, and RHP Jonathan Holder are all going to get bullpen time at some point. You watch. OF/1B Billy McKinney figures to spend the season as an up-and-down bat. They're all covered in our depth pitchers and depth position players previews.
IF Thairo Estrada was expected to be in the infield mix before the Drury and Walker trades, and while he always felt like a long shot for a big league job, he was removed from the competition before it even started. Estrada was shot in the hip during a botched robbery in January and he did not play at all this spring. The good news is he has resumed working out and other baseball activities, but Thairo won't start the regular season on time. He's on the 40-man roster and we could see him later in the season.
Also on the 40-man: RHP Domingo Acevedo. He spent most of last season at Double-A and that makes him a call-up candidate. That said, Acevedo was shut down late last year with a shoulder problem, and his rehab delayed the start of his offseason throwing problem. He spent Spring Training building arm strength and may not be ready to pitch come minor league Opening Day. Still, Acevedo is on the 40-man, he's a big power arm, and spot duty in the big leagues could be in the cards this season.
Among non-40-man players, RHP Cody Carroll and RHP Brady Lail stand out as potential bullpen options at some point, a la Caleb Smith and Tyler Webb last year. Those "huh, didn't think we'd see him this year" guys. Carroll is arguably the top bullpen prospect in the system and he can really bring it, with an upper-90s fastball and a good slider. Lail is moving to the bullpen full-time this year and he could sneak on to the MLB roster at some point. There's always one or two surprise call-ups each year. I'd bet on Lail being one in 2018.
Breakout Candidates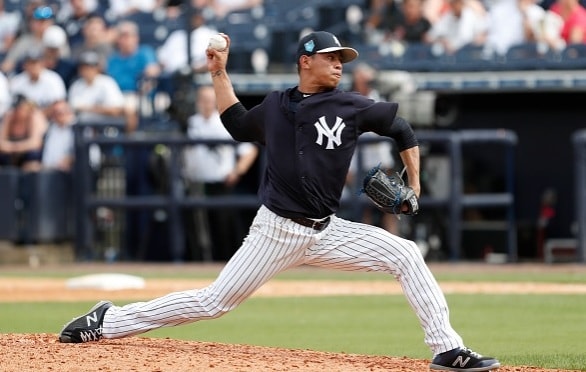 The Yankees have a deep farm system, especially with lower level arms, and that means they have plenty of breakout candidates. The best of the bunch is RHP Luis Medina, an 18-year-old with a triple digit fastball and two knockout secondary pitches (curveball and changeup). Can he figure out command? Maybe! If he does, Medina will be a no-doubt top 100 prospect at this time next year. Maybe even top 50.
A case can be made RHP Jonathan Loaisiga broke out last season, but he did only throw 32 innings, so I'm including him here. Johnny Lasagna is finally healthy after years of injuries and he goes out to the mound with three quality pitches (fastball, curveball, changeup) and fearlessly pounds the zone. The Yankees like Loaisiga enough that they put him on the 40-man over the winter, and if he stays healthy and pitches a full season, he could rank among the top prospects in the system by the end of the year.
3B Dermis Garcia and OF Canaan Smith are two bat first prospects with power — in Garcia's case, it's mammoth power that grades as a true 80 on the 20-80 scouting scale — and plate discipline, so while they have a high bar to clear to be considered top prospects, they have the talent to reach that level, Dermis in particular. SS Hoy Jun Park has tremendous tools and, now that he has a few years of minor league experience under his belt, this could be the season he really starts to take off.
The deep sleepers are RHP Deivi Garcia, a short controlled challenged righty with a hellacious curveball, RHP Juan Then, a just turned 18-year-old righty with pitching know-how well beyond his years, and C Saul Torres, a standout defensive catcher with much more offensive potential than last year's .174/.230/.309 (45 wRC+) rookie ball batting line would lead you to believe. Also, RHP Clarke Schmidt is due back from Tommy John surgery. He's not a traditional breakout candidate, but a healthy return will see his prospect stock rise considerably.
Prospects I Am Irrationally Excited About
We all have our personal favorites. Among mine is IF Kyle Holder, a slick-fielding shortstop who might not hit long-term, though he did put up a .355/.400/.458 (154 wRC+) batting line in his final 51 games last season. His glove alone gives him a chance to play in the big leagues. I think there's enough left-handed contact ability there for him to be a regular on a second division team down the road, and that makes him a likely trade chip for the Yankees.
RHP Trevor Stephen has vicious stuff and may be best suited for a bullpen role long-term. The Yankees are going to use him as a starter for the time being because of course they should. If they ever move him to the bullpen, Stephan could rocket to MLB. Same with RHP Nick Nelson, who didn't start pitching full-time until turning pro as a fourth round pick in 2016. He has a mid-90s fastball and the type of swing-and-miss curveball that could carry a pitcher a long way.
Other like OF Isiah Gilliam, a switch-hitting outfielder with power, and IF Diego Castillo, a contact-oriented hitter with strong defensive chops, are among my personal favorites. I'm also very interested to see what RHP Matt Sauer does in his first full pro season. He's probably going to start 2018 back in Extended Spring Training — same with Medina and Then — meaning he won't pitch in actual games until the short season leagues begin in June, but that's okay. Still count him among guys I'm looking forward to seeing this year.
Will The Yankees Trade Any Of These Guys?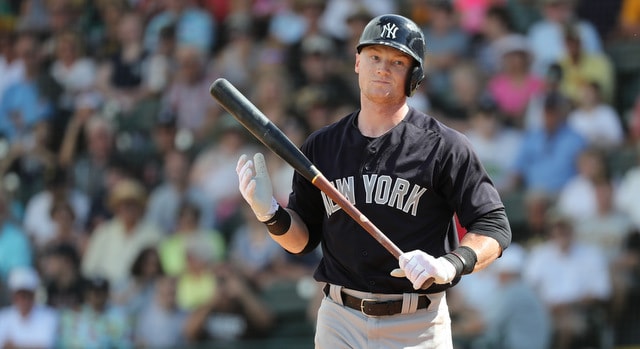 Of course they will. When you have a deep farm system, you have a 40-man roster crunch, and that applies to the Yankees again this year. Last year Rule 5 Draft eligible prospects Ian Clarkin and Zack Littell were traded before having to be added to the 40-man roster. Other fringe 40-man roster guys like Garrett Cooper, Caleb Smith, Nick Rumbelow, and Ronald Herrera were traded for prospects years away from Rule 5 Draft eligibility.
Among the notable prospects who will be Rule 5 Draft eligible after the season are Hoy Jun Park, Kyle Holder, Diego Castillo, and Dermis Garcia. I could see the Yankees dangling all of them as trade bait. Guys like Billy McKinney, Gio Gallegos, Ben Heller, Jonathan Holder, and the Domingos (Acevedo and German) may not be long for the 40-man roster. I could see them being moved in Cooper/Rumbelow/Herrera style trades before the end of the season.
The Yankees declared Torres, Andujar, Sheffield, and Florial off-limits in trade talks over the winter — or at least they did for Gerrit Cole — though I suppose the Walker and Drury pickups could've changed things. I imagine Andujar, for example, is more expendable than he was three or four months ago. In that case, the best trade chips in the farm system are Clint Frazier (technically no longer a prospect), Adams, Tate, Abreu, and possibly Andujar.
Where Does The System Go From Here?
The Yankees had a top tier farm system last spring and they have a top tier farm system right now, though the composition of the farm system is much different now than it was a year ago. Last spring the system was built around high-end position players close to the big leagues like Judge, Torres, and Frazier. Now the farm system is built around pitching, especially at the lower levels.
Pitchers are inherently more risky than position players, especially lower level pitchers. Pitchers get hurt, they don't develop that third pitch, so on and so forth. Because of that, the farm system carries considerably more risk now than it did a year ago. And with the anticipated graduations of Torres, Andujar, and Wade, as well as others like Adams and German, plus any trades, the smart money is on the farm system taking a hit over the next 12 months.
And you know what? That is perfectly fine. When you have a great farm system, the goal is to turn it into a great Major League team, and the Yankees are in the middle of doing that. Baseball America ranked the Cubs' system first in 2015 and 28th in 2018. Think Theo Epstein and Cubs fans care? Nope. Going from a great system to a bad system because of injuries and poor performance is one thing. Going from a great system to a bad system because all your top prospects became great big leaguers is another. That's what every team is striving for, and the Yankees are in the process of doing exactly that.