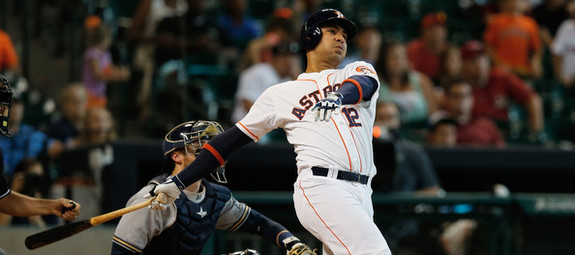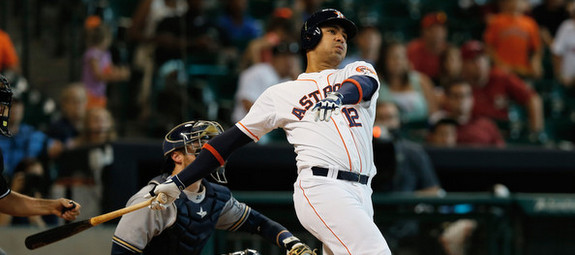 Following last night's shutout loss to the Rangers, the Yankees have a team 85 wRC+ and average just 3.91 runs per game offensively. They're a bottom five offense despite playing not just in a very good hitter's park, but in a division full of hitter's parks. That inability to generate offense is huge reason why they are just 22-28 in their last 50 games.
The Yankees are reportedly close to acquiring Alfonso Soriano from the Cubs for a mid-level prospect, a nice little pickup that will add some much needed right-handed pop to the lineup. Soriano is just one man though, he alone won't save the offense. The Bombers still need more help, particularly in the power department. We're talking about a team that hasn't had an extra-base hit in their last 22 innings, remember.
Over the weekend, the Astros designated former Ray and former Yankees farmhand Carlos Pena for assignment as they continue their youth movement. Yankees fans have seen what the 35-year-old Pena brings to the table firsthand over the years — he's a career .231/.353/.501 (109 OPS+) hitter with 26 homers in 113 games against New York — but is there enough left in the tank to help a club that desperately needs offense? Let's look:
The Pros
Offensively, Pena's calling card is his power. He's hit at least 19 homers in each of the last six years and swatted eight in 325 plate appearances for Houston. As a dead pull left-handed hitter (2013 spray chart, 2011-12 spray chart), he should fit very well in Yankee Stadium.
In addition to the power, Pena will also work the count and draw plenty of walks. He's seen an average of 3.98 pitches per plate appearance this year (4.14 from 2011-12) with a 13.2% walk rate (15.6% from 2011-12). Both rates are well-above-average and damn near elite.
Pena is pretty durably, having been on the DL just twice in the last five years. He missed a month with a broken finger when CC Sabathia hit him with a pitch in 2009, and he missed two weeks with a foot strain in 2010.
Following all those years in Tampa, Pena is very familiar with the AL East and playing in tight second half races. He's also widely considered a strong clubhouse presence. I don't know how much that helps, but I can't imagine it's a bad thing.
Pena is owed a touch more than $1M for the remainder of the season and will become a free agent this winter. If he goes unclaimed on waivers and is released (likely), any team can sign him for the pro-rated portion of the league minimum.
The Cons
Pena is not going to hit for average, like at all. He strikes out a ton (27.4 K% this year, 28.4 K% from 2011-12) and has not hit above .230 since 2008. Pena had a .209 AVG when Houston cut the cord and has actually hit below the Mendoza line in two of the last four years.
The power is slipping. Pena put up a .141 ISO with the Astros, the second straight year his slugging ability has slipped. He's gone from a .251 ISO from 2008-11 to a .151 ISO since the start of 2012.
Despite his reverse split this year (77 wRC+ vs. RHP and 133 wRC+ vs. LHP), Pena is a platoon bat. He hit .223/.355/.434 (120 wRC+) against righties from 2010-12 but just .166/.295/.343 (81 wRC+) against southpaws. Lefties shut him right down.
Pena was once a Gold Glove caliber first baseman, but now he's just pretty good. He can't play anywhere else, though. It's first base, DH, or nothing. Not much flexibility.
The Yankees actually claimed Pena off trade waivers from the Cubs in August 2011, if you remember. The two sides obviously didn't work a trade. Brian Cashman recently told George King he "wouldn't be able to say" if the team has interest in the first baseman, which is GM speak. The team obviously saw something they like once upon a time, and in fact hitting coach Kevin Long knows Pena well from their time together with Triple-A Columbus in 2006. Pena credits Long with helping resurrect his career, so there's a relationship already in place.
Although a right-handed power bat is the top priority (at least until the Soriano trade is finalized), the Yankees are desperate for any kind of power right now. Travis Hafner has been a drain on the offense, hitting just .161/.243/.273 over the last two months. Pena could replace him as the left-handed half of the DH platoon in addition to giving Lyle Overbay a proper backup, something the team lacks. He will also add some much needed patience to the lineup and be able to take aim at the short porch in right field at Yankee Stadium. That should boost his power production a bit. It wouldn't take much for him to be an upgrade over Pronk at this point. Not at all.
Right now, the offense is so bad that the Yankees are in a position where they almost have nothing to lose. The bench is generally unusable and about five-ninths of the regular starting lineup is a non-factor. They can afford to give someone like Pena — a flawed but usable player — an opportunity to see if the short porch and a potential playoff race boosts his production. If he doesn't hit, then they really wouldn't be any worse off. They have both the flexibility and desperation to give someone like Pena a look now that he's freely available.