No matter how much we preach, it's easy to fall into the trap of basing too much on small sample sizes this early in the season. We've already seen the Joba Chamberlain 8th Inning Machine rear it's ugly head after two-thirds of an inning, and many fans had already written off Chan Ho Park by Monday morning. Instead of relegating him to mop-up duty like his predecessor may have, Joe Girardi ran CHoP out there again last night in the 7th inning of a tied game, receiving more than acceptable results.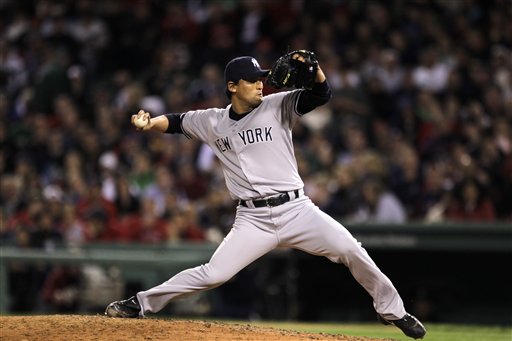 It's clear that Park was better last night, and a large part of that has to do with pitch selection. The former starter broke out everything but the kitchen sink during his three innings of work, throwing two types of fastballs, two types of breaking balls, and a changeup for good measure. There's no better way to use a pie chart than to graphically depict pitch selection, so let's have a look…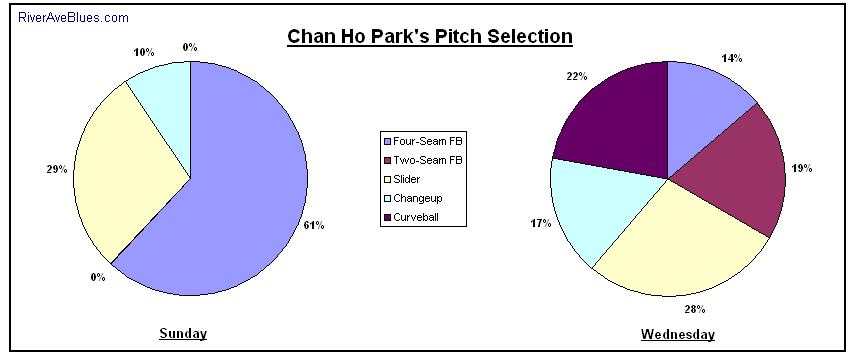 (click for a larger view)
Again, small sample size comes into play, and we're also at the mercy of PitchFX's pitch classifications. There's not much we can do about it, so we have to run with it.
On Sunday night, 13 of CHoP's 21 pitches were fastballs, including the one Dustin Pedroia lifted over the Monstah for a two-run homer. Tack on six sliders, and more than 90% of the pitches he threw on Sunday were either fastballs or sliders. Jumping ahead to Sunday, and it's clear from the pie chart that he used everything in his arsenal pretty evenly.
Marco Scutaro, the first batter Park faced, was retired on two breaking pitches, which was followed by Jacoby Ellsbury getting four fastballs and three offspeed pitches. Dustin Pedroia got two breaking balls and a fastball before making an out. In that first inning of work, CHoP threw just one four-seam fastball, but three two-seamers, three sliders, three curveballs, and a changeup. If you were standing in the box, you were playing a guessing game.
Park's second inning of work was much of the same. He started Victor Martinez off with a curve, then threw a change, slider, and a two-seamer before putting him away with another curve. In a five pitch at-bat, Boston's catcher saw four different kinds of pitches. Kevin Youkilis made a first pitch out on a four-seamer, and David Ortiz went down swinging on a curve, change, and slider. Through two innings of work, CHoP had thrown two four-seamers, four two-seamers, five sliders, six curves, and three changeups.
In his third inning of work, Park sat down Adrian Beltre on a slider and a four-seamer before J.D Drew singled on a two-seam fastball. Mike Cameron was due up next, and he was set down on the V-Mart Plan: four different pitches in a five pitch at-bat. Facing Scutaro for the second time, Park threw him a curve, a two-seamer, and two consecutive sliders to get him to line out to Brett Gardner.
CHoP started Drew off with two straight changeups, the first time he doubled up on a pitch all night. After mixing in a four-seamer, he threw another changeup, the only time he threw the same pitch three times to one hitter on Wednesday. The back-to-back sliders to Scutaro to end his night was the only other time Park doubled up on a pitch.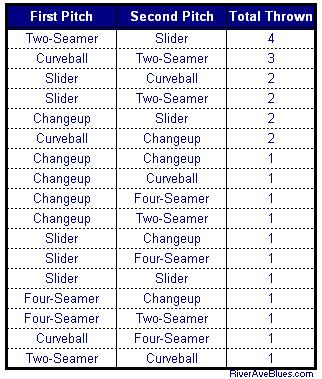 When a pitcher is throwing five different pitches, that means there's a total of 25 different combinations of a two pitch sequence. Park used 17 of those 25 different sequences last night, and only one of them more than three times (see right). He had no pattern whatsoever, he gave the Red Sox nothing to pick up. By the third inning, you can usually tell if a guy likes to follow a fastball with a changeup or a slider or whatever, but not last night.  It was a clinic in keeping hitters off balance.
(Note that the chart only reflects sequences thrown to one batter. So it doesn't include the last pitch of one at-bat and the first pitch of the next.)
The job Park did with mixing his pitches up was clearly the story of his outing last night, but it's also worth nothing that he had a little more giddy up on his stuff as well. On Sunday, his four-seamer topped out at 92.8 mph, but last night it didn't dip below 92.96. The slider also jumped from 85-88 to 88-89. CHoP was reportedly battling some kind of stomach bug earlier in the week, so maybe that came into play somehow on Sunday. Either way, being unpredictable and throwing hard is quite the combination.
Obviously, it was just one outing. Park's not always going to be as good as he was last night, but he's also not going to be as bad as he was Sunday. He'll likely settle in somewhere in the middle, but if he keeps mixing his pitches like he did last night, especially in bursts of short relief, he's going to one helluva weapon out that pen. It's not always about pure stuff, keeping hitters off balance works just as well.