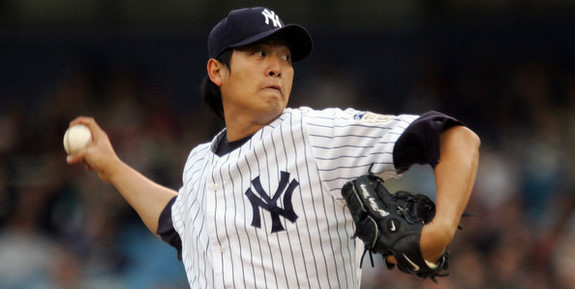 Over the last … I don't know … five or ten years, the Yankees have been criticized quite heavily for their player development failures and deservedly so. They haven't developed many useful homegrown pieces of late, and I don't just mean stars. They've struggled to produce even average players who could fill in on the cheap. Things have been a little better recently but for a long time there the system was barren.
At the turn of the century, the Yankees had a great farm system headlined by Alfonso Soriano and Nick Johnson. Things really started to thin out by 2003, however, mostly because the team was trading away all their good young players and forfeiting first round draft picks to sign free agents. In 2002, Baseball America ranked New York's farm system as the 5th best in baseball. Then, from 2003 through 2006, they ranked 17th, 27th, 24th, and 17th. That's bad. The Yankees shot back up to 7th in 2007 thanks to their outstanding 2006 draft class, which produced ten big leaguers overall and five regulars.
So, since we are now nearly a full decade removed from that 2003-06 farm system dry spell, let's go back and see who the Yankees had in the system back then, and what happened to those players. Because they're the best in the business, let's use Baseball America's annual top ten prospects lists as the basis of our little trip back in time. I've cherry-picked a quote from the scouting reports for each player as well. Some are funny, some are serious. Away we go…
No. 1: OF Juan Rivera
Select Quote: "On his way to his first game at Yankee Stadium, he got lost on the subway. Then he broke his right kneecap when he ran into a golf cart during pregame drills, which knocked him out for two months."
What Happened: In 2002, a then-23-year-old Rivera hit .325/.355/.502 with 21 doubles and eight homers in only 65 games with Triple-A Columbus before playing almost everyday in the Bronx as a September call-up. Rivera went up and down a bunch of times in 2003 and was then traded to the Expos in the Javy Vazquez deal after the season. He spent one year in Montreal before being traded to the Angels. Rivera played in parts of 12 MLB seasons and hit .274/.323/.443 (102 OPS+) with 132 homers and 9.5 bWAR. Not a bad outcome at all.
No. 2: OF Bronson Sardinha
Select Quote: "Bronson was named for his mother's favorite actor, Charles Bronson. His brothers Dane (named after a famous Hawaiian surfer) and Duke (named for John Wayne) play in the minors for the Reds and Rockies."
What Happened: The Yankees bought Sardinha away from Pepperdine with a $1M bonus as the 34th pick in the 2001 draft. He hit .279/.362/.427 with 16 homers and 19 steals in 129 games spit between Short Season Staten Island and Low-A Greensboro in 2002, then he sorta stopped hitting. Sardinha put up a .239/.333/.353 batting line between Low-A Battle Creek and High-A Tampa in 2003 before stagnating in the minors for a few years. He did reach the big leagues though, going 3-for-9 in ten games with the 2007 Yankees. Sardinha has been out of baseball since 2011. Fun fact: His middle name is Kiheimahanaomauiakeo. Seriously.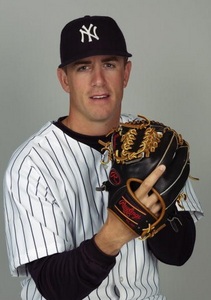 No. 3: LHP Brandon Claussen
Select Quote: "Claussen emerged as one of the game's top lefthanded pitching prospects by leading the minors with 220 strikeouts in 2001. He also topped the organization with 187 innings, and the workload took a toll on his arm in 2002, as he had Tommy John surgery in June."
What Happened: Ah the good ol' draft-and-follow system. Back in the day, teams could draft a player, keep tabs on his progress in junior college the following spring, then decide whether to sign him. Andy Pettitte and Jorge Posada were both draft-and-follows. The draft-and-follow system died when MLB implemented the signing deadline a few years ago. It was a good run.
Anyway, Claussen returned from Tommy John surgery at midseason in 2003 and was never quite the same, showing less stuff and not missing nearly as many bats (65 strikeouts in 95.2 innings in 2003). The Yankees called him up for a spot start against the Mets in late-June (two runs in 6.1 innings) then traded him to the Reds for Aaron Boone at the deadline the following month. Claussen spent three seasons in Cincinnati (86 ERA+ in 309.2 innings) and bounced around the minors until 2007. Tommy John surgery: not without risk!
No. 4: 3B Drew Henson
Select Quote: "Few prospects can match Henson's size, strength and athleticism. He can mash fastballs down in the zone and hit mistakes a long way … His take-charge mentality makes him a favorite of Yankees brass."
What Happened: Henson was my first real head over heels prospect crush. I thought he would be a megastar. He hit .240/.301/.435 with 18 homers in 128 games for Triple-A Columbus in 2002 — the Yankees traded Henson to the Reds for Denny Neagle in July 2000 and reacquired him for Wily Mo Pena in March 2001 — and then hit .234/.291/.412 with 14 homers in 133 games for Columbus in 2003. He went 1-for-9 in two MLB cups of coffee. After the 2003 season, Henson announced his retirement from baseball and decided to go play football, quarterbacking for the Cowboys, Vikings, and Lions from 2004-08. He's now a hitting coach for one of the Yankees' two rookie level Gulf Coast League minor league affiliates.
No. 5: RHP Chien-Ming Wang
Select Quote: "There hasn't been a Taiwanese pitcher who has come to the States and avoided major injury, so his durability remains a question."
What Happened: Wang missed the entire 2000 season due to a shoulder injury, which prompted that quote in Baseball America's write-up. He stayed healthy in the minors from 2003-05 and was just okay (4.00 ERA in 308.1 inning) before getting called up to MLB in May 2005. Wang pitched to a 3.79 ERA (117 ERA+) with 15.4 bWAR from 2005-08 for the Yankees. Then he hurt his foot running the bases. Then he blew out his shoulder. CMW is still kicking around in the minors — he signed a minor league deal with the Braves a few weeks ago — but he hasn't been effective at all since hurting his foot in 2008. For shame.
No. 6: IF Robinson Cano
Select Quote: "He generates plus bat speed and has a knack for making adjustments with his hands to put the barrel of the bat on balls in different zones. He covers the plate well with a good idea of the strike zone, makes consistent hard contact and projects to hit for power."
What Happened: Cano hit .276/.319/.437 with 15 homers between Short Season Staten Island and Low-A Greensboro in 2002. Then he hit .277/.322/.374 with six homers between High-A Tampa and Double-A Trenton in 2003. That's not very good! Cano improved a bit with Trenton and Triple-A Columbus in 2004 (.283/.339/.457 with 13 homers) and, before you knew it, he was hitting .342 in the big leagues by 2006. Robbie was an MVP candidate with the Yankees from 2010-13 before signing a ten-year, $240M contract with the Mariners last offseason. We know nothing about prospects.
No. 7: LHP Danny Borrell
Select Quote: "His arm has relatively low mileage, and Borrell could throw harder with more innings."
What Happened: Despite that low mileage, Borrell blew out his shoulder in 2003 and continued to battle injuries until he retired following the 2008 season. He threw only 282.1 ineffective minor league innings (4.53 ERA) the rest of his career after being dubbed the team's seventh best prospect by Baseball America. Borrell has been working as a pitching coach and pitching coordinator in New York's farm system for several years now.
No. 8: RHP Jorge DePaula
Select Quote: "DePaula was able to channel his intensity to become more efficient on the mound. He must continue to keep his emotions in check to avoid losing control of the game."
What Happened: The Yankees acquired DePaula from the Rockies for Craig Dingman (Craig Dingman!) back in 2001 and he developed into a quality pitching prospect from 2001-03. He spent most of the 2013 season in Triple-A (4.35 ERA in 167.2 inning) and got a September call-up, allowing one run on three hits and one walk in 11.1 innings. DePaula made the Opening Day roster in 2004 but blew out his elbow that April and needed Tommy John surgery. He returned in 2005 and just kind of sputtered. The Yankees cut him loose after 2006 and he bounced around the minors until 2009. (DePaula pitched in Mexico as recently as 2012.) DePaula retired with a 4.00 ERA (114 ERA+) in 27 big league innings, all with New York from 2003-05.
No. 9: OF Rudy Guillen
Select Quote: "Guillen might have the highest ceiling in the organization … While Guillen has five-tool potential, his ability to hit for average will be tested against more advanced competition."
What Happened: After hitting .306/.351/.397 with three homers in 59 games for the rookie GCL Yanks in 2002, Guillen hit .260/.311/.414 with 13 homers in 133 games with Low-A Battle Creek in 2003, which was pretty good for a 19-year-old in full season ball. After that though, Guillen hit .259/.302/.359 with 20 homers from 2004-07 and simply didn't develop. He played a total of 49 games above Single-A ball, all with Double-A Trenton. Guillen has been out of baseball since 2007. Yet another reminder to not get worked up over rookie ball stats.
No. 10: LHP Sean Henn
Select Quote: "The Yankees drafted Henn twice, but it wasn't until his velocity jumped two grades that they signed him to a $1.701 million bonus, a record for a draft-and-follow. Henn went down with a sore elbow nine games into his pro debut and needed Tommy John surgery that wiped out his entire 2002 season."
What Happened: Henn returned from elbow reconstruction in 2003 and was pretty rough, striking out 62 and walking 40 in 80.1 innings. The next season he had a 4.41 ERA with 118 strikeouts and 63 walks in 163.1 innings with Double-A Trenton. Henn got to MLB for the first time in 2005 and allowed 16 runs in 11.1 innings. He walked eleven and struck out three. Three! Henn went up and down in both 2006 and 2007 and wasn't any good — 37 runs allowed with 35 strikeouts and 32 walks in 46 innings. Eventually the Yankees gave up and put Henn on waivers. The Padres claimed him and he's been bouncing around since. Henn last played with the Mets in 2013. Like, the big league Mets, not their Triple-A team. Classic case of a guy with a big arm who never figured it out but kept getting chances because he's a lefty.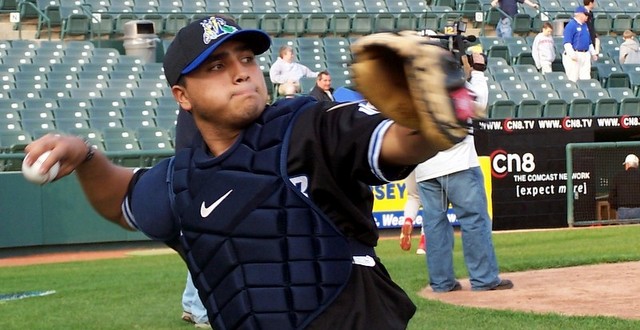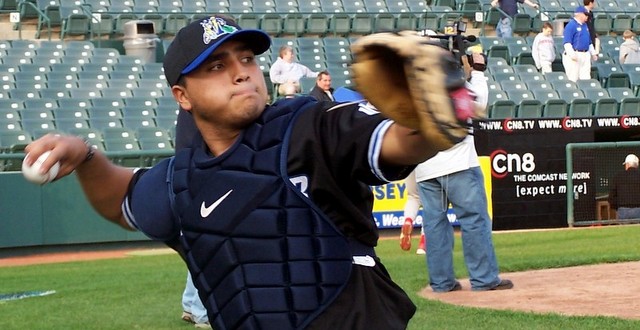 No. 1: C Dioner Navarro
Select Quote: "Nagging injuries — including an inner-thigh infection that led to a sty in his eye, and a hand injury from a home-plate collision — weren't enough to stop him from raking. His combined .321 average ranked fourth among minor league catchers."
What Happened: After hitting .321/.376/.469 with seven homers in 110 games as a 19-year-old for High-A Tampa and Double-A Trenton in 2003, Navarro slipped down to .263/.341/.366 with four homers in 110 games for Trenton and Triple-A Columbus in 2004. The Yankees called him up in September then traded him to the Diamondbacks for Randy Johnson after the season. Arizona flipped him to the Dodgers for Shawn Green and the Dodgers flipped him to the (Devil) Rays for Toby Hall and Mark Hendrickson. Navarro's been in the show on and off since 2004 and is a career .255/.313/.375 (85 OPS+) hitter with 7.4 bWAR.
No. 2: 3B Eric Duncan
Select Quote: "Some teams compared Duncan's lefthanded power potential to Jim Thome's. As with Thome, Duncan's defense at third base may force him to move across the diamond to first."
What Happened: Duncan had a really good year in 2004, hitting .258/.357/.473 with 16 homers in 123 games while climbing from Low-A Battle Creek to Double-A Trenton. He was only 19 too. Duncan hit 19 homers in 2005 but his slash line (.235/.326/.408) was pretty ugly. The Yankees had him in Triple-A by age 21 and he just stopped hitting, putting up a .226/.290/.343 line with in parts of four seasons at the level. Duncan had serious power but not much else. It didn't help that the team rushed him up the ladder in an effort to boost his trade value.
No. 3: Guillen
No. 4: SS Joaquin Arias
Select Quote: "Nicknamed 'Spiderman' because his arms and legs appear to be going in every direction at once, Arias displays good body control in the field."
What Happened: As you may know, Arias was traded to the Rangers along with Alfonso Soriano for Alex Rodriguez in February 2004. Texas selected him from a pool of prospects that also included Cano. Yankees got lucky there, eh? Arias had some nice upside but didn't develop as hoped. He bounced from the Rangers to the Mets to the Giants, where he's been since 2012. Arias is a career .269/.298/.354 (82 OPS+) hitter with 0.9 bWAR. Two World Series rings though.
No. 5: RHP Ramon Ramirez
Select Quote: "Ramirez had Japanese-style mechanics with a hip-turn and hesitations, but pitching instructors Billy Connors and Greg Pavlick converted him to a more conventional over-the-top delivery."
What Happened: Ramirez has a weird back story. He was originally outfielder but converted to pitcher after signing with the Hiroshima Carp in 2002. The Carp posted him in March 2003 after a strong winter ball showing and the Yankees won his rights with a $350,000 bid. They signed him for $175,000 and he pitched to a 4.83 ERA in 284.2 innings at three minor league levels from 2003-04, then was traded to the Rockies for Shawn Chacon in 2005. Ramirez is still active — he pitched in one game for the Orioles last season but spent most of the summer in the minors — and has a 3.42 ERA (125 ERA+) with 6.9 bWAR in 434.2 career innings, all in relief. Not a bad little career.
No. 6: Cano
No. 7: SS Ferdin Tejeda
Select Quote: "A switch-hitter, Tejeda handles the bat well from both sides and uses quick hands and an efficient line-drive swing. He puts the ball in play, though not with the same authority as Joaquin Arias."
What Happened: So Arias with less bat, got it? Tejeda had some nice defensive skills but man he didn't hit at all — .220/.288/.247 in 94 games at High-A and Double-A in 2004 — so much so that the Yankees stuck him on the mound in 2005. He had a 1.80 ERA with 15 strikeouts in 15 innings for the GCL Yankees in 2005 and was lost on waivers to the Padres that summer. Tejeda's been out of baseball since 2008 and only played 30 games above Single-A ball.
N0. 8: DePaula
No. 9: OF Estee Harris
Select Quote: "The Yankees went against the consensus to snag Harris in the second round, but they love his bat … Harris has drawn comparisons to a young Garret Anderson and could produce 30 home runs annually once he matures."
What Happened: Shockingly, the Yankees went against the grain in the draft and it didn't work. Harris hit .221/.306/.368 with ten homers and 153 strikeouts in 113 games split between three levels of Single-A in 2004 and was playing in an independent league by 2007. He's been out of baseball since 2011 and hit .218/.296/.365 with a 30.7% strikeout rate in 327 games with the Yankees, none above Low Class-A.
No. 10: Sardinha
No. 1: Duncan
No. 2: Cano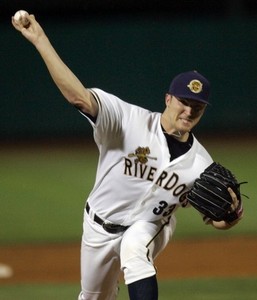 No. 3: RHP Phil Hughes
Select Quote: "The Angels strongly considered him at No. 12 before deciding to take top-rated pitcher Jered Weaver."
What Happened: We all know what happened, but man, Hughes was the bomb back in the day. He had a 2.19 ERA with 93 strikeouts and 20 walks in 86.1 innings for Low-A Charleston and High-A Tampa as a 19-year-old in 2005 then had a 2.16 ERA with 168 walks and 34 strikeouts in 146 innings for Tampa and Double-A Trenton in 2006. Baseball America ranked him the top pitching prospect in the game before the 2007 season. Well, top non-Daisuke Matsuzaka pitching prospect. Hughes had a (very) up and down tenure in New York but seems to have found himself with the Twins after leaving as a free agent last winter.
No. 4: RHP Steven White
Select Quote: "White's development was an important step for the Yankees, who could use an innings-eater as soon as possible. He fits that profile, but needs at least a year to hone his secondary stuff."
What Happened: White was a four-year college guy with okay stuff who got overrated as a prospect pretty quickly because he dominated Low-A Battle Creek and High-A Tampa as a 23-year-old (!) in 2004 — 2.61 ERA in 117.1 innings. He had a 4.45 ERA with a weak 16.9% strikeout rate from 2005-08, though he did at least reach Triple-A. White's been out of baseball since 2008. The lesson here: age relative to level is important!
No. 5: Navarro (hadn't yet been traded when Baseball America released their Yankees top ten)
No. 6: RHP Christian Garcia
Select Quote: "He has easy velocity on his fastball, working at 93-94 mph and topping out at 96 … His curveball, at times a true power hammer, could be a better pitch."
What Happened: Man, Garcia had nasty, nasty stuff. He just couldn't stay healthy. Two Tommy John surgeries, an oblique strain, and some other stuff limited him to only 258.1 innings — none above Double-A — from 2005-10 before the Yankees gave up and released him. The Nationals picked him up and he actually made it to the big leagues with them in 2012, allowing three runs with 15 strikeouts in 12.2 relief innings in September 2012. Here's that "true power hammer" curveball: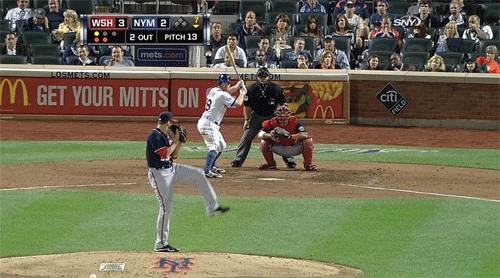 Garcia got hurt again in 2013 and has thrown only 27.2 innings the last two seasons. Washington released him last June and from what I can tell, he's still a free agent. Great, great arm. Just couldn't stay healthy. Pitching prospects, man.
No. 7: 3B Marcos Vechionacci
Select Quote: "Vechionacci can hit. His advanced approach includes plate discipline, smooth swing mechanics and the ability to use the whole field. He shows developing power as well."
What Happened: Well, no, Vechionacci couldn't hit. Or at least he didn't. He followed up his strong 2004 season (.319/.390/.454) with a .252/.314/.348 line and two homers in 128 games for Low-A Charleston in 2005. From 2005-09, Vechionacci put up a .245/.314/.345 batting line before having a nice dead cat bounce season with Double-A Trenton in 2010, hitting .283/.350/.421 with eleven homers in 114 games. People asked if he was regaining prospect status. I said no. They mocked at me. Vechionacci became a minor league free agent after that season, no team bothered to sign him, and he's been out of baseball since. So no, he didn't regain prospect status. Jerks.
No. 8: OF Melky Cabrera
Select Quote: "One club official compared his offensive game to Jose Vidro's."
What Happened: Melky has turned into a nice little player. His cup of coffee in 2005 was a total disaster, he looked like a deer in the headlights, but in 2006 he hit .280/.360/.391 (95 OPS+) while filling in for the injured Hideki Matsui and Gary Sheffield. Cabrera hit .267/.323/.385 (84 OPS+) from 2007-09, got traded to the Braves for Javy Vazquez, got fat, got released by Atlanta, signed with the Royals, got less fat, and has hit .309/.351/.458 (124 OPS+) since. Melky is a career .286/.339/.415 (103 OPS+) hitter with 17.7 WAR and just signed a three-year, $42M deal with the White Sox. Too bad he didn't figure it out while in pinstripes. By the way, when he was Melky's age, Vidro had 17.0 WAR. Freaky.
No. 9: Sardinha
No. 10: Wang
No. 1: Hughes
No. 2: Duncan
No. 3: OF Jose Tabata
Select Quote: "His ceiling is as high as any Yankees minor leaguer since Alfonso Soriano."
What Happened: Tabata was peak Yankees Hype Machine. There were Manny Ramirez comps flying around and they were ridiculous. Tabata did hit though, at least at first. He authored a .298/.377/.420 line in 86 games with Low-A Charleston in 2006, his age 17 season, and Baseball America ranked him as the 27th best prospect in the game after the season. Then he hit .307/.371/.392 in 103 games with High-A Tampa the next season.
Tabata was not without his issues, however. He had been insubordinate — he literally left the stadium in the middle of a game while with Double-A Trenton in 2008 because he didn't like a strike three call — and there were always whispers he was older than believed. Those whispers still exist too. Anyway, the Yankees got fed up with Tabata's act and traded him to the Pirates in the Damaso Marte/Xavier Nady deal in 2008. He's a career .275/.336/.379 (99 OPS+) hitter with 2.5 bWAR in part of five seasons. Tabata never developed any power and the off-the-field issues persist. The Yankees did well to cash him in as a trade chip when they did.
No. 4: SS C.J. Henry
Select Quote: "Henry is a premier athlete, already the best in the system. He has well-above-average raw power and is a plus runner."
What Happened: Henry was a great athlete who split his time between baseball and basketball in high school, and the lack of experience showed in pro ball. He didn't hit at all. Henry had a .240/.330/.353 line with a 27.2% strikeout rate in 77 games with Low-A Charleston when the Yankees cut bait and sent him to the Phillies as part of the package for Bobby Abreu in 2006, one year after drafting him. Henry briefly returned to the organization in 2008 but never made it out of Single-A ball. He played college hoops from 2009-11 at Kansas and Southern Nazarene University, tried independent ball in 2003 (.332/.410/.523!) and has been out of sight since. I thought Henry was a great pick at the time (17th overall), he was loaded with tools, it's just didn't work out.
No. 5: OF Austin Jackson
Select Quote: "Jackson's basketball jones threw off many area scouts, who doubted his desire to play baseball. But Mark Batchko realized Jackson wanted to be a Yankee, having written his first scouting report on him when Jackson was 12."
What Happened: The 2006 season at Low-A Charleston was a little rough (.260/.340/.346 with 151 strikeouts) but Jackson broke out in 2007 and was one of the team's very best prospects before being traded to the Tigers for Curtis Granderson during the 2009-10 offseason. Jackson is a career .274/.336/.402 (101 OPS+) hitter with 19.9 bWAR in five MLB seasons. He's turned into exactly the player he was projected to be. Sometimes it all makes sense.
No. 6: SS Eduardo Nunez
Select Quote: "Nunez had a 70 arm on the 20-80 scouting scale and good hands defensively … Nunez has shaky footwork at shortstop, and some question whether he'll have the range or mobility to stay there."
What Happened: Oh Nunie. He didn't hit at all from 2006-08 (.243/.312/.329), broke out with Double-A Trenton in 2009 (.322/.349/.433), held his own with Triple-A Scranton in 2010 (.289/.340/.381), and saw way too much playing time with the Yankees from 2010-13. With New York, Nunez hit .267/.313/.379 (88 OPS+) with -1.8 bWAR and plenty of hilaribad defense: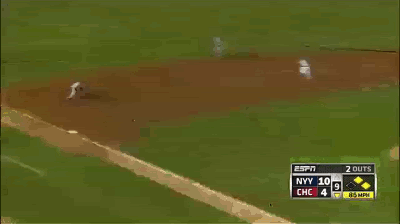 Nunez was traded to the Twins last year and did more of the same in Minnesota (82 OPS+ and 0.3 bWAR) while also playing some outfield. If nothing else, he was a goofy guy good for some comic relief. But geez, Nunie's defense was gross.
No. 7: Vechionacci
No. 8: Garcia
No. 9 : RHP Jeff Marquez
Select Quote: "Marquez shows three pitches that could be 55 or 60 offerings on the 20-80 scouting scale … If his control and command improve to be major league average, Marquez could top out as a No. 2 or 3 starter."
What Happened: Marquez was a pretty good pitching prospect who had solid yet unspectacular years in 2006 (3.58 ERA in 98 innings) and 2007 (3.65 ERA in 155.1 innings) while climbing from High-A Tampa to Triple-A Scranton. He struggled in 2008 (4.47 ERA in 102.2 innings) and the team sent him to the White Sox as part of the package for Nick Swisher after the season. Marquez returned to New York on waivers in 2011 and allowed one run in five innings for the team that summer. He's been out of baseball since 2012.

No. 10: RHP Tyler Clippard
Select Quote: "Clippard combines a knack for pitching with solid-average stuff and a strikeout pitch. He profiles as a No. 3 starter and could move quickly."
What Happened: Clippard was a pretty polarizing prospect back in the day because he had gaudy minor league numbers but the scouting report was just meh. He manhandled Double-A in 2006, posting a 3.35 ERA with 175 strikeouts in 166.1 innings, and although he sorta stunk with Trenton and Triple-A Scranton the following year (4.50 ERA with 83 strikeouts in 96 innings), the Yankees called Clippard up and he beat the Mets in his MLB debut.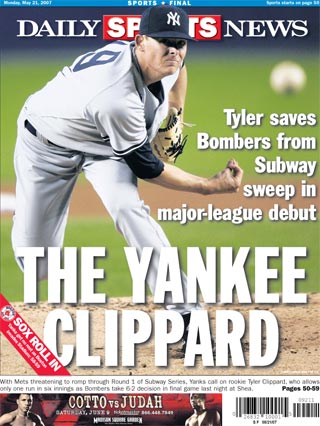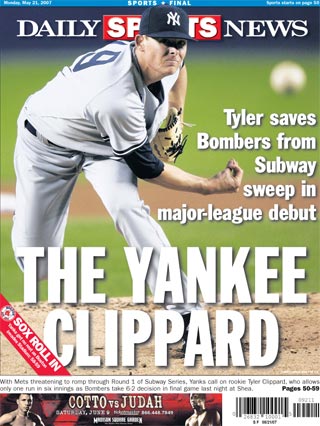 The Yankees traded Clippard to the Nationals for Jonathan Albaladejo after the season and that trade has been a disaster. Albaladejo mostly stunk in pinstripes and Clippard took off when Washington moved him into the bullpen full-time in 2009. He's been one of baseball's elite relievers ever since, pitching to a 2.64 ERA (150 ERA+) with 10.1 bWAR in an absurd 453.2 innings from 2009-14. Quite the blunder by the Yankees. Oh well. You win some and you lose some.
* * *
Baseball America ranked 27 different players among New York's top ten prospects from 2003-06, and, of those 27, there is one superstar (Cano), two above-average players (Wang and Clippard), five solid big leaguers (Jackson, Melky, Rivera, Navarro, Hughes), four spare part big leaguers (Arias, Ramirez, Nunez, Tabata), and 15 others who either flamed out or got hurt or turned into up-and-down guys. Other players ranked among the team's top 30 prospects in Baseball America's Prospect Handbook from 2003-06 were IF Andy Phillips, OF Marcus Thames, RHP Scott Proctor, OF Brett Gardner, RHP Jeff Karstens, and the late LHP Brad Halsey. Gardner's the prize there.
More than anything, I think this little exercise shows just how ridiculously difficult it is to project future MLB success. Ranking prospects is a fool's errand but hey, it's fun and people love rankings, so everyone does it anyway. Quality MLB players come in all shapes and sizes and have all sorts of different backgrounds. Jackson was a basketball prospect who became a big league center fielder. Arias was a stud shortstop prospect who now can't hit his weight. Navarro looked like a monster who turned into a fringe regular. Cano was an okay prospect before turning into a star. Go back and look through the worst ranked farm systems in history and, inevitably, they produced some decent big league ballplayers.