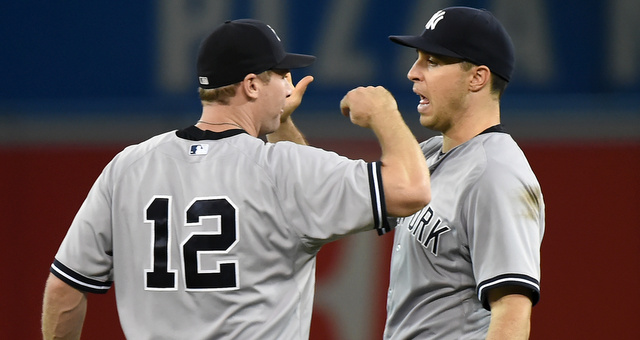 My heart is still pumping after that game last night. That was something else. Been a while since a baseball game made me feel that way. But today is a new day, and what happened yesterday is in past. The Yankees have another game this afternoon and a chance to win the series over the Blue Jays at Rogers Centre. I'd like that, especially after last weekend.
The Yankees have the right guy on the mound this afternoon in Masahiro Tanaka, who has been really homer prone of late, but also pretty good. Last weekend he held the Jays to three hits — two solo homers — in six innings and could have gone out for the seventh because he'd only thrown 80 pitches. Hopefully Tanaka goes deeper into the game today and keeps the ball in the park. Here is Toronto's lineup and here is New York's lineup:
CF Jacoby Ellsbury
LF Brett Gardner
RF Carlos Beltran
DH Mark Teixeira
3B Chase Headley
1B Greg Bird
SS Didi Gregorus
C John Ryan Murphy
2B Stephen Drew
RHP Masahiro Tanaka
It is cloudy, cool, and humid in Toronto this afternoon, and there is some rain in the forecast, so I'm guessing the Rogers Centre roof will be closed. This afternoon's game will begin at 1:07pm ET and you can watch on YES. Enjoy.
Roster Move: The Yankees have recalled Caleb Cotham and designated Chris Capuano for assignment, the team announced. I guess that means Bryan Mitchell is available for long relief work again.
Injury Update: Forgot to mention this in the recap last night, but x-rays on Ivan Nova's finger came back negative following last night's game. He took that hard-hit grounder to the hand in the third inning. It got him in the ring finger. Nova stayed in the game and didn't seem to have any problems afterward … Diego Moreno will have bone chips removed from his elbow, Brian Cashman announced. Moreno had been pitching when them for years, but they didn't become a problem until recently.