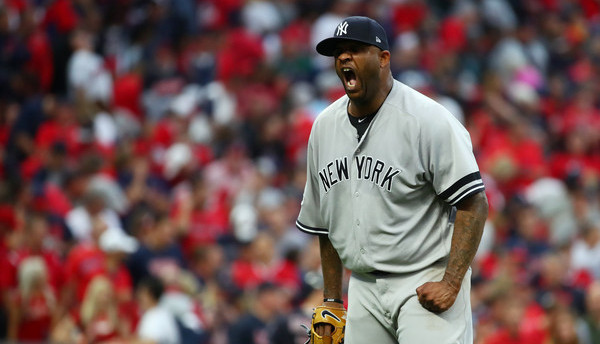 Thanks to wins in Games Three and Four of the ALDS the last two days, the Yankees will play for a spot in the ALCS tomorrow night. What a fun season this has been. I hope it never ends. Anyway, here are some stray links to check out now that we all have a chance to catch our breath a bit during the off-day.
Sabathia still wants
to

pitch in 2018

Over the weekend CC Sabathia reiterated to Jon Morosi that he plans to pitch in 2018. He said this back over the winter too, but at 37 years old and with a balky knee, he could've changed his mind at some point during the season. And heck, maybe the Yankees will win the World Series and Sabathia will decide to ride off into the sunset as a champion. That'd be cool, as much as I'd miss CC.

Regardless of what happens tomorrow night, I am totally cool with bringing Sabathia back on one-year contracts for pretty much the rest of his career, Andy Pettitte style. He showed this year that last season's success was no fluke. The new Sabathia is here to stay. Between the perpetual need for pitching depth and Sabathia's leadership role in the clubhouse, bringing him back is a no-brainer. And why would Sabathia want to leave? The Yankees are good and fun, and he lives here year-round. The going rate for veteran innings dudes (Bartolo Colon, R.A. Dickey, etc.) is one year and $10M to $12M these days. Maybe Sabathia gets $15M because he's basically a legacy Yankee?
Mets have discussed Girardi
I had a feeling this was coming. According to Mike Puma, the Mets have internally discussed pursuing Joe Girardi should Girardi and the Yankees part ways when his contract expires after the season. Terry Collins was essentially pushed out as Mets manager after the season, and the team is looking for a new skipper. Also, as George King writes, Girardi has given some indications he could step away after the season to spend more time with his family and avoid burnout.
While we should never rule out Girardi going elsewhere or simply stepping away to be with his family, these two reports struck me as plants from Girardi's camp as a way to build leverage for contract talks. The best thing for Girardi would be the Nationals and Dusty Baker having trouble finding common ground for an extension, because then he could use them as leverage too. I think Girardi wants to come back — who'd want to leave given how well set up the Yankees are for the future? — and I think both Hal Steinbrenner and Brian Cashman want him back. The chances of a reunion seem quite high to me. Maybe as high as 95/5.
Judge named BA's Rookie of the Year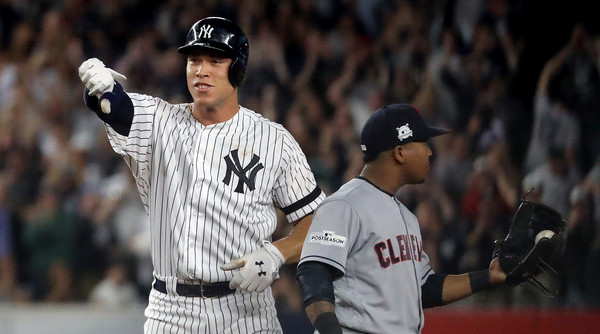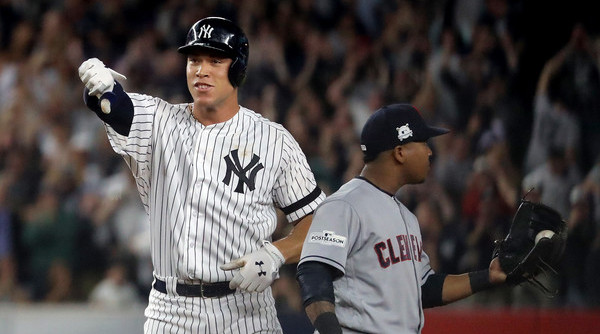 A few days ago Baseball America named Aaron Judge their 2017 Rookie of the Year, which should surprise no one. They give out one award for all of MLB, not one for each league. Baseball America has been giving out their Rookie of the Year award since 1989 and Judge is the second Yankee to win it, joining Derek Jeter in 1996. From their write-up:
"You watched him in the minor leagues and you saw the raw power and athletic ability," one pro scout told BA during the season. "You saw a big swing and high strikeout numbers. Then you have to ask yourself does he have the ability to make adjustments and shorten the swing. The answer was yes.'

"If anybody says they expected this I would have to call them a liar. Nobody in their right mind expected this."
The last few Baseball America Rookies of the Year include Corey Seager, Kris Bryant, Jose Abreu, Jose Fernandez, and Mike Trout. Judge is for sure going to win the AL Rookie of the Year award — he'd be the first Yankee to win that since Jeter — and he should win unanimously. The real question here is the MVP race. I see way more people explaining why Judge shouldn't win it (his slump) than why Jose Altuve should win. Kinda weird.
Tate removed, Abreu added to AzFL roster
Dillon Tate has been removed from the Scottsdale Scorpions roster with Albert Abreu taking his place, the Arizona Fall League announced. Also, Chris Gittens was removed from the roster as well. I'm not sure why Tate was dropped from the roster, but it could one of countless reasons. He could've gotten hurt. The Yankees could've decided to shut him down after Instructional League. The Yankees may think those innings would be better spent on Abreu. Who knows.
Abreu came over in the Brian McCann trade and he threw only 53.1 innings around elbow and lat injuries this year. He finished the season healthy though, and is obviously healthy enough to go to the AzFL, so he'll be able to squeeze in some more innings there. That's good. Abreu has an awful lot of upside, maybe the most of any pitcher in the system. As for Gittens, he was removed because Billy McKinney was added to the AzFL roster, and he's going to start playing some first base there. Only so many first base roster spots to go around, so Gittens gets dropped.