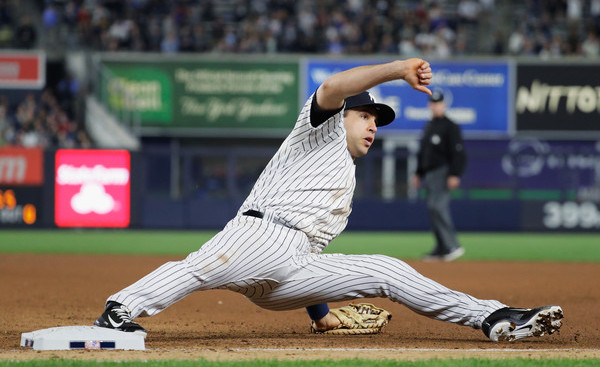 Earlier today the Yankees placed Mark Teixeira on the 15-day DL with a "right knee articular cartilage tear," the team announced. He left last night's game with discomfort in the knee and went for an MRI. Brian Cashman told Chad Jennings that Teixeira may need season-ending surgery. From Jennings:
"The initial effort is going to try to be to treat it conservatively with rest, probably involving injections, and then see how he responds to that," general manager Brian Cashman said in a phone call this morning. "… If that doesn't work, then you're looking at a surgical procedure. If that's the case, then his season is probably done."
Surgery could end not only Teixeira's season, but also his Yankees career. His eight-year contract is up after the season, and while the team will need a backup plan for Greg Bird at first base next year, they could very well go in another direction. For now it seems the Yankees will be without Teixeira for an extended period of time. This doesn't figure to be a 15-day stint on the DL.
To replace Teixeira on the roster, the Yankees have called up Chris Parmelee — not Nick Swisher — from Triple-A Scranton. Simply put, the team believes Parmelee is better able to help them than Swisher right now. Parmelee has been the more productive hitter with the RailRiders (131 wRC+ vs. 72 wRC+), he's seven years younger, he's healthier, and better able to play the outfield if necessary.
Cashman told Jennings the plan is to mix-and-match at first base for the time being. It makes sense to start Parmelee, a left-handed hitter, against righties. Rob Refsnyder or Austin Romine could get the call against lefties. Refsnyder replaced Teixeira at first last night — it was his first game action at the position at any level — and was fine, though he wasn't tested with many plays.
Teixeira has not hit at all this season. He owns a .180/.271/.263 (48 wRC+) batting line and hasn't looked anywhere close to snapping out of his slump. It's been nearly two full months since he last hit a home run. It's very possible Parmelee and whoever else will give the team more production at first base than Teixeira has this season. They won't replace his defense though. Teixeira is still all-world with the glove.
Dustin Ackley, who had season-ending shoulder surgery yesterday, was transferred to the 60-day DL to clear a 40-man roster spot for Parmelee. He'll be with the Yankees tonight.