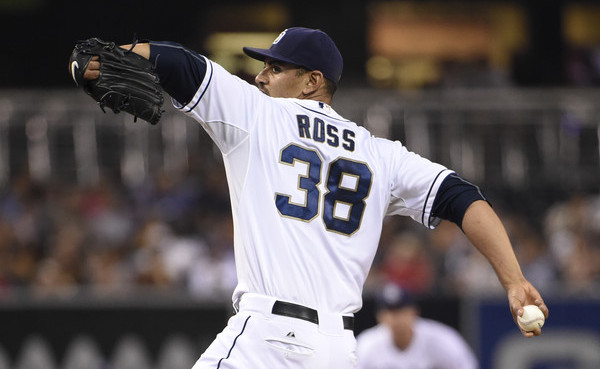 Last Friday was the deadline for teams to tender their pre-arbitration and arbitration-eligible players contracts for the 2017 season. They didn't have to sign them, just offer a contract. Those who didn't receive an offer became free agents. A total of 35 players were non-tendered Friday.
The Yankees non-tendered one player, lefty Jacob Lindgren, who almost immediately signed with the Braves. New York hoped to bring Lindgren, who is rehabbing from Tommy John surgery, back on a minor league deal, but no luck. "Unfortunately we don't have every roster spot we can find. We were hoping to get him back on a minor league deal, but it didn't work out," said Brian Cashman to Joel Sherman.
Among the 34 other non-tenders are some players who could be of interest to the Yankees. Chris Carter, who led the NL with 41 home runs in 2016, was a possible DH candidate prior to the Matt Holliday signing, for example. Three other non-tendered players caught my eye after being let go Friday. Do any make sense for the Yankees? Well, let's see.
RHP Matt Carasiti
Right off the bat, someone you've probably never heard of. Carasiti, 25, is a local kid who grew up in Connecticut and went to St. John's. He was a sixth round pick by the Rockies in 2012, and over the last few years he gradually climbed the minor league ladder before making his MLB debut in 2016. It wasn't pretty. Carasiti allowed 17 runs on 25 hits and eleven walks in 15.2 innings. He struck out 17. That's a 9.19 ERA (4.49 FIP).
Those numbers are not what makes Carasiti kinda interesting. (I'm not going to knock the kid for pitching poorly in his first taste of MLB when Coors Field is his home park.) He's now a pure reliever with a history of missing bats and limiting walks in the minors (27.4 K% and 5.1 BB% in 2016) thanks to a fastball/cutter/forkball combo. Carasiti's four-seamer averaged 95.6 mph and topped out at 97.5 mph with the Rockies, and the forkball had a healthy 24.6% swing-and-miss rate. (Masahiro Tanaka's splitter had a 17.6% whiff rate in 2016.)
Carasiti is a not a future closer or anything like that. He has the tools to miss bats though, plus he has all three minor league options remaining, which makes him a shuttle reliever candidate. There's a pretty decent chance whichever teams signs Carasiti this offseason will be able to do so on a minor league contract.
With Lindgren and the recently released Nick Rumbelow gone, plus Branden Pinder still on the mend following Tommy John surgery, adding another shuttle candidate wouldn't be a bad idea. There's no such thing as too many potential bullpen options these days. Chances are the Yankees are going to end up signing (or claiming) someone exactly like this at some point this winter.
RHP Tyson Ross
Ross is the biggest name among the non-tendered players. From 2013-15, he was legitimately one of the best pitchers in baseball, putting up a 3.07 ERA (3.13 FIP) in 516.2 innings. More than 60% of the batters he faced those years (61.5%, to be exact) either struck out or hit a ground ball. Only Dallas Keuchel (63.7%) and Felix Hernandez (62.1%) had better rates among the 132 pitches to throw at least 300 innings from 2013-15. The great Clayton Kershaw (61.1%) was right behind Ross.
Of course, Ross is not healthy right now, and even when he was healthy, he had a thing for walks. His 9.4% walk rate was tenth highest among the 132 pitches from 2013-15. This past season Ross started on Opening Day, got rocked (eight runs in 5.1 innings), then spent the entire rest of the season on the disabled list. His string of injuries went like so:
April 9th: Placed on 15-day DL with shoulder inflammation.
July 7th: Twisted his ankle in his hotel room and had to be shut down from throwing.
August 25th: Left his first rehab start after two-thirds of an inning with shoulder discomfort.
October 13th: Underwent surgery to treat Thoracic Outlet Syndrome.
So there you go. A bunch of shoulder issues with a twisted ankle mixed in for good measure. The optimistic outlook has Ross returning from TOS surgery in April or May. Midseason seems like a safer bet, but we'll see. Either way, TOS is very serious and it can be career-threatening if not caught quickly enough. By all accounts, doctors caught Ross' issue early, which improves his prognosis. Still, it's scary stuff.
This is my general feeling on the situation: Ross is the guy everyone is excited about when he gets non-tendered, the team that signs him will be universally praised, then he'll put up like a 5.60 ERA in 43 innings next year. I feel like this is heading in that direction. That doesn't mean you stay away from him, because if he's healthy, Ross can be really good. It just means there's a lot of risk here. TOS is no joke.
The Yankees should pursue the 29-year-old Ross as a lottery ticket. Don't count on him for anything. Give him a look in the rotation when he's healthy and see what happens. That's it. Don't pencil him in as the No. 5 starter or anything. Whatever you gives you is all gravy. The hard part will be convincing Ross to take what I imagine will be a short-term contract to pitch in Yankee Stadium and the AL East. That's not a good place to rebuild value. My guess is he winds up closer to home on the West Coast.
RHP Chris Withrow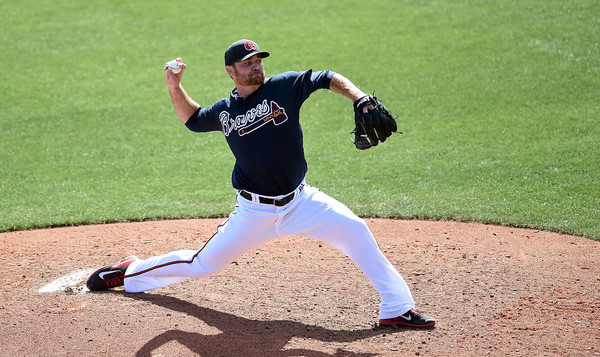 I was surprised the Braves non-tendered Withrow. I can understand the Padres cutting Ross loose — he was projected to make roughly $10M through arbitration in 2016, which is a lot for an injured pitcher on a small market team — but Withrow was projected for a mere $1.2M salary. For a team as desperate for pitching as the Braves, I would have thought keeping him was a no-brainer. Shows what I know.
Anyway, Withrow returned from Tommy John surgery this season and threw 37.2 innings with a 3.58 ERA (4.90 FIP) in 37.2 innings. His strikeout (17.7%) and walk (10.8%) rates were the kind of stuff you tend to see from a guy just returning from elbow reconstruction. Obviously any team that signs the 27-year-old fastball/slider/curveball pitcher would be hoping for better going forward.
Before his elbow gave out, Withrow spent part of the 2013 and 2014 seasons with the Dodgers, with whom he pitched to a 2.73 ERA (3.65 FIP) with a 31.7% strikeout rate in 56 innings. Walks were an issue overall (13.8%), though much of that stems from the few outings before his elbow injury, when he completely lost the zone. That isn't to say Withrow has great control when healthy. Just that it isn't quite that bad.
Like Carasiti, Withrow is a potential bullpen shuttle candidate. Unlike Carasiti, Withrow doesn't have any options left, which creates a problem. He can come up, but he can't go back down, at least not without passing through waivers. That shouldn't be a deal-breaker though. Withrow is the type of pitcher who can be had on a minor league deal and stashed in Triple-A. If he pitches well, great! If not, well then he gets released and no big deal.
* * *
There are a few bigger name players who were non-tendered as well last week, including Rubby De La Rosa. Rubby has a huge arm, but he hasn't been very good when healthy, and right now he's rehabbing his elbow in an effort to avoid his second Tommy John surgery. He'll get billed as a low risk, high reward player. I see him as more of a high risk, low reward player given his track record and current elbow concerns.
Others like Vance Worley (nope), Jose Pirela (eh), Jeff Locke (yuck), and Jeff Manship (meh) were all non-tendered last week as well, and you could talk yourself into thinking each of them makes some sense for the Yankees. Ross is clearly the prize of the non-tender class and he comes with a ton of risk. I'd like to see the Yankees roll the dice on Carasiti and/or Withrow for bullpen depth, but generally speaking, this crop of non-tenders is lacking impact. They're all hurt or spare part players.