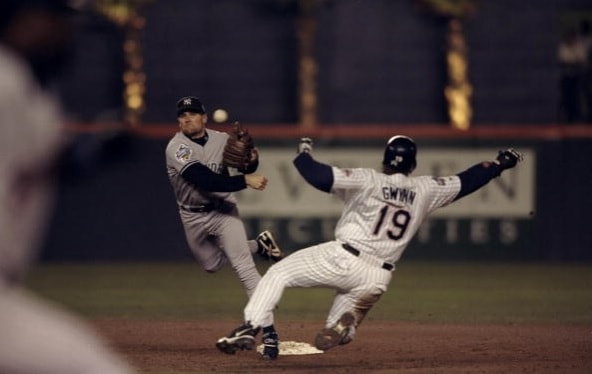 For a few years in the mid-1990s, the Yankees had a revolving door at second base. Pat Kelly mostly held the position down from 1992-95 before getting hurt and giving way to Mariano Duncan in 1996. Duncan, Kelly, and Luis Sojo took turns at the position in 1997. That's three primary second basemen in three years.
The Yankees were a good enough team overall to overcome the second base revolving door. They won the World Series in 1996 — thanks in part to Duncan's inexplicably excellent season — and won 96 games in 1997. And yet, going into the 1997-98 offseason, the Yankees were in obvious need of a second base upgrade. They also wanted a set leadoff hitter so Derek Jeter and his bat control could hit second.
Meanwhile, up in the Minnesota, the Twins were dealing with a second base problem of their own. They had a franchise caliber player at the position in Chuck Knoblauch — Knoblauch hit .319/.413/.468 (127 OPS+) and averaged ten homers and 47 steals per season from 1994-97 — but he wanted out. Bad. He demanded a trade publicly and backed the team into a corner.
Knoblauch signed a five-year extension worth $30M in November 1996, and after the club floundered in 1997 (79-83), he wanted out. "I was just dejected. The losing got to me. I wasn't handling getting beat up on a pretty consistent basis," Knoblauch said to Amelia Rayno in 2014. The Yankees needed a second baseman and a pretty great second baseman had just demanded trade. It was a perfect fit.
* * *
"'Don't get too excited about Chuck Knoblauch," said George Steinbrenner to reporters in January 1998. "(The Twins) have to get realistic about what they're asking for. I'm a great Knoblauch fan, but at what price?"
Knoblauch and the Yankees were a match made in baseball heaven, yet trade talks dragged on for weeks and months, so much so that then GM Bob Watson suggested the Yankees could go into the season with Sojo and Rey Sanchez at second base. The Indians were in on Knoblauch as well, so the Yankees had competition.
The Twins, even though Knoblauch demanded a trade and had long been a clubhouse headache, had a high asking price. Bernie Williams was involved in trade rumors at one point. Mostly though, Minnesota focused on prospects like lefty Eric Milton, catcher Jorge Posada, and outfielder Ricky Ledee. They wanted first baseman Sean Casey from Cleveland.
It wasn't until February 6th, three days after Brian Cashman replaced Watson as GM and not long before the Yankees opened Spring Training, that the Yankees and Twins came to a trade agreement. Knoblauch went to New York for Milton, shortstop Cristian Guzman, outfielder Brian Buchanan, righty Danny Moto, and $3M in cash. It was a blockbuster. Knoblauch was a star and Milton and Guzman were top prospects.
"I had to do the best I could under the situation. When you go public with a trade demand it's very difficult to do anything," said Twins GM Terry Ryan to the Associated Press. "Until you see what these kids do you aren't going to be able to evaluate this trade. It might be five years. It might be three years. We do know what we traded."
* * *
With Knoblauch at second base, Joe Torre's lineup seemed to write itself. Everyone fell right into place.
2B Chuck Knoblauch
SS Derek Jeter
RF Paul O'Neill
CF Bernie Williams
1B Tino Martinez
DH Chili Davis/Darryl Strawberry
LF Chad Curtis
C Jorge Posada
3B Scott Brosius
The pieces just fit. Knoblauch, however, had trouble with the adjustment to New York. He had a four-hit game in the second game of the season, but on May 17th, his batting line was .238/.346/.318. It was .246/.358/.371 on August 1st. Knoblauch was expected to bring a high batting average and on-base percentage, and steals. Instead, his average and on-base percentage sank, and he went from 62 steals in 1997 to 31 steals in 1998.
"'I've said it before, and I'll say it again, this is the most positive experience I've had in baseball and in my baseball life. Off the field, everything," said Knoblauch to Jack Curry amid the struggles. "New York is just different from any other city. The people, the city, everything is great."
Because he had been traded in the middle of a multiyear contract, the Collective Bargaining Agreement allowed Knoblauch to request a trade after the 1998 season. The Yankees discussed a contract extension with him earlier in the year to prevent that from happening, but talks were tabled. There were even rumors of a Knoblauch-for-Roberto Alomar trade at midseason.
"The only discussion we had was early and how he doesn't want to go anywhere and we don't want him to go anywhere, so let's not worry about it" said Cashman to Curry. "I'm not worried about it."
The Yankees were, of course, completely dominant all summer — at one point they won 91 of 117 games, if you can believe that — so Knoblauch's less than stellar production wasn't dragging the team down. Neither was his suddenly shaky throwing. The potential for a trade demand — or the potential to leverage that trade demand into an extension — was a bit of a headache, though not much.
Knoblauch finished the regular season strong, hitting .303/.369/.471 with seven homers in his final 51 games, giving him a .265/.361/.405 (102 OPS+) batting line overall. He set a new career high with 17 homers, walked more than he struck out (76 to 70), and also led the league with 18 hit-by-pitches. Not awful. Not great, not Knoblauch with the Twins, but not awful.
* * *
As the Yankees marched to the 1998 World Series title, they did it in spite of Knoblauch, not with his help. He went 1-for-11 (.091) during the team's three-game sweep over the Rangers in the ALDS. In the ALCS, Knoblauch made what is one of the most infamous plays in recent Yankee history, as he let two runs score while arguing with the umpire in the 12th inning of Game Two against the Indians.
Knoblauch argued Travis Fryman interfered with the play by running outside the basepath and on the infield grass. He argued, and he continued arguing, and he arguing some more as Enrique Wilson chugged all the way around from first base to score on the play. Knoblauch was booed when he came to the plate in the next half-inning, and the Indians eventually held on to knot the series up at a game apiece.
"I screwed up. I screwed up the play, and I feel terrible about that," Knoblauch said to Buster Olney after the game. "I should have went and gotten the ball, regardless of what the outcome of the umpire's call was. I need to apologize to my teammates and my manager and all the Yankees fans."
The Yankees rallied to win the ALCS and, in the World Series, Knoblauch atoned for the boneheaded mistake against the Indians — I'll never forget the "BLAUCH HEAD" headlines in the papers the next morning — with a game-tying three-run home in the seventh inning of Game One against Donne Wall and the Padres.
"If you try in this game or any other game to make up for every time you struck out with the bases loaded or every time you made an error, that pressure would pile up so much that you wouldn't be able to walk," said Torre to
Selena Roberts
after the game. "The fact that we did get to the World Series was big for everyone. Not only Chuck, but we wouldn't want anyone living with that."
Knoblauch was great in the World Series that year — he went 6-for-16 (.375) with the home run, three walks, and two strikeouts in the four-game sweep — so, in that sense, it was mission accomplished. The Yankees won the World Series! That's the ultimate goal.
At the same time, my lasting imagine of Knoblauch as a Yankee is him standing and pointing at the basepath in the 12th inning of Game Two of the ALCS. I know I'm not the only one who remembers him this way: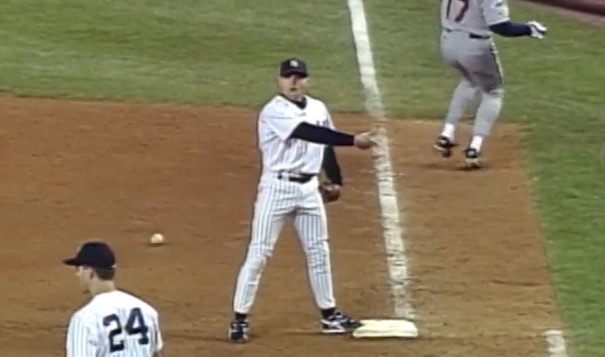 The Yankees acquired Knoblauch to solidify second base and raise hell atop the lineup. He did neither. He had some defensive issues and his offense was not up to his career standards. That was true in 1998 and in subsequent years as well. The throwing issues got worse and the offensive numbers trended down.
Knoblauch had some big moments from 1999-2001 — his game-tying two-run home run in the eighth inning of Game Three of the 1999 World Series comes to mind — but he came to New York as one of the game's premier second basemen, and left as a left fielder the Yankees tried to unload every winter and every trade deadline.
"Forget the player, I'm a better person having been through all of that and being through it in New York," said Knoblauch to Rafael Hermoso in Spring Training 2002, after signing with the Royals as a free agent. "The bottom line is I have three World Series rings, and one or two outs away from a fourth. I had a great time there."