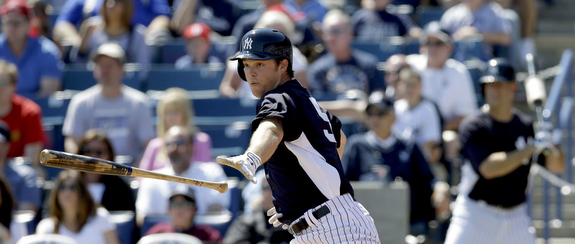 The Yankees showed up to camp last spring with the bench mostly set, but this year was a different story. None of the four bench spots were accounted for when position players reported last month — there were favorites for jobs, but nothing was close to set in stone — and right now the only guarantee is that either Chris Stewart or Frankie Cervelli will be the backup catcher while the other starts. The backup infielder, backup outfielder, and remaining bench spot are still undecided.
Less than two weeks before Opening Day, those three bench questions are joined by two injury-related questions in the starting lineup. Curtis Granderson and Mark Teixeira will be out until May, possibly longer in the case of the latter, meaning the Yankees must also sort through their assorted scraps for an outfielder and a first baseman. Thanks to some recent roster moves, these five position player questions are starting to be answered.
"There is no guarantee for anything … We will continue to evaluate these guys as we move forward," said Joe Girardi to Chad Jennings and Dan Martin after Matt Diaz was released over the weekend. "Maybe one piece is gone, but it's still going to play out probably for the next two weeks … We just thought the other guys were ahead of him and to be fair to him to have a chance to [play] somewhere else."
In addition to Diaz being released, youngsters like Slade Heathcott and Zoilo Almonte were sent to minor league camp and effective removed from the outfield competition. Juan Rivera has played an awful lot of first base lately in the wake of Teixeira's injury — he's played the outfield just once in the last eight Grapefruit League games — and seems to have been dropped from the outfield race. That leaves Ben Francisco, Brennan Boesch, Melky Mesa, and Thomas Neal in the competition.
With all due respect to Neal, who has quietly had a nice camp, the other three guys stand out as prohibitive favorites. I think the Yankees consider the 27-year-old Boesch is the no-doubt replacement for  Granderson — I think he would play right with Ichiro Suzuki shifting to left, putting the weaker defender in the smaller field — just because he's left-handed and has played everyday the last three years. That said, Boesch signed a split contract and Buster Olney confirmed he has two (!) minor league options left, so he could be sent to Triple-A in a heartbeat. The fact that he's the only left-handed hitter left in the competition leads me to believe he has a leg up on a big league roster spot come Opening Day.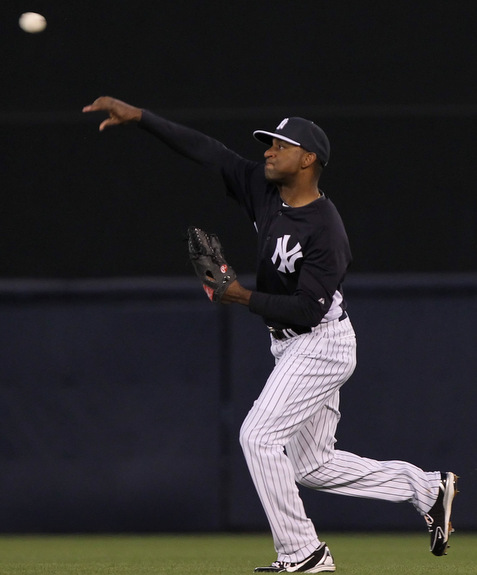 That leaves Francisco and Mesa to battle it out for the right-handed outfield/DH role, and the Yankees always seem to lean towards the veteran when it comes to these part-time/reserve roles. Going with Francisco and sending Mesa to Triple-A allows the team to keep both players and frankly they could use the depth. Neither guy is like to hit much and while Melky2.0 is the better defender, Francisco is solid in the corner spots. Keeping him with Mesa in Triple-A is preferable to having Mesa in the show with no backup in the minors just in terms of having as many warm bodies as possible. Both guys will be needing over the course of the 162-game season.
Since the Yankees don't need a fifth starter until their seventh game of the season and can backdate a DL stint ten days into Spring Training, they could have Phil Hughes start the season on the DL due to his back problem and carry an extra position player. Hughes would still be eligible to come off the DL in time for that seventh game, but the club would buy itself just a tiny bit more time to evaluate their position player options. It's the difference between carrying both Rivera and Dan Johnson at the start of the season rather than just one or two. The Yankees only figure to see one left-handed starter in those first six games (Jon Lester on Opening Day), so having Johnson around would be helpful.
We still have no idea who the Yankees will carry north as the utility infielder, but Jayson Nix might have a leg up on Eduardo Nunez because of his versatility and defensive reliability. Going into the season with Boesch, Francisco, Rivera, and Johnson leaves the team just one spot for a utility man even if they open with Hughes on the DL. We know they're just dying to use Nunez at short when Derek Jeter plays DH against lefties, but he hasn't played any other position in camp. If they're going to use him as the utility infielder, they'll need to get him a few reps at second and third just to prepare him for the season.
With Diaz released and some others assigned to minor league camp, it looks more and more likely the Yankees will have both Boesch and Francisco on their Opening Day roster. Rivera and Johnson are the obvious first base fill-ins, but the club would need to manipulate Hughes' injury — if they backdate his DL stint ten days, he can't pitch in a Grapefruit League game during that time and will have to get his work in on the minor league side — to buy a temporary extra roster spot. The competition for the outfield, first base, and bench spots is still relatively wide open, but the picture is much clearer right now than it was just one week ago.