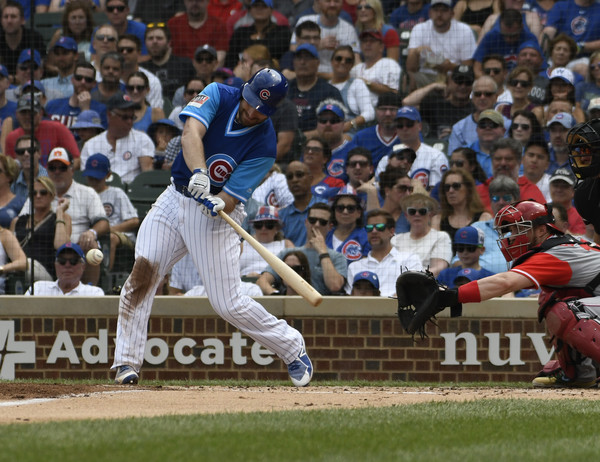 The Yankees current in-house options at first base are questionable at-best. Luke Voit was nothing short of incredible with the team, but crazy things can happen in such small sample sizes (lest we forget Shane Spencer and Kevin Maas), and it seems risky for a contending team to head into the year with him as Plan A. And Greg Bird has a full season's worth of below-average offense spread across three partial seasons, and has yet to show the ability to stay healthy. That's not an ideal Plan A (or Plan B for that matter) either.
There are larger holes on the roster, to be sure, but first base feels like a spot that the team should upgrade. And, short of signing Bryce Harper and moving him over to the cold corner, I'm not sure that there's a better free agent option than Daniel Murphy.
Background
The 33-year-old Murphy was drafted by the Mets way back in 2006, and spent the first ten years of his professional career in that organization. He entered professional baseball as a third baseman, and bounced between there, first, and left field upon his debut, before settling at the keystone in 2011. He has primarily played second since that point, but, with the exception of 2017, he has spent time at multiple positions every year.
This is also the point where I will make note of Murphy's history of homophobia. Way back in 2015 he justifiably came under fire for saying that he "disagree[s] with the [gay] lifestyle, 100 percent," in reference to Billy Bean working with the Mets. He was given the opportunity to walk it back several times, but basically doubled-down on his statements, saying that he'd be accepting of a gay teammate, but wouldn't change his stance on homosexuality. And when he was acquired by the Cubs back in August, he continued to be unapologetic.
I will not get on my soapbox at this juncture, but this is an elephant in the room that cannot be ignored when discussing Murphy's free agency. And I completely understand how difficult it is to root for such a player.
Offensive Performance
Murphy has made a career out of being a high-contact, moderate power hitter, with intermittent flashes of legitimate power. He hit 25 home runs in 2016, 23 home runs in 2017, and 12 home runs in 91 games this season, so the pop is there – it's just a matter of how often he can get to it. Let's take a look at his last three years:
| | AVG/OBP/SLG | wRC+ | HR | SB | K% | BB% | PA |
| --- | --- | --- | --- | --- | --- | --- | --- |
| 2016 | .347/.390/.595 | 154 | 25 | 5 | 9.8% | 6.0% | 582 |
| 2017 | .322/.384/.543 | 135 | 23 | 2 | 13.0% | 8.8% | 593 |
| 2018 | .299/.336/.454 | 110 | 12 | 3 | 11.4% | 5.7% | 351 |
2016 and 2017 are probably not informative of what to expect going forward. Those were career years, and he's a 33-year-old that missed a lot of time following microfracture surgery on his right knee. That's a serious procedure that doesn't yield a great track record of players coming back to full strength, and I don't see a reason to expect that he'll buck the trend. I included those numbers, however, as one does wonder if there are teams out there that will see some manner of potential for a huge bounceback.
That being said, 2018 was basically right in-line with his career norms. Murphy's a career .299/.344/.458 hitter, with 6.3% walks and 11.9% strikeouts – this is who he is. And the average first baseman hit .255/.335/.450 over the last three years.
Defensive Performance
I'm evaluating Murphy strictly as a first baseman, as that's the only non-DH position that he should play. He hasn't played the position extensively since 2009, but he's spent time there in almost every season. His career numbers there are strong – 4.8 UZR/150 and 13 DRS/150 – albeit spread out over multiple small sample sizes; it's probably enough to say that he'd be more than competent there, though.
Murphy should never, ever play second base though, outside of a serious emergency. He has simply never been good at the keystone, and he was at his worst there last year (-5.5 UZR and -18 DRS in just 535.1 innings).
Injury History
As I said above, Murphy missed time recovering from microfracture surgery on his right knee. He didn't make his season debut until June 12, though he was healthy for the remainder of the season.
Murphy is a player that is perpetually banged-up, though he hadn't missed extensive time since 2011, when an MCL injury ended his season in August. Unfortunately, most of those injuries have been the nagging sort, and almost all of them have been his knees. Moving him out of the middle infield permanently could help sort those out, but there's a disconcerting history here.
Contract Estimates
Let's turn to the usual suspects:
Jim Bowden (subscription req.) – 2 years, $20 MM ($10 MM AAV)
FanGraphs – 2 years, $18 MM ($9 MM AAV)
MLBTR – 2 years, $20 MM ($10 MM AAV)
That seems about right for a 1B/DH that profiles as a tick above-average for the position, right? Under such a contract, Murphy would be expected to be a 2 win player or thereabouts, and that's definitely reasonable.
Does He Make Sense for the Yankees?
In a vacuum, yes. Murphy offers a stark contrast to the majority of the Yankees lineup, as a left-handed hitter that simply doesn't strikeout. There's also the potential for a bit more power with a shift into Yankee Stadium, though he tends to hit the ball to all fields so it probably wouldn't be that big of a jump.
We don't live in a vacuum, though, and baseball isn't played in such conditions. There are still folks out there that hold the Aroldis Chapman acquisitions(s) as upsetting due to his domestic violence accusations, and it would be difficult to welcome a bigot into the fold. I believe in second chances, but Murphy's attitude hasn't shown any semblance of regret – and I don't know that I could root for him.