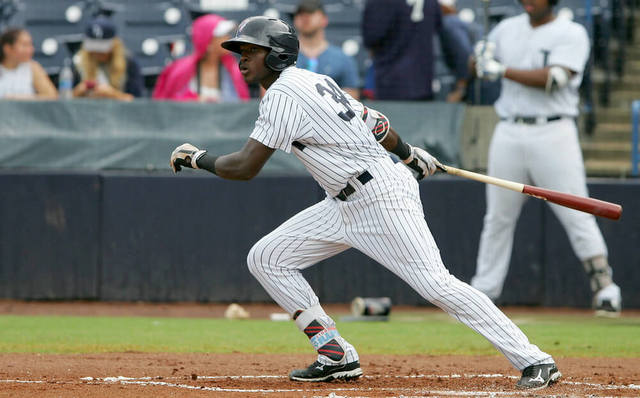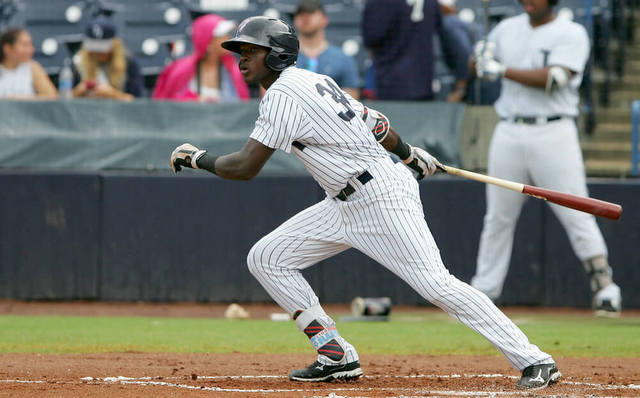 It has now been three and a half years since the Yankees broke baseball's international signing system. They blew up their $2.2M bonus pool and spent north of $30M between bonuses and taxes during the 2014-15 international signing period. Several teams followed suit, most notably the Padres and Braves, and it prompted MLB to push for the international hard cap that exists today.
Nearly four years since that spending spree, it's becoming clear the 2014-15 international class has not yielded as much high-end talent as hoped. And perhaps the problem was our expectations. After all, if you invest $30M in players and get two regulars out of it, you're ahead of the game. And it's not like the Yankees are getting nothing out of the signings. Some of their top prospects came from the 2014-15 spree. Let's look at where that 2014-15 class sits at the moment.
The Unexpected Top Prospects
The Yankees gave seven players seven-figure bonuses during the 2014-15 signing spree so, naturally, the top prospects from that haul signed for $200,000 (OF Estevan Florial) and $10,000 (RHP Freicer Perez). Go figure. Florial and Perez were covered in our farm system review. SS Diego Castillo ($750,000) and OF Pablo Olivares ($400,000) are also among the best prospects from the signing class, and they did not receive seven figures.
Castillo, who played the entire 2017 season at age 19, hit .263/.310/.315 (83 wRC+) with little power (.052 ISO) but lots of contact (10.0% strikeouts) in 118 games with Low-A Charleston. He was more than two years younger than the average South Atlantic League player. Castillo is a better prospect than the numbers would lead you to believe. He's got great bat-to-ball skills and he's one hell of a defensive infielder. There's a lot to work with here.
The 19-year-old Olivares hit .363/.495/.488 (174 wRC+) in 23 rookie ball games and .160/.233/.210 (33 wRC+) in 36 Low-A games this past season, which works out to .241/.347/.322 (94 wRC+) in 59 games overall. Olivares is a "good at everything, great at nothing" prospect, and those guys have a way of steadily climbing the ladder and getting a big league look at some point. I imagine he and Castillo will team up with the RiverDogs again to start 2018.
SS Hoy Jun Park signed for $1.2M during the 2014-15 signing period and is one of the top prospects from that class. He hit .251/.348/.359 (110 wRC+) with seven homers and 25 steals in 110 Single-A games this season, and he's made progress getting stronger and avoiding careless mistakes on defense. Park is older than most of his 2014-15 signing class brethren — he signed out of high school and will be 22 in April — but he's well-rounded with more raw power than he's shown in games so far.
The Big Money Signings
Among the seven seven-figure bonus prospects, only Park and 3B Dermis Garcia have advanced out of rookie ball. Garcia has the most raw power in the farm system, hands down. He probably has more power than anyone in the organization aside from Giancarlo Stanton and Aaron Judge, and yes, that includes Gary Sanchez. Dermis has crazy raw pop. Dude can hit the ball a mile.
This season the 19-year-old Garcia hit 17 home runs in 63 games — he has 30 homers in 143 pro games, and I'm not sure enough people understand how ridiculous it is for a teenager to hit for that kind of power in pro ball — split between rookie Pulaski and Low-A Charleston. The .249/.357/.542 (144 wRC+) batting line kinda sums up who Dermis is as a hitter. Lots of power, lots of walks (14.3%), and a not great average due to lots of strikeouts (30.5%). Also, Garcia is not a great defensive third baseman, so much so that a move to first seems inevitable.
Park and Garcia are climbing the ladder slowly but surely. The other seven-figure signings —
3B Nelson Gomez
($2.25M),
OF Juan De Leon
($2M),
OF Jonathan Amundaray
($1.5M),
SS Wilkerman Garcia
($1.35M),
1B Miguel Flames
($1M) — haven't advanced much at all. None have played in a full season league and none have stood out for their performance. The 2017 numbers:
Amundaray: .193/.233/.246 (37 wRC+) in 35 rookie ball games
De Leon: .229/.358/.312 (105 wRC+) in 47 rookie ball games
Flames: .247/.321/.347 (94 wRC+) in 53 rookie ball games
Garcia: .222/.256/.296 (64 wRC+) in 67 Short Season Staten Island games
Gomez: .128/.269/.174 (50 wRC+) in 27 Short Season Staten Island games
Not great. There is so much more to this than minor league performance, but gosh, more than three years after signing, most of these kids haven't made it out of rookie ball. Flames signed as a catcher and has already moved to first base. Gomez signed a shortstop, moved to third, and is destined to move to first. De Leon moved from center field to a corner. Wilkerman has gone backwards since being a top ten organizational prospect two years ago.
Florial and Perez have blown by the seven-figure players as prospects and while Park, Castillo, and Garcia (Dermis) are promising, they would not rank among the top ten prospects in a "normal" farm system, nevermind the deep Yankees system. Does that mean the Yankees made a mistake signing guys like Amundaray and De Leon and Wilkerman? Of course not. It just means that right now, these players haven't developed into top prospects as hoped.
The Best of the Rest
Dropping more than $30M in international prospects is not easy. You have to really spread the wealth around and sign lots of prospects. Lots and lots of prospects. Among the other guys the Yankees signed is OF Brayan Emery, who was expected to sign for seven figures but instead received $500,000. He hit .200/.294/.347 (76 wRC+) with two homers and a 33.0% strikeout rate in 26 rookie ball games this season. Lots of tools. Not a lot of baseball skills.
RHP Gilmael Troya, a $10,000 signing, showed a lot of promise in his 2015 debut, but has regressed a bit. He threw 53.1 rookie ball innings with a 4.22 ERA (5.17 FIP) and 24.4% strikeouts and 10.4% walks this year. OF Frederick Cuevas was great statistically this year, hitting .312/.373/.455 (123 wRC+) with three homers in 43 rookie ball games. He was a $300,000 signing. Here are the other notable 2014-15 international signings:
OF Antonio Arias ($200,000): Has played one (1) game above the Dominican Summer League. Arias was touted as a very athletic and toolsy outfielder, though obviously that hasn't gotten him very far.
OF Lisandro Blanco ($500,000): He hit .202/.279/.312 (73 wRC+) with 31.1% strikeouts in 33 rookie ball games. Blanco is a bat speed guy who hasn't yet figured out how to hit.
OF Leobaldo Cabrera ($250,000): Cabrera hit .221/.322/.275 (71 wRC+) in 40 rookie ball games. His best tool is his throwing arm, which explains the stat line.
IF Griffin Garabito ($225,000): In his third season in the Gulf Coast League, Garabito hit .253/.299/.400 (99 wRC+) in 52 games. He's a contact guy who always profiled best as a utility infielder.
C Jason Lopez ($100,000): Lopez converted from infielder to catcher after signing and is a good catch-and-throw guy. He hit .240/.345/.313 (104 wRC+) in 49 games with Short Season Staten Island.
OF Erick Mendez ($250,000): Mendez was limited to five games in 2017, all in the DSL, after being suspended 50 games under the minor league drug policy over the winter.
OF Raymundo Moreno ($600,000): The .248/.344/.342 (104 wRC+) line in 49 rookie ball games isn't anything special, but keep an eye on Moreno. He has tools and a plan at the plate. This is a guy who could jump up prospect lists next year.
IF Danienger Perez ($300,000): Perez is an all glove/no bat guy who hit .250/.304/.324 (83 wRC+) in 41 games between rookie Pulaski and Staten Island this year.
These are not all the prospects the Yankees signed during the 2014-15 signing period, of course. Just the most notable. There are two things we can say about the signing class to date. One, it has not infused the system with gobs of high-end prospects as hoped. Florial is super legit, and others like Perez, Olivares, Park, and Garcia (Dermis) offer plenty of promise. Getting one Florial and four other interesting prospects from one international class is usually pretty great. Just not when you spend $30M and most of the other big money guys are trending down.
And two, most of these kids are just now turning 20. Park is older than the others because he signed out of high school in Korea, otherwise most of these prospects played the season at 19 or 20. Do we have an idea which way most of them are trending right now, more than three years since they've signed? Yes. Definitely. Is it time to declare them successes or failures? Of course not. Normal baseball attrition is doing its thing, and in a weird turn of events, it's the smaller bonus guys who are excelling while the big money guys struggle.