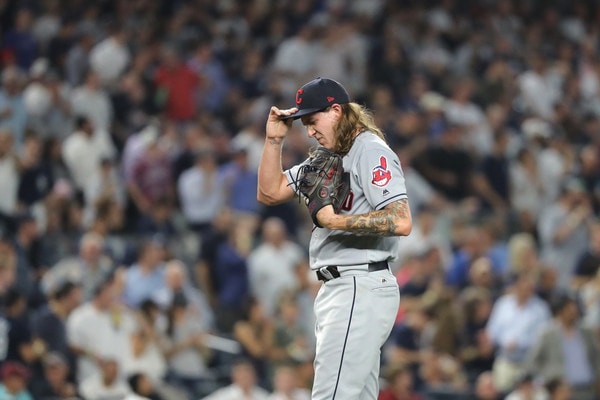 We are mere days from the beginning of semi-meaningful baseball activities, as Yankees pitchers and catchers are set to report on February 13. Despite this proximity to actual baseball, the off-season as a whole still seems rather unsettled. This isn't news to anyone, considering that the story of the Winter as a whole is essentially the lack of stories, but that is nevertheless where we are right now. What we do know is that the Yankees have been looking to add another starting pitcher from day one-ish, and there is nothing to suggest that they've been deterred from that plan.
And the Indians, who have four starting pitchers vying for two spots (and a penchant for being cash-strapped), may have what the Yankees are looking for.
Mike Clevinger
Clevinger, who turned 27 in December, has been something of an up-and-down guy for the Indians over the last two years, shuttling between Triple-A and the majors, and bouncing between the bullpen and the rotation. He spent the majority of 2017 in the majors though, pitching to the following line in 27 games (21 starts): 121.2 IP, 91 H, 60 BB, 137 K, 3.11 ERA (147 ERA+), 3.85 FIP, 39.5 GB%.
What stands out the most about Clevinger's season are his walks (4.4 per 9), strikeouts (10.1 per 9), and the low groundball rate. The strikeouts are great; the walks and lack of grounders … not so much. This right in-line with his Triple-A performance, as well, where he has posted 9.6 K/9, 3.5 BB/9, and 39.7% grounders in parts of two seasons. That isn't to suggest that the possibility of improvement isn't there – but we have a fair amount of evidence saying that this is who he is.
Clevinger is a four-pitch guy, working with a low-to-mid 90s four-seamer, a mid-80s change-up, a low-80s slider, and a mid-70s curve. The slider is regarded as his best pitch, and that held true in 2017 as he posted a 22.9% whiff rate on the offering, and hitters hit just .099 (not a typo) against it. Clevinger's fastball velocity did dip by nearly 2 MPH from 2016 to 2017, but he attributed that to mechanical issues, and not a lingering injury.
Contract Status: Pre-arbitration; under team control through 2022.
Is there a catch? Clevinger seems to be the inside horse for the fourth or fifth spot in the Indians rotation, so the likelihood of him being dealt is probably low.
Does he make sense for the Yankees? Yes and no. Yes, in that he's a young, cost-controlled starter that can strike out batters in droves. And no, in that he walks a bunch of batters and has a propensity for flyballs.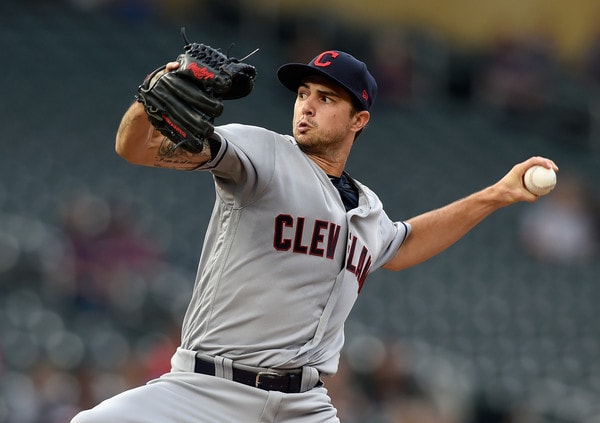 Ryan Merritt
If you know anything about Merritt, it's probably that he came out of nowhere to start Game 5 of the 2016 ALCS for the Indians – and he did pretty well for a rookie pitcher with all of 11 innings pitched at the highest level. He held the Blue Jays to just two hits in 4.1 IP, striking out three and walking none, and became something of a minor cult hero in doing so. Merritt was rewarded by being left off of the World Series roster, and spending the first two and a half months of 2017 in the minors.
Merritt ended up spending the majority of 2017 in Triple-A, making only four spot starts and one relief appearances in the majors. He posted a 1.74 ERA (266 ERA+) and 3.06 FIP in 20.2 big league innings, to go along with a microscopic 1.7 BB/9 and a strong 53.8% ground ball rate. Those are really good numbers, sample size be damned – so why did Merritt fail to garner a real opportunity with the Indians? He struck out just 7 batters in those 20.2 innings, after striking out just 6.0 per 9 in parts of three seasons at Triple-A.
As one could easily surmise from those numbers, Merritt is a prototypical crafty/finesse southpaw. He throws four pitches: a mid-to-upper 80s four-seamer, a mid-80s cutter, a low-80s change-up, and a low-70s curveball. And he throws all four pitches in any count, essentially challenging hitters to try to square up soft stuff that moves all over the place. None of his pitches profile as anything more than average, but he does have excellent command and control, and he has kept the ball on the ground throughout his professional career. He'll be 26 in a couple of weeks.
Contract Status: Pre-arbitration; under team control through 2023.
Is there a catch? Not really.
Does he make sense for the Yankees? Merritt makes sense in the "depth arm under control forever" sort of way, but a pitchers that can't strike anyone out is a scary proposition in Yankee Stadium, regardless of the rest of his profile.
Danny Salazar
The Indians are open to dealing Salazar, as per Ken Rosenthal, and that is not terribly surprising. Salazar will earn $5 MM this year, which isn't so cheap for a team that pinches pennies, and he has dealt with elbow, shoulder, and forearm problems in two of the last three seasons. He missed about seven weeks in the middle of 2017 with shoulder soreness, and another couple of weeks with elbow soreness in late August and early September. The Indians were cautious when he came back, shuttling him to the bullpen for two weeks and limiting him to 54 and 64 pitches, respectively, in his last two starts.
There are some red flags here, is what I'm saying.
That being said, the 28-year-old Salazar has performed well when he is on the field. He posted a 4.28 ERA (107 ERA+) and 3.48 FIP around his injuries last year (which limited him to 103 IP), with 12.7 K/9 and 3.8 BB/9. And it's worth noting that he improved dramatically after returning from his shoulder injury, posting a 3.00 ERA, 2.20 FIP, 12.8 K/9, and 3.0 BB/9 over the last two-plus months of the season. His groundball rate improved from a scary 37.1% to a more palatable 41.9% in that stretch, too.
Salazar's stuff does not appear to have been affected by the injuries, either. Take a look: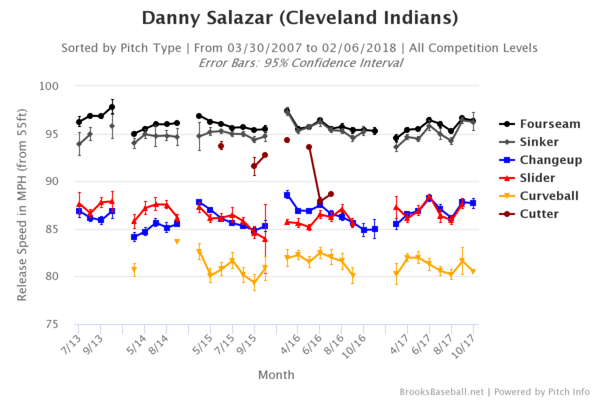 His yearly velocity since 2014 (his extended trial in the majors) has been 95.73, 95.94, 95.84, and 95.64 – and that's definitely a good sign. Overall, Salazar focuses on three pitches in his mid-90s four-seamer, mid-90s sinker, and mid-80s change-up. He also throws a mid-80s slider and a low-80s curve, but rarely more than a few per game.
Contract Status: Arbitration eligible; under team control through 2020.
Is there a catch? Aside from the chances of his arm falling apart?
Does he make sense for the Yankees? Absolutely. Salazar has premium stuff and a track record of success in the majors, and he's under team control for two more seasons beyond this one. The injuries are scary, but the Yankees have the pitching depth to keep his workload down … and maybe, just maybe, those injuries will keep his price tag down.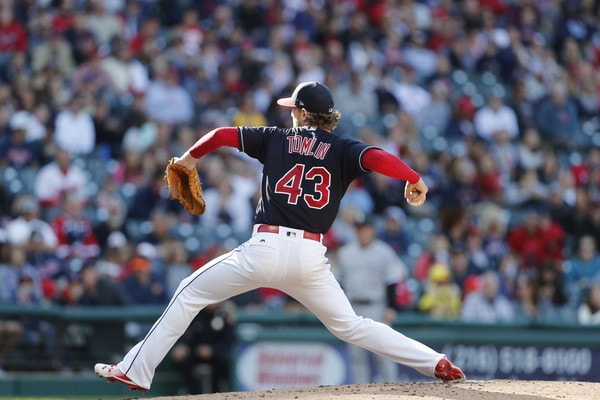 Josh Tomlin
There are two things that never fail to surprise me when I read about Josh Tomlin – his age (he'll be 33 for the entirety of the regular season), and the fact that he's right-handed. There's just something about Tomlin's finesse style that forces me to remember him as a southpaw, and I haven't been able to shake it … even as he enters his ninth season in the majors.
Tomlin was the Indians fifth starter for the majority of 2017, and he was mostly serviceable in that role. He posted a 4.98 ERA (92 ERA+) and 4.12 FIP in 141 IP, good for between 1 and 2.2 WAR, depending upon your metric of choice. He struck out a modest 7.0 per 9, walked just 0.9 per 9 (a 2.4% walk rate), and allowed lots of home runs owing largely to a 39.6% groundball rate. And all of that is right in-line with Tomlin's career to date, with the only real blips stemming from Tommy John surgery in August of 2012.
Tomlin is basically a three-pitch guy, working with a four-seamer in the high-80s, a low-to-mid 80s change-up, and a mid-80s cutter. He'll also throw a mid-70s curveball every so often, but that's mostly a show-me pitch. Tomlin's velocity has steadily dropped over the last few years, and he's lost a bit over 2 MPH on his four-seamer since 2014.
Contract Status: Signed through 2018.
Is there a catch? He's a rental.
Does he make sense for the Yankees? Nope. Tomlin might be a nice depth piece to stash at Triple-A, and he's only owed $3 MM for this season – but there are plenty of free agents out there that could do the same thing.
---
Merritt and Tomlin are only worth mentioning in that I could see the Indians moving one or both, but neither moves the needle otherwise. Chance Adams was invited to Spring Training, David Hale was recently signed to a minor league deal, and Luis Cessa is on the 40-man roster, and I have to imagine that at least one of those three could give the Yankees the same sort of production as Merritt and/or Tomlin.
That leaves us with Clevinger and Salazar. Clevinger would almost certainly cost more, as the younger, healthier pitcher with way more team control remaining. And Salazar, even with his injuries, has been linked to other teams this off-season, so we know there's interest out there. The Indians are very much a playoff contender, so any deal would have to involve MLB pieces and/or MLB-ready pieces, and their biggest need is center – and, given their payroll constraints, that probably means that Aaron Hicks or Clint Frazier would be the most desirable trade chip the Yankees have.
An interesting consideration may be the Yankees taking on Jason Kipnis and his contract. The Indians might not have a place for him on their ideal roster, and he fits a need for the Yankees. My trade proposal sucks, so I'll leave it at that – but it isn't difficult to see a potential match here.