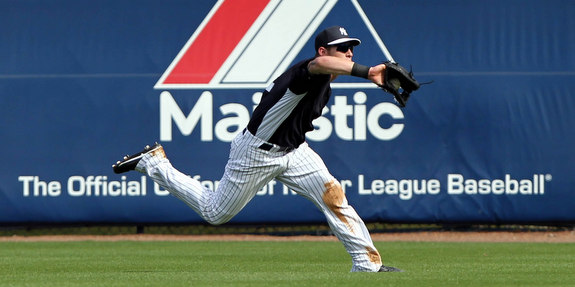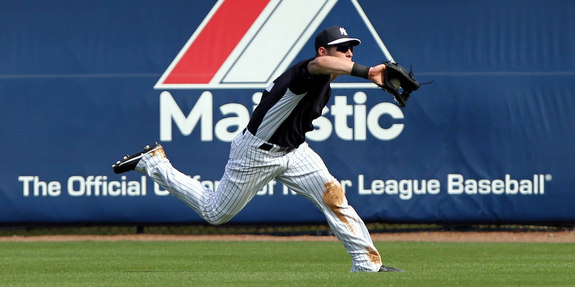 3:16pm: The Yankees have announced the three non-tenders, so they're official. Officially official.
12:27am: The Yankees non-tendered outfielder Slade Heathcott, right-hander Jose Campos, and left-hander David Huff prior to Tuesday's midnight deadline, according to Joel Sherman. All of the team's other pre-arbitration and arbitration-eligible players received a contract tender, it appears. The Yankees now have 36 players on the 40-man roster.
Heathcott, 24, was limited to only nine games with Double-A Trenton this past season due to knee surgery. He's had a ton of shoulder and knee problems — including multiple surgeries on each — throughout his career and has only played in 309 minor league games since being the 29th overall pick in the 2009 draft, the pick the Yankees receive as compensation for not signing Gerrit Cole in 2008.
The 22-year-old Campos missed all of 2014 due to Tommy John surgery. He missed most of the 2012 season with elbow problems as well. Campos was the second player New York received in the Michael Pineda-Jesus Montero trade, though he's only thrown 111.2 innings since the deal, all in Low Class-A. Like Heathcott, he was added to the 40-man roster last winter to protect him from the Rule 5 Draft.
I'm guessing the Yankees will try to re-sign both Heathcott and Campos to minor league contracts if they didn't work out deals ahead of time. Non-tendering them is the easiest way to get them off the 40-man roster since they don't have to pass through waivers, which they would have to do if they were released or outrighted. Despite their injuries, Heathcott and Campos are young enough that they would probably get plucked off waivers.
Huff, 30, had a 1.85 ERA (4.00 FIP) in 39 innings for New York after being re-acquired from the Giants at midseason, which is pretty good by "last guy in the bullpen" standards. MLBTR projected Huff to earn only $700k through arbitration in 2015, though the Yankees have built up quite a bit of upper level lefty bullpen depth in Justin Wilson, Jose DePaula, Jacob Lindgren, and Tyler Webb. Huff's 40-man spot is better used elsewhere.