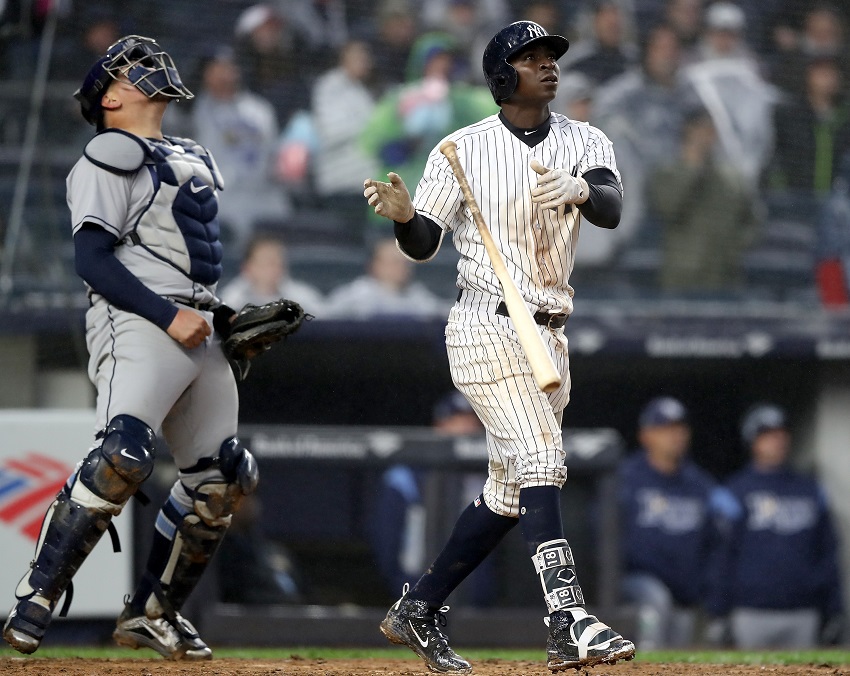 #Didi4MVP
The Yankees kicked off the Bronx portion of the 2018 schedule with a 11-4 rout of the Rays on Tuesday afternoon, thanks to an incredible performance by Didi Gregorius. It was their most runs scored in a home opener in nearly two decades, since a 12-3 win over the Tigers in 1999.
Before we stat-binge on Didi's record-breaking day, let's not forget to mention another stellar outing by a Yankee starter. Jordan Montgomery battled through five innings, allowing just one run while holding the Rays hitless in six at-bats with runners in scoring position. As Mike mentioned in the recap, the most notable thing about his start was the use of his changeup, which he said "was gone" last year.
Well, it looks like he found it in 2018. Of his 80 total pitches, 17 were changeups, a 21 percent usage rate that was well above last season's average of 15 percent. And the results on those 17 changeups were encouraging.
He generated four whiffs — a 24 percent swinging strike rate that was much better than his 2017 numbers (15.3%) and the league average whiff rate on changeups (15.8%). Only two changeups were put in play, and both resulted in groundball outs. Stuff-wise, he got excellent drop on the pitch, averaging 7.2 inches of vertical movement, the lowest mark in any of his 30 MLB starts.
He also did a good job of keeping the pitch away from righties, painting the outside corner for a couple called strikes and getting those grounders on pitches down in the zone: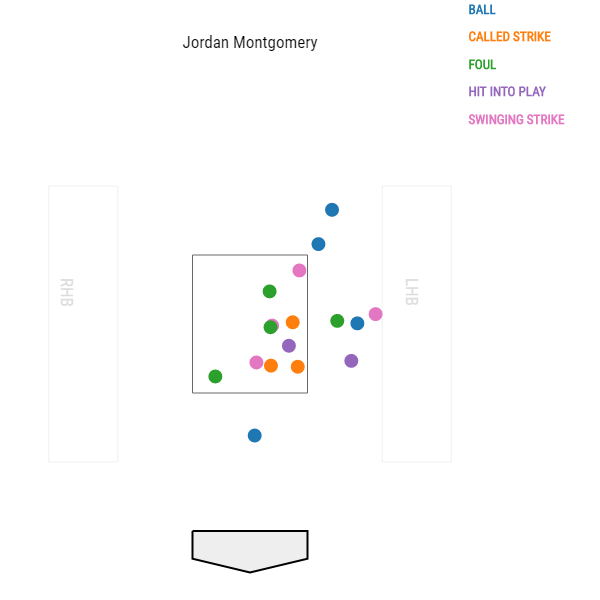 Now it's time for the main event. Let's unpack Sir Didi's epic day – 4-for-4 with a walk, three runs scored, two homers, a double and eight RBI – a performance so noteworthy it deserves bullet points.
The eight RBI are the most ever by a Yankee shortstop in a game
Didi is the second player in MLB history with eight RBI in a game this early into the season (team game no. 5), joining Mike Schmidt in 1976 for the Phillies.
The only other MLB shortstops with at least eight RBI and four hits in a game were Miguel Tejada (2001 A's) and Hall of Famer Travis Jackson (1923 Giants)
Two other Yankees have recorded at least eight RBI and four hits at Yankee Stadium: A-Rod on April 26, 2005 and Paul O'Neill on August 31, 1995.
Didi and Danny Tartabull (1992) are the lone Yankees to go 4-for-4 or better and drive in at least eight runs in a game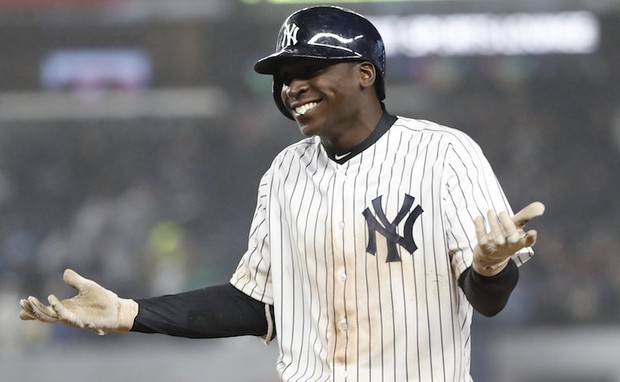 We also have a #FunFact Guest Yankeemetric from friend of the blog, Mark Simon, who notes that the Yankees are the only MLB franchise that has an eight-RBI game from each of the eight non-pitcher positions.
Catcher – Yogi Berra, Elston Howard
First baseman – Lou Gehrig
Second baseman – Tony Lazzeri
Shortstop – Didi Gregorius
Third baseman – Alex Rodriguez
Leftfield – George Selkirk
Centerfield – Joe DiMaggio, Bernie Williams
Rightfield – Selkirk, Tartabull, O'Neill
Didi's numbers through five team games were video-game-like: 8-for-18 with four doubles, two doubles, a triple and a single (.444/.524/1.111).
He is one of six Yankees with at least 20 total bases in the team's first five games, a list that also includes Alex Rodriguez (2007), Alfonso Soriano (2003), Mickey Mantle (1956), Lou Gehrig (1932) and Samuel Byrd (1932). And the only other Yankee with seven extra-base hits through five team games was A-Rod in that 2007 MVP-winning campaign.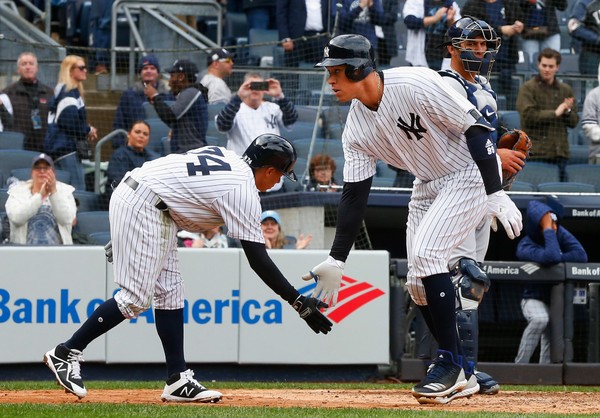 Three times a charm
The Yankees completed the short two-game sweep of the Rays with another convincing win, 7-2, on Wednesday. They've now won 11 straight home series over the Rays, their longest such streak against any opponent at the current Yankee Stadium.
Murderers' Row II had a spectacular debut, with Aaron Judge, Giancarlo Stanton and Gary Sanchez each going deep in the same game for the first time this season. Each of them quickly erased any doubts about their recent "slumps" with one swing of the bat — in true Bronx Bomber fashion.
Judge entered the game with one extra-base hit in the first five games, and then in the fourth inning mashed a 419-foot homer to quiet the critics. By the way, last year Judge had one extra-base hit in the first five games of the season, and then hit his first homer in the sixth game. Sound familiar?
Stanton was coming off a historically awful home-opening game, when he went 0-for-5 with five strikeouts. He was the first non-pitcher in franchise history to get at least five at-bats in a game at Yankee Stadium and strike out in every at-bat. He bounced back from that disaster by drilling a laser shot over the left-field fences in his first trip to the plate on Wednesday.
The ball left Stanton's bat with an exit velocity of 117.9 mph and went an estimated 458 feet. Goodness gracious,
I feel sorry for the baseballs
. It was Stanton's fourth home run that was hit that hard (117-plus mph) and that far (458-plus feet) since Statcast began tracking such things in 2015 — one more than the rest of MLB
combined
has hit over the last four seasons.
Sanchez had been in the deepest funk of the trio before digging into the batter's box in the third inning, with just one hit in 20 plate appearances and hitless in his last 17 at-bats. He then crushed a towering moonshot to left, sending it 369 feet into the seats with a launch angle of 38 degrees. It was the third-shortest homer hit by Sanchez and tied for the highest launch angle he's produced on any of his 54 career homers.
The trio of bombs from the middle-of-order guys overshadowed a fantastic effort on the mound by Luis Severino. The righty lived up to his ace status with an efficient and overpowering performance, throwing 7 1/3 innings of two-run ball with seven strikeouts. Of the 22 outs he recorded, only two were in the outfield — a first-inning popfly in shallow right field (Torreyes Web Gem alert!) and a sixth-inning flyout to left — and the 13 outs he generated via groundballs were a career-high.