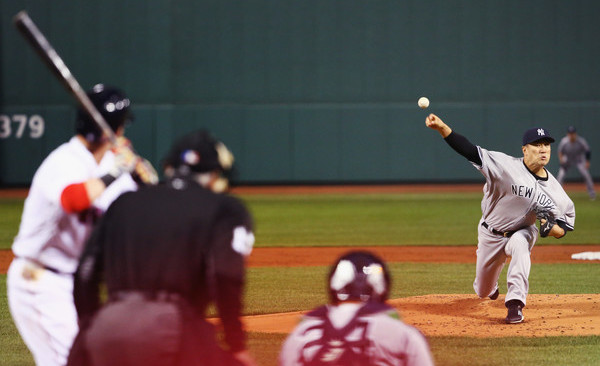 We're now less than two weeks away from the end of the regular season, meaning candidates for baseball's major annual awards only have a handful of games remaining to state their cases. Outside of NL Rookie of the Year, which should go to Corey Seager easily, the other major awards in both leagues feature very tight races. Pretty fun.
The last Yankee to win a major award was Mariano Rivera, who was named 2013 AL Comeback Player of the Year after tearing his ACL in 2012. Prior to that you have to go back to Alex Rodriguez's 2007 MVP season. There is something of a Yankee bias in the awards voting; a Yankee usually needs to have a season far superior to everyone else to receive votes, a la A-Rod in 2007. If it's close, the votes tend to go to the non-Yankee.
Anyway, as a reminder, the awards are all voted on following the end of the regular season but before the postseason. The playoffs have zero bearing on the major awards. They cover the regular season only. So, with that in mind, let's preview the awards races and see where some Yankees may fit into the picture, if any.
Most Valuable Player
Is there an AL MVP favorite right now? I mean, of course it should be Mike Trout, but his teammates suck so he won't win. For shame. I guess Mookie Betts is the favorite now almost by default. The other serious candidates (Manny Machado, Josh Donaldson, Jose Altuve) are on teams either fading in the standings or out of the postseason picture entirely. That matters in the voting for whatever reason.
The Yankees don't have a legitimate MVP candidate this season. Their best all-around player has been Didi Gregorius, and sorry, he's not MVP material. Gary Sanchez hasn't been up long enough. Masahiro Tanaka? He's the best and therefore most valuable player on the roster, though it takes an insane season for a pitcher to win MVP. You need to go 24-5 like Justin Verlander did in 2011. A no-doubt Cy Young season and more, basically.
Now, that doesn't mean the Yankees will not have a player receive MVP votes. Hardly. Lots of weird stuff happens at the bottom of the ballot and I would not at all be surprised if Tanaka and/or Dellin Betances and/or someone else got a ninth or tenth place vote. Brian McCann, Mark Teixeira, and A-Rod received MVP votes last season, for example. Chances are at least one Yankee will get an MVP vote. No one on the roster will win though. Sorry.
Cy Young
Okay, now we're talking. Tanaka is a legitimate Cy Young candidate along with Rick Porcello, Corey Kluber, Chris Sale, Jose Quintana, and Cole Hamels. Unlike the MVP ballot, which is ten spots deep, the Cy Young ballot is only five players deep, so it's going to be tight. Here's where Tanaka ranks in various stats among AL pitchers with enough innings to qualify for the ERA title:
Innings: 193.2 (seventh)
ERA: 2.97 (first! … Sale is second at 3.03)
FIP: 3.26 (second behind Kluber, 3.25)
WHIP: 1.06 (fifth)
Walk Rate: 4.4% (third)
Strikeout Rate: 20.5% (20th)
K/BB Ratio: 4.71 (seventh)
Ground Ball Rate: 48.6% (11th)
bWAR: 5.6 (second behind Kluber, 6.4)
fWAR: 5.1 (second behind Sale, 5.2)
Tanaka lags in strikeout rate, otherwise he's top ten in pretty much every meaningful pitching statistic, including top three in more than a few. Of course, his 13-4 record isn't very Cy Young worthy, and that's going to hurt his case. I know Felix Hernandez won the Cy Young with a 13-12 record a few years ago, but that was because he was so much better than everyone else. His dominance was too great to ignore. As great as he's been, Tanaka is not having that kind of season.
My guess right now is either Porcello or Kluber will win the Cy Young, likely Porcello because he's up over 20 wins. Tanaka's performance is on par with those two on a rate basis, and in many ways he's been better. He's by far the best Cy Young candidate the Yankees have had since CC Sabathia was in his heyday — Sabathia finished fourth, third, and fourth in the voting from 2009-11 — and I think Tanaka will finish in the top five of the voting, possibly even the top three.
Rookie of the Year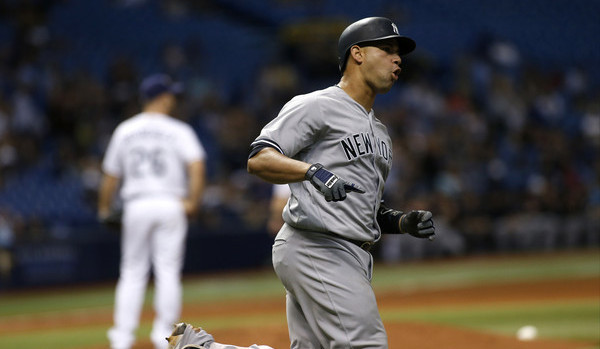 This is going to be interesting. Sanchez has had an unreal start to his career. He's hitting .327/.399/.710 (190 wRC+) with 17 homers in 42 games as a full-time catcher, which is bonkers. It's also only 42 games. If Sanchez plays every single game the rest of the season, he'll finished with 54 games played. The fewest games ever played by a Rookie of the Year position player is 52, by Willie McCovey in 1959. Next fewest? Eighty-eighty by Ryan Howard.
At the moment Sanchez is first among all AL rookies in fWAR (+2.9) and is third in bWAR (+2.5). His primary competition: Michael Fulmer of the Tigers, the guy the Mets traded to Detroit along with Luis Cessa to get Yoenis Cespedes last year. Fulmer has a 3.03 ERA (3.89 FIP) in 148.2 innings. That works out to +2.5 fWAR and +4.7 bWAR. Fulmer's been in the big leagues since April. Voters will have to figure out how to weigh 50-something games of Sanchez against a nearly a full season of Fulmer.
I'd love to see Sanchez win, but if I had a vote, it would go to Fulmer. The difference in playing time is too great. Sanchez is only going to play one-third of a season. One-third! He's basically a rookie who had a hot start and time ran out before the league had a chance to adjust. At this point I expect Sanchez to receive some first place votes and I think he and Fulmer will finish one-two on the ballot in some order, with Tyler Naquin third. My money is on Fulmer winning right now.
Manager of the Year
Does Joe Girardi deserve Manager of the Year votes? If you believe the Yankees have no business being this close to the postseason race, then yes. If you watch every game and hang on every questionable move — questionable moves every manager makes, by the way — then no chance. Girardi's had a pretty terrible year, strategically.
These days the Manager of the Year seems to go to the manager whose team most outperformed expectations, or improved the most from last season. This year that's … Terry Francona? I guess John Farrell since the Red Sox were in last place a year ago. I really have no idea how the Manager of the Year voting will turn out. Girardi's case is built on the Yankees selling and then getting hot for a few weeks in August and September. That will get him votes — Girardi has received Manager of the Year votes every season since 2009 — but probably ain't enough to win.
Comeback Player of the Year
Gosh, who even are the Comeback Player of the Year candidates? Michael Saunders, I guess? Marcus Stroman probably would have won it with even an average season, but he hasn't been able to do that. In recent years the Comeback Player of the Year has gone to players coming off major injury, like Matt Harvey and Prince Fielder last year. Chris Young (the pitcher) and Rivera are recent winners too. That could put Saunders in the lead.
With no obvious candidate, this is going to come down to the preference of the voters. Does Porcello deserve Comeback Player of the Year after his miserable 2015 season and average-ish career? Or is he just prime age player breaking out? Maybe Doug Fister should win. Or Robinson Cano. Or Chris Tillman. The Yankees' best Comeback Player of the Year candidate is Sabathia, and as much as I love the big guy, he hasn't been good enough to win the award. I'd bet on Saunders winning right now, though I have little confidence in that.