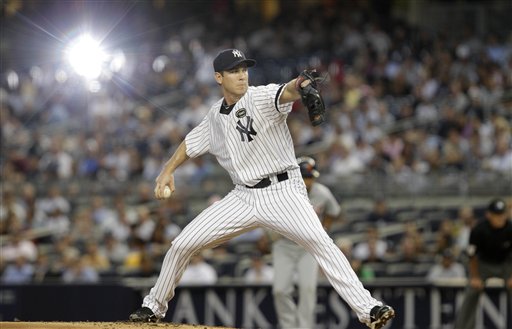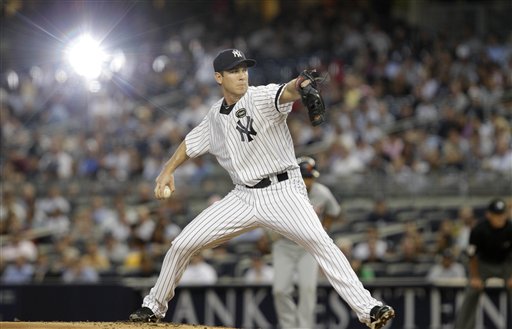 There are five days remaining in the RAB era. We've been at this — I've been at this — more than 12 years now and it's time to move on to something else. RAB started as a passion project and the passion is not there anymore. It's become a burden. It sucks, and I am bummed about it, but it is time.
Since RAB launched in February 2007, the Yankees have played over 2,000 meaningful games, and 319 different players have worn pinstripes. The leader in plate appearances during the RAB era? Brett Gardner. He has roughly 600 more plate appearances than second place Derek Jeter. CC Sabathia of course leads in innings. He's thrown nearly twice as many innings as second place Andy Pettitte.
We've been fortunate enough to watch some all-time great players these last 12 years. Jeter, Sabathia, Pettitte, Alex Rodriguez, Robinson Cano, Mariano Rivera, Jorge Posada, Mark Teixeira, Aaron Judge, on and on it goes. We've also seen an army of bit players and up-and-down guys. Most don't contribute much. Everyone once in a while one of those guys does something memorable though.
Since we're closing up shop soon, I figured it would be fun to go back through the years and Remember Some Guys. I scrolled through 12 seasons worth of rosters, picked out some names that stood out for one reason or another, and now we'll pay homage to the random players who suited up for the Yankees. Come with me, won't you?
Anthony Claggett
Y'all remember the first series at the new Yankee Stadium? The Yankees lost two of three to the Indians and got clobbered in the series finale. The final score: 22-4. Only the fourth time in franchise history the Yankees allowed 20+ runs. It is still the only time the Yankees have allowed more than 15 runs in a regular season game at the new Yankee Stadium. I remember that series for the collective shock at how small the ballpark played. Pretty funny thinking about it now.
Claggett came over in the Gary Sheffield trade with the Tigers and he made his MLB debut in that 22-4 loss. It did not go well:
Zoinks. Claggett made only two more appearances in his big league career (one with the Yankees and one with the Pirates) and he finished with eleven runs allowed in 3.2 innings. The highest ERAs in baseball history (min. 3 IP):
Lewis: 60.00 ERA (20 earned runs in three innings)
Dave Davidson: 30.00 ERA (ten earned runs in three innings)
Steve Dixon: 28.80 ERA (16 earned runs in five innings)
Jim Brady: 28.42 ERA (20 earned runs in 6.1 innings)
Anthony Claggett: 27.00 ERA (eleven earned runs in 3.2 innings)
It is literally just Lewis. He's some guy who pitched for the 1890 Buffalo Bisons. Not the best company for Claggett.
Colin Curtis
I think you might remember the first and only home run of Curtis' career. In July 2010, he replaced Brett Gardner after Gardner was ejected for arguing balls and strikes in the middle of an at-bat. Curtis inherited an 0-2 count and whacked a home run. Check it out:
Curtis only played 17 more games in his big league career and went 4-for-32 (.125) in those 17 games. Pinch-hit home run as a Yankee in 2010, out of baseball by 2013. Rough. As far as random Yankees homers go, Curtis is right near the top during the RAB era.
Matt DeSalvo
Longtime RAB and DotF readers will remember Mighty Matt DeSalvo. The Yankees signed him as an undrafted free agent in 2003 and he worked his way into their top prospect mix during the farm system's lean years from 2003-05. From 2003-06, DeSalvo pitched to a 3.63 ERA in 439.1 minor league innings and that was during the peak of the box score scouting era. The numbers were good and therefore he was a good prospect.
DeSalvo was the guy everyone wanted the Yankees to call up, and they eventually called him up in 2007, and in his first start he held the Mariners to one run in seven innings. Next time out: Two runs in 6.2 innings against those same Mariners. Things went downhill after that (17 runs in 14 innings) but hell yeah Mighty Matt. Those 27.2 innings in 2007 represent his only stint with the Yankees (he also threw two innings with the Braves in 2008).
Before hanging up his spikes in 2016, DeSalvo pitched everywhere from the Bronx to Atlanta to China to various Caribbean countries to independent leagues. Twelve seasons in professional baseball with some big league time is a hell of a career for an undrafted free agent.
Freddy Guzman
That is World Series Champion Freddy Guzman to you. Guzman was on the postseason roster for the entire 2009 World Series run as the designated pinch-runner. He pinch-ran twice during the ALCS, neither stole a base nor scored a run, and that was it. No appearances in the ALDS or World Series. Hey, it's good work if you can get it. Guzman last played in Mexico in 2017.
Darnell McDonald
Man did McDonald get hosed. The Yankees claimed him off waivers from the Red Sox in July 2012 specifically so they could use his righty bat against Boston's lefty starters in an upcoming series at Fenway Park. He went 0-for-4 in the three-game series before being dropped from the roster. McDonald had to cut his dreads, which his daughter loved and he'd been growing for more than two years, to get four at-bats with the Yankees. The hair policy is just ridiculous.
Juan Miranda
It was a big deal when the Yankees signed Miranda. They gave him a four-year deal worth $2M in December 2006, though he wound up spending the next few years as an up-and-down depth guy. Miranda never hit much in the big leagues, but I do remember him hitting this moonshot:
Miranda also drew a walk-off walk against the Red Sox in 2009. He hasn't played in the big leagues since 2011 but he was active as recently as 2017 in the Mexican League.
Dustin Moseley
I remember Moseley for two things. One, the photo at the top of the post. Very cool and dramatic photo for … Dustin Moseley. And two, Game One of the 2010 ALCS. The Rangers scored five runs in four innings against CC Sabathia, then Moseley struck out four in two scoreless innings out of the bullpen, giving the offense enough time to claw back and take the lead. He earned the win for that.
Moseley threw 65.1 swingman innings with a 4.96 ERA for the Yankees in 2010. He spent a few years in the big leagues with the Angels and Padres in addition to the Yankees, so he wasn't some random player who only made like four MLB appearances. I assume Moseley is pro-DH. He wrecked his shoulder taking a swing while with San Diego and basically never recovered.
Rico Noel
Run run Rico. Noel was the designated pinch-runner in September 2015 and he actually had an impact. He pinch-ran 12 times, stole five bases, and scored five runs. That's a lot of action for the late-season pinch-runner. Their impact is often very overstated. Noel was on the AL Wild Card Game roster that year as well, though he was not used.
As the story goes, Noel talked the Yankees into signing him to serve as the designated September pinch-runner after getting released by the Padres. Joe Girardi made sure to give Noel some at-bats in the final regular season series too. He went 1-for-5 with an infield single. September 2015 was Noel's first and so far only big league stint. He spent the last two seasons in independent leagues. He may not have gotten a ring out of it, but Rico had more of an impact on the field than Guzman.
Chris Parmelee
I spent a good 15 minutes looking and I can't find it, but somewhere on the internet is a video of skinny and baby-faced Dellin Betances facing Parmelee in a high school showcase event prior to the 2006 draft. I remember coming across it a few times back in the day. Can't find it now though. Alas.
Anyway, at one point in 2016 the Yankees used four different starting first basemen in a 12-game span, and roster moves were involved each time. Mark Teixeira to Rob Refsnyder to Chris Parmelee to Ike Davis. Teixeira got hurt, Refsnyder wasn't very good, then Parmelee got hurt. Parmelee went 4-for-8 with a double and two homers in his brief time in pinstripes. Remember this game?
The next day — literally the very next day — Parmelee blew out his hamstring stretching for a throw at first base. Even though they didn't make the postseason, the 2016 season was a very important one for the Yankees given their trade deadline moves and late-season call-ups. First base was a total mess that season though. Teixeira was hurt and unproductive much of the year, and Parmelee was one of several short-term fill-ins.
Scott Patterson
Patterson was the bullpen version of DeSalvo. An undrafted free agent (technically an independent league signing) who put up shiny numbers and was supposed to be the next bullpen savior. From 2006-07, Patterson threw 116 minor league innings with a 1.44 ERA and 136 strikeouts. The Yankees called him up 2008, he made his MLB debut as an almost 29-year-old, and he allowed one run in 1.1 innings at the Metrodome in Minnesota.
And that was it. Patterson was lost on waivers to the Padres soon thereafter. He appeared in four games with San Diego before settling in as a Triple-A journeyman. Patterson was last active in 2016, when he split the season between the Italian Baseball League and an independent league. Patterson and Colter Bean were the poster boys for the "he has great numbers call him up the bullpen needs him!" era.
Gregorio Petit
Petit was the infield version of Mike Tauchman of 2015. The Yankees got him in a minor trade right at the end of Spring Training and he made the Opening Day roster because Brendan Ryan was dealing with a calf injury. Petit went 7-for-42 (.167) with the Yankees and drove in five runs, including three on this swing:
Petit, Luis Cruz, Brent Lillibridge, Cody Ransom, Dean Anna, Cole Figueroa … we've seen plenty of random short-term utility infielders over the years. At least Petit is still playing. He spent some time in the big leagues with the Twins last year.
Brett Tomko
No Tomkos! Tomko is definitely the most accomplished player in our Remember Some Guys post. Dude spent 14 seasons in the big leagues, including a few weeks with the Yankees in 2009. He allowed 12 runs in 20.2 relief innings that season. I could be remembering incorrectly, but it felt like Tomko was always being mentioned as a possible spot starter while the Yankees cycled through Sergio Mitre and Chad Gaudin types. I remember him most for his post-meltdown painting sessions.