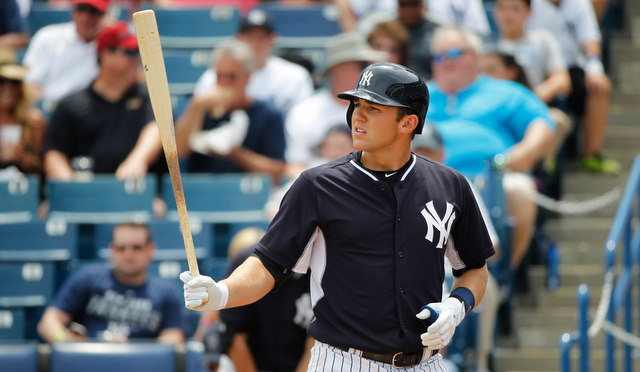 Two years ago the Yankees had three first round picks thanks to the free agent departures of Nick Swisher and Rafael Soriano. They desperately needed to add impact talent to the system at the time, and by and large they succeeded, mostly with OF Aaron Judge. Judge was the compensation pick for Swisher. LHP Ian Clarkin, the comp pick for Soriano, had a strong season in 2014 but has been dealing with elbow woes this year.
The third of those three first rounders — or really the first since it was New York's natural first round pick — was 3B Eric Jagielo, who this year is emerging as a top power hitting prospect with Double-A Trenton. He went into yesterday's doubleheader hitting .297/.380/.568 (166 wRC+) with an Eastern League leading nine home runs while ever so slightly cutting strikeout rate from 24.4% last year to 22.9%.
For some reason there seemed to be a sense of disappointment with Jagielo's 2014 season, maybe because he wasn't as overwhelmingly dominant as Judge. Jagielo, now 23, missed about a month with an oblique strain last year but otherwise hit .256/.351/.461 (132 wRC+) with a 10.6 BB% with High-A Tampa. Heck, he hit one more home run than Judge (18 to 17) in 178 fewer plate appearances.
Jagielo was supposed to join Judge in the Arizona Fall League last fall, but he took a pitch to the face in Instructional League and needed surgery to repair a fracture. Thankfully he fully recovered and is back to mashing baseballs, which is great for the Yankees. As a left-handed power hitter willing to draw walks, Jagielo is tailor made for Yankee Stadium, and he isn't terrible far away from MLB. The second half of 2016 isn't an unrealistic timetable.
There's also this: Jagielo's strong season makes him an attractive trade chip for the Yankees. Teams aren't stupid, they make trades based on their own internal evaluations, not the player's FanGraphs page, but Jagielo's performance is the kind of performance that can get a player noticed and bring scouts back for another look. Offense and especially power are hard to find these days and Jagielo offers it. That he's now doing it in Double-A instead of High-A will make him even more attractive.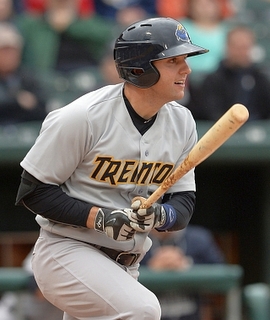 Obviously Jagielo is not a perfect prospect. He doesn't really have a position. He's currently playing third base but his defense at the hot corner isn't all that good, so much so that there's at least some talk of moving him to a corner outfield spot or first base. Jagielo's bat would play at either position though clearly he would be most valuable at third base, where the Yankees have Chase Headley in year one of his new four-year contract. Kind of a problem there.
Both Carlos Beltran and Mark Teixeira will be become free agents after next season, so right field and first base are opening up soon. Jagielo could be an option there. I know we've all kinda been earmarking those spots for Judge and 1B Greg Bird, respectively, but who knows? That's a long time away in prospect years and lots can change. Who's to say Jagielo won't be the team's best first base option in 16 months? I don't think it's farfetched at all.
Either way, the Yankees have lots of options with Jagielo, who is having a tremendous season to date and looks very much like the power/patience left-handed force he was expected to be at the time of the draft. They have the option of holding onto him, seeing what spots open up in the next year and change, or using him in a trade to bolster another part of the team this year since they do have Headley locked in at third base. There's an argument to made both ways.
Personally, I think the Yankees are at a point where they should hang on to Jagielo and see how the roster shakes out. His offense could be a very welcome addition to the lineup at some point in the next two years. At the same time, they shouldn't close the door on any trades. That would be foolish. Jagielo could net them a piece that better fits their roster going forward, say a young pitcher or middle infielder, and that's a move they have to be open to making if the opportunity presents itself.
Right now, Jagielo is living up to his first round draft slot much like Judge, which is something the Yankees really needed given their run of (thus far) unproductive top picks from 2007-12. Jagielo's success gives the team some options going forward, including the option to keep him and the option to use him in a trade.