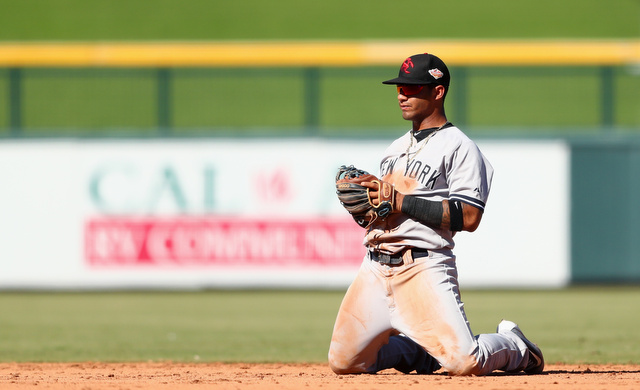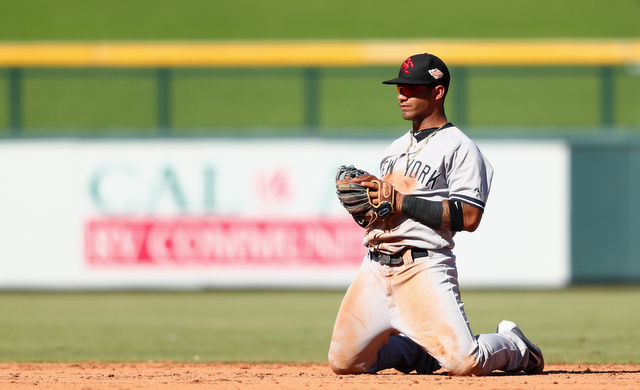 The busiest day for the Yankees this offseason — and most teams, for that matter — was November 18th, the day clubs had to finalize their 40-man roster for the Rule 5 Draft. The Yankees made 12 transactions involving 13 players that day. The team's deep farm system meant six players were added to the 40-man roster. Even then, the Yankees still lost four players in the MLB phase of the Rule 5 Draft.
The Rule 5 Draft and 40-man roster crunch was pretty significant this offseason. The Yankees lost several potentially useful players, most notably Jacob Lindgren and Nick Goody, simply because there was no room for them. Having a great farm system comes with a cost. The Rule 5 Draft crunch is poised to be even more severe next offseason too. Check out the (partial) list of prospects who will have to be added to the 40-man after the 2017 season:
Catchers: None
Infielders: Abi Avelino, Thairo Estrada, Gleyber Torres, Tyler Wade
Outfielders: Rashad Crawford, Dustin Fowler, Clint Frazier, Billy McKinney, Leonardo Molina, Tito Polo
Pitchers: Albert Abreu, Domingo Acevedo, Ian Clarkin, Nestor Cortes, J.P. Feyereisen, Zack Littell, Jordan Montgomery, Eric Swanson, Stephen Tarpley
That list doesn't include outfielder Jake Cave, righty Nick Rumbelow, and lefties Daniel Camarena and Chaz Hebert, all of whom will become minor league free agents after the 2017 season. I know those guys are easy to overlook, but who knows what'll happen this summer. Who would have guessed Kyle Higashioka would play his way on to the 40-man last year?
Also, that "none" under catchers may only be temporary. If Luis Torrens doesn't stick with the Padres as a Rule 5 Draft pick, he'll come back to the Yankees and have to be added to the 40-man roster after the season. That's a must. If Torrens is picked in the Rule 5 Draft again in December, he'll be able to elect free agency rather than come back to New York. Can't let that happen. If Torrens does come back, he'll land on the 40-man in November.
Okay, so anyway, that's an awful lot of quality prospects, huh? Torres and Frazier are in a league of their own as top 100 prospects, but many of the other guys figure to be worth protecting too. Wade and Fowler are slated to spend 2017 with Triple-A Scranton. A successful season there means they're a lock to be picked in the Rule 5 Draft. Others like Abreu and Acevedo have considerable upside, and those guys are always worth protecting.
The Yankees had to make compromises in November because 40-man roster spots are a finite resource. Would they have liked to protect, say, Torrens and Tyler Webb, and keep Lindgren? Yeah, probably, but there's only so much space to go around. The Yankees will run into a similar problem next offseason, only to a much greater degree. They not only have more prospects eligible for the Rule 5 Draft, they have more high-end prospects eligible for the Rule 5 draft.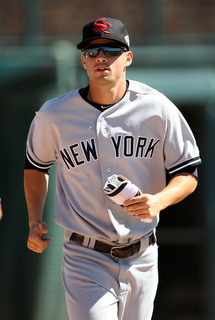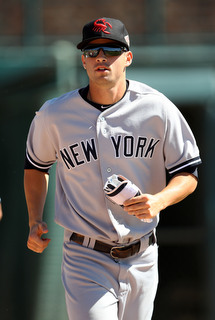 The solution is simple though, isn't it? Just trade some of them. It's basically impossible to protect them all, so rather than lose them for nothing in the Rule 5 Draft, just trade them. Package three or four together for one player, preferably a young starting pitcher with several years of control. Boom, problem solved. Two problems solved, really. The Yankees clear up the Rule 5 Draft logjam and add the young pitcher they've seemingly been craving for months. It's perfect!
Except it's not that easy. It never is. For starters, you have to find another team with the available 40-man roster space to make such a trade. No team is going to trade for these prospects only to expose them to the Rule 5 Draft. The other team's 40-man situation is an obstacle. Prospects are like kids, teams always love their own more than they love everyone else's. Not many clubs may be willing to cut one or two of their own players to make room for your players in a hypothetical four-for-one trade. There's a reason trades like this are rare.
More realistically, we may see the Yankees make a series of smaller moves. One-for-one, two-for-one trades. Trades that swap a Rule 5 Draft eligible prospect for a non-Rule 5 Draft eligible prospect. That's similar to the James Pazos-for-Zack Littell trade. The Yankees needed the 40-man space, so they sent Pazos to the Mariners for Littell, who is a year away from Rule 5 Draft eligibility. It bought them some time, basically. Not the sexiest move, but necessary.
There's eleven months between now and the deadline to set the 40-man roster for the 2017 Rule 5 Draft, so this is hardly a pressing issue. It is something the Yankees have to plan for, obviously, and you can be sure it'll affect their decision-making over the summer. In fact, Brian Cashman even admitted Rule 5 Draft status was a consideration when making trades last summer. How could it not be?
The Yankees did some great work rebuilding their farm system over the last few months and it's set them up for sustainable success in the near future. Baseball doesn't allow teams to keep prospects forever though, and rightfully so. There comes a time when you have to ether commit to the player (add him to the 40-man) or give him a chance to reach MLB with another organization (Rule 5 Draft). The Yankees will reach that point with several of their best prospects next winter, and since they can't protect everyone, they figure to move a few in trades to clear the logjam.