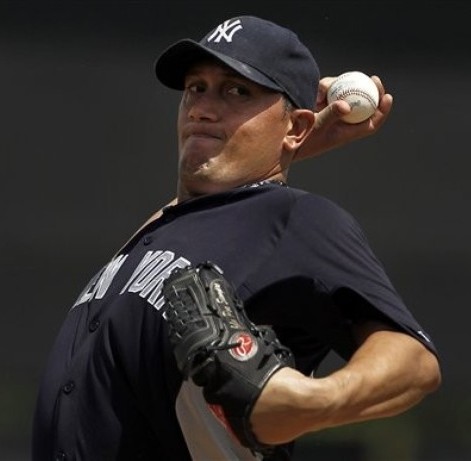 Barring something unforeseen, Phil Hughes is likely to break camp as the fifth starter. That will relegate Freddy Garcia to bullpen duty for the first time in his career, which I'm sure will be a bitter pill for him to swallow even though he's reportedly willing to work in relief. A long man is a necessarily evil, especially early in the season when the starters are still getting into their routines and the weather can become a factor, but there might be a better way for the Yankees to deploy Garcia in relief. They could turn him into 2009 Al Aceves.
In essence, the Yankees could use Freddy as a multi-inning middle reliever. Traditional long men are saved for extra innings or blowouts or things of that nature, but that's not what Aceves did three years ago. He was a jack of all bullpen trades, getting one out in a tight spot or throwing three innings to bridge the gap between starter and Mariano Rivera. Aceves was able to do that because he had a starter's repertoire, bringing four pitches and command to the table. Garcia is the same way, with the stamina to throw multiple innings and the stuff to go through a lineup multiple times. Anecdotally, he seems to have the mentality for it as well.
Now, this is one of those things that sounds great in theory but is much more difficult to put into practice. Garcia, 35, is nine years older than Aceves was back in 2009, meaning it would be foolish to think he will be able to bounce back as well or as quickly. Add in those major shoulder problems from a few years ago, and his ability to rebound is a very real question. Aceves had a rubber arm and warmed up quickly, making him the ideal candidate for such a role. At this point it's unclear if Garcia is physically capable of being used in this manner.
The Yankees have a rare luxury at the moment, employing six legitimate big league starters come Opening Day. Garcia is likely to get the short end of the stick and open the season as a reliever, but the team can do better than relegate him to low-leverage long relief spots. Freddy is a better pitcher than anyone in the bullpen other than the big end-game trio in the bullpen, so I'd like to see the Yankees give him a little more responsibility if possible. Again, it's all about Garcia's ability to do the physically. I don't think there are any questions about his stuff, command, and mentality, it's just a matter of his arm holding up.