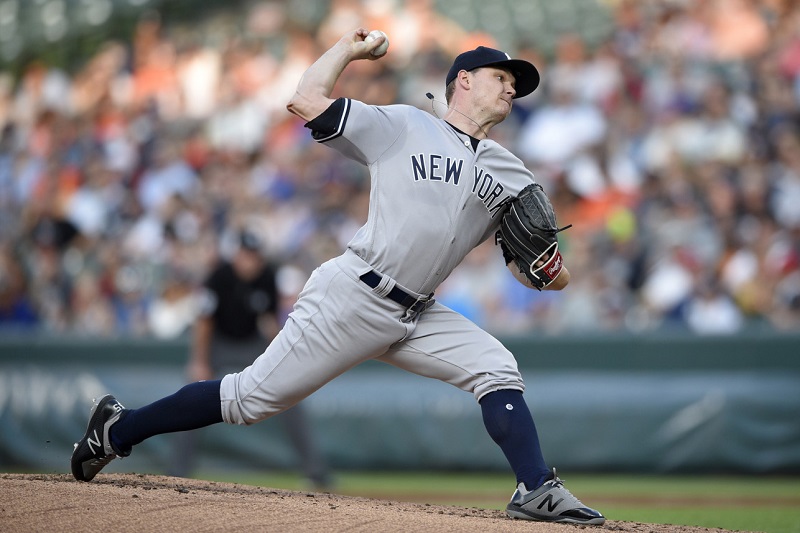 Return of Good Sonny
The Yankees kicked off their 11-day road trip in Baltimore, and after enduring yet another weather-related postponement on Thursday, finally were able to take the field at Camden Yards on Friday and do what they're supposed to do against the team with the worst record in the major leagues: win.
After the 4-1 victory, the Yankees improved to 28-1 when allowing four or fewer runs. That's by far the best record in MLB in that situation. In fact, every other team in MLB has lost at least six games in which they allowed four or fewer runs.
The Yankees explosive bats have helped them win many games — they entered the series tied for the AL lead in games with multi-run innings — they beat the Orioles by scoring exactly one run in four separate innings. This offense may be on pace to break the single-season home run record, but you can't call it one-dimensional. After Friday's win, the Yankees improved to 4-6 (.400) in games without a multi-run inning; the MLB average win percentage in those games this season is .196.
Sonny Gray continued his mystifying, Jekyll-and-Hyde act on the mound, bouncing back from a disaster start against the Angels last week to throw a solid six innings, with one run allowed on four hits. The most encouraging number might be zero — the number of times he walked a batter. It was his first zero-walk start since joining the Yankees last summer.
Although he started 12 of 22 batters with ball one, he was able to battle back and retire 11 of those 12 guys. That's a waaaaay different Sonny Gray than we've seen this season. Entering Friday, he'd put 102 batters into a 1-0 count, and nearly half (49) of them had reached base; his .480 OBP allowed in that situation ranked 10th worst in baseball (min. 70 batters faced).
His biting curveball was electric as the Orioles whiffed on five of their six swings against the pitch (the only contact was a foul ball) while taking six more curves for called strikes. None of the 22 curves he threw were put into play by the Orioles hitters.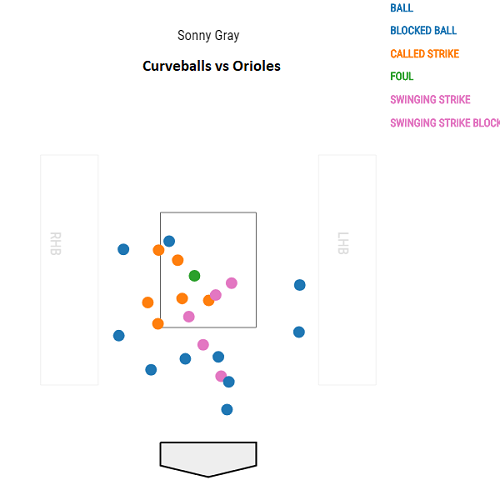 Greg Bird gave the Yankees the lead for good with his first career triple in the fifth inning, driving in Brett Gardner from second base to put them up 2-1. He entered the game slugging .778 with runners in scoring position since the start of 2017, the best mark in the AL and fifth-best in MLB (min. 50 plate appearances) through Friday.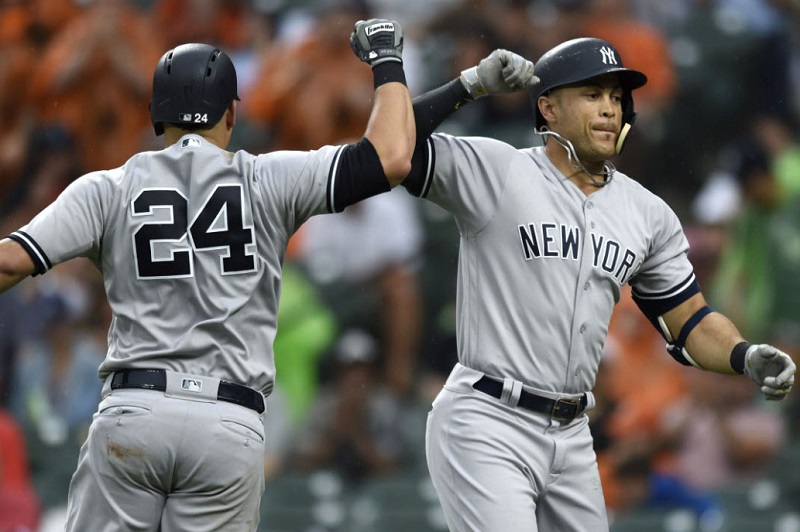 Saving Tanaka
After waiting out a non-rain-delay of one hour and 44 minutes prior to Saturday's contest, the Yankees went to work against the Orioles pitchers, pounding them for eight runs on 13 hits — including seven for extra bases — and cruised to an 8-5 victory.
They improved to 37-17, the earliest into a season (54th game) they've been 20 games over .500 since 1998, when they first reached that mark with a record of 29-9 on May 19. The parallels don't end there: both teams started slowly, with the 1998 club going 1-4 in their first five games and the current 2018 squad treading water at 9-9, before ripping off massive runs.
There's another other season-long stat that deserves mention here: The Yankees still haven't lost more than two games in a row. This is the deepest the Yankees have gone into a season (54 games) before suffering their first losing streak of at least three games since 1955, when they didn't lose three straight until their 58th game on June 12.
In order to get this win, they had to overcome another bout of homeritis by Masahiro Tanaka, who surrendered three home runs in a game for the 11th time in his career. Since his debut in 2014, the only pitcher with more three-plus-homer games than Tanaka is James Shields (15).
Despite all the balls flying over the fences for Orioles, the win was hardly a stunner. Masahiro Tanaka has gotten the highest run support among major-league starters this season, with the Yankees scoring an average of 6.75 runs in his starts after Saturday's eight-run outburst.
Miguel Andujar and Giancarlo Stanton provided the thump in the lineup, as Miggy turned a 1-0 deficit into a 2-1 advantage with a home run in the second inning and Stanton went deep in the third inning for his first homer since May 19. For Andujar, it was his first career home run that gave the Yankees a lead.
He also added an RBI double in the eighth, his 20th career two-bagger. Playing in his 51st career game, Andujar is the second-fastest Yankee to reach that milestone. The only guy who got there in fewer games was Joe DiMaggio (46 games) in 1936.
Mother Nature wins again
Sunday's game was postponed due to rain in the Baltimore area, the sixth postponement — five rain-outs and one snow-out — that the Yankees have endured this season (not including their suspended game against the Nationals). That's one more postponement than they had all of last year and their most in a season since they had nine in 2011.
So now they'll play three doubleheaders this season, the same number they played in 2017. If you're curious (and I know many of you are based on my twitter mentions), the most doubleheaders played in a season by any MLB team is 46(!) by the 1945 Braves. Yes, that's 46 days of doubleheaders — 92 games — in a 154-game season. The most the Yankees have played in a single season in the Wild Card Era (since 1995) is six in 1996.