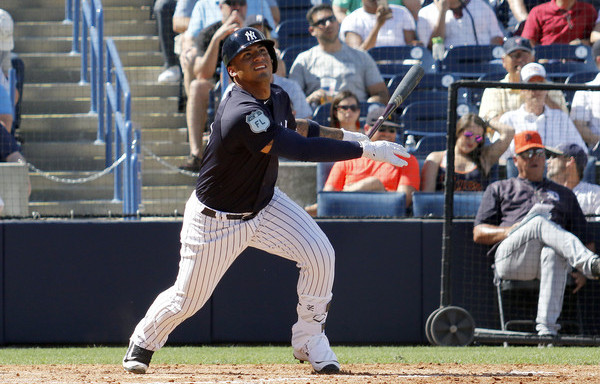 Later tonight, top Yankees prospect Gleyber Torres is expected to play his first game with Triple-A Scranton. He was promoted from Double-A Trenton on Sunday. (The RailRiders were off yesterday.) I was planning to write something about the Torres promotion and what it all means, and it kinda morphed into a thoughts post, so here are some thoughts.
1. On a scale of 1-10, my level of surprise over the quick promotion is about a six. Surprised, sure, but not completely stunned. Torres is a special talent and those dudes have a way of moving up the ladder quicker than you'd expect. "More than ready. There was nothing left for him to do (in Double-A)," said one scout to Erik Boland. "Just a complete all-around hitter. Instincts far ahead of his years. There's nothing he can't do," said another. Even Keith Law, who hates every Yankees prospect, says Torres is ready for Triple-A. Still, as of seven weeks ago Gleyber had never played above High Class-A. Now the Yankees — and everyone else, apparently — have deemed him ready for Triple-A. It's not often a player this young makes nothing more than a pit stop at Double-A. The Yankees aren't even going to let him go through the league twice. Rather than see how Torres adjusts once teams develop a book on him, they're going to see how he adjusts to the best pitching he's ever faced in his life at Triple-A.
2. Back in February I used MLB.com's scouting grades to find prospects similar to Torres, and the vast majority were not nobodies. They were bonafide MLB stars. Not role players or solid regulars. Stars. Two of the most similar, Carlos Correa and Xander Bogaerts, started their age 20 seasons at Double-A like Torres. Here is how their age 20 seasons played out:
Correa: 29 games in Double-A, 24 games in Triple-A, 99 games in MLB.
Bogaerts: 56 games in Double-A, 60 games in Triple-A, 18 games in MLB.
The Astros moved Correa very aggressively during his age 20 season and he wound up winning AL Rookie of the Year. The Red Sox moved Bogaerts a little more slowly, though he quickly took over as their starting third baseman in September and played the position throughout their run to the 2013 World Series. I don't think that sort of timetable is out of the question for Torres. I could see him making his MLB debut later this season. Torres is a special talent, though this aggressive timetable is not unprecedented. Others like Correa and Bogaerts have done it in recent years, and they've thrived.
3. Sorting out the playing time at Triple-A Scranton won't be an issue. Generally speaking Torres has been playing three games at shortstop, two games at second base, and two games at third base each week, and I expect that to continue going forward. "He is a shortstop learning second and third. This is the best way to prepare him to provide protection in case we need him in the majors," said Brian Cashman to Joel Sherman. Tyler Wade has been playing all over the field as well — he's played every position other than pitcher, catcher, and first base this season — so squeezing him and Torres into the same lineup will be a piece of cake. Rob Refsnyder will probably end up seeing more time in right field and at first base (and at designated hitter) to accommodate the extra infielder. If anyone loses playing time, it'll be Ruben Tejada, the veteran journeyman on a minor league contract. Not a young player with the potential to be something more than a spare part for the Yankees going forward. The ability to move Torres and Wade around means they can coexist easily. If the Yankees had kept both at shortstop full-time, well, then that would be a problem, but that's not the case.
4. Speaking of the RailRiders, holy cow is their lineup fun now. I mean, it was fun before, but now it's really fun. This is the batting order Scranton manager Al Pedrique will probably run out there going forward:
Tyler Wade
Gleyber Torres
Dustin Fowler
Clint Frazier
Mike Ford
Rob Refsnyder
Mason Williams
Kyle Higashioka
Ruben Tejada
Goodness. The guys will rotate positions, but those are the names. (Mark Payton will play a bunch too, likely rotating with the outfielders and at designated hitter.) Torres and Frazier are two of the top 30 prospects in baseball, and both Fowler (FanGraphs) and Wade (Baseball Prospectus) managed to sneak onto the back of some top 100 lists this spring. Usually it's exciting if a minor league affiliate has two guys like that on the roster. Scranton now has four, and it's extra exciting because they're at the highest level of the minors. They're knocking on the door of the big leagues. Without question, the RailRiders are one of the most talent-packed teams in the minors. (Just for laughs, compare Scranton's lineup to the Orioles' Triple-A lineup. Chance Sisco is the only legit prospect the O's have at Triple-A. Yeesh.)
5. As it stands, third base is really the only place to play Torres should the Yankees call him up at some point later this season. They're not going to call him up only to use him twice a week as a bench player. If he gets called up, he's going to play. Starlin Castro has been the team's best non-Aaron Judge hitter so far this season, so he's not sitting. Didi Gregorius has played well since returning from his shoulder injury, so he's not going to sit either. That leaves third base, where Chase Headley has crashed back to Earth, burned up in the atmosphere, hit every tree branch on the way down, and landed in a pile of dog poop since his insane start to the season. I don't think Headley is truly this bad, nor do I think he's really as good as he was earlier this year. The truth is somewhere in the middle. Still, he's the obvious candidate to lose playing time to Gleyber. The Yankees showed last season they're willing to sit well-paid veterans in favor of young prospects. Brian McCann, who was more productive than Headley and had more years and more dollars left on his contract as well, lost his catching job to Gary Sanchez. Mark Teixeira's playing time was reduced to make room for Tyler Austin. Headley losing playing time to Torres would not surprise me at all. Aside from occasional spot starts at short and second, third base is the only spot to get Gleyber in the lineup regularly. Castro's and Didi's (and Headley's) performances have made this an easy decision for the Yankees.
6. One argument against calling up Torres later this season, even if he is tearing up Triple-A, is service time. Call him up at any point this year and Gleyber will become a free agent during the 2023-24 offseason. Wait until the middle of next April and his free agency gets pushed back to the 2024-25 offseason. We're talking about gaining control of his age 27 season here, a peak season. I don't think that's a good enough reason not to call Torres up this year, but it is something to consider. If the Yankees stay in the race and they consider Torres an upgrade over Headley, they absolutely should call him up and put the best team in the field. I am 100% in favor of that. But, if they fall out of the race and don't have much to play for down the stretch, perhaps waiting until next April to call Torres up to gain that extra year of team control might be a smart move. Then again, the Yankees have probably done enough already this year to ensure they'll be in the postseason hunt just about all season. It would take a colossal collapse to be out of the race come August. Manipulating service time and getting that extra year of control makes sense for any team. If Gleyber is ready though, I say call him up. It's not like the Yankees wouldn't be able to afford to keep him down the line anyway.