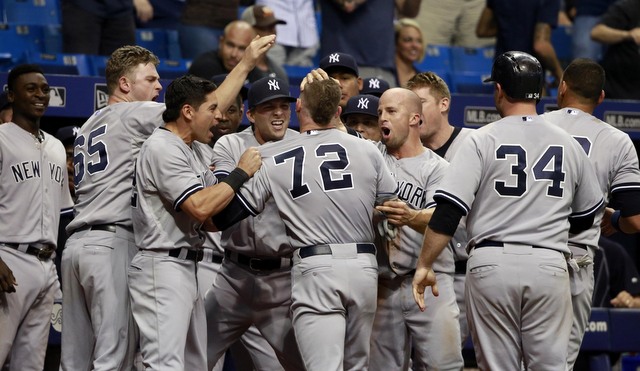 All things considered, last night's win was the biggest of the season. The Yankees have been losing ground in the postseason race the last few weeks, so much so that the Rangers are as close to catching them for the first wildcard spot as the Yankees are to catching the Blue Jays in the AL East. They're three games up on Texas and three games back of Toronto.
The Yankees were six outs away from being no-hit and one out away from an ugly 1-0 loss to last night. They instead rallied for a 4-1 win over the Rays, with the biggest blow coming from Slade Heathcott. He hit an opposite field (!) go-ahead three-run homer off Brad Boxberger in his first big league at-bat since May. It was huge. The Yankees need every win they can get right now.
Heathcott is just the latest young player to step up and help the Yankees this season. He's not alone. Regulars like Didi Gregorius and Nathan Eovaldi have played huge roles after a rocky first few weeks in pinstripes. Others like Luis Severino and Greg Bird were called up in the second half to become regulars. John Ryan Murphy's been on the bench all season. And then there are guys like Heathcott, whose time with the team has been brief.
A total of 17 different players have been called up to make their MLB debut with the Yankees this year, and those 17 rookie players have combined for 1.5 WAR. That's pretty good considering we're talking about 178 plate appearances and 112 mostly low-leverage innings. The total performance doesn't knock your socks off, but there are some big individual moments mixed in there that were pretty incredible. Signature moments, if you will.
Heathcott, obviously, hit his huge homer last night. Bird had his two-homer game against the Twins and also that go-ahead homer against the Orioles last week. Mason Williams went deep in his first big league game and had a two-double game against the Marlins. How many stellar defense plays did Ramon Flores make before he was traded away? I remember him saving a few runs in Oakland, like this one.
Severino stands out on the pitching side, clearly. He's been pretty awesome aside from last Friday's clunker. Others like Nick Rumbelow and Branden Pinder have chewed up some innings and occasionally gotten big outs when pressed into high-leverage work, and now James Pazos seems to be getting a chance in those situations. Caleb Cotham picked up the win last night and Diego Moreno had that brilliant, bullpen-saving outing in Texas.
It's not just about the rookies though. Like I said, Gregorius and Eovaldi have become rather big parts of the team, and both are only 25. Chasen Shreve was a trusted high-leverage reliever for much of the summer and he just turned 25 not too long ago as well. Gregorius, Eovaldi, Shreve, Bird, and Severino have played the largest roles among the Yankees' crop of 25 and under players this season, though they're far from the only one who've contributed.
Make no mistake, the Yankees are still a veteran team who are where they are because of guys like Alex Rodriguez, Brian McCann, Brett Gardner, and Carlos Beltran. The veteran dudes were always going to have to carry this team, and they have so far. The Yankees did make an effort to get younger this offseason, at least in moderation, and right now most of those moves have paid dividends. Heathcott's homer last night was the latest example.