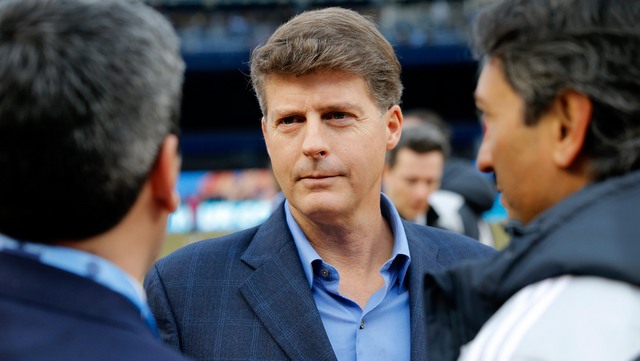 Two weeks ago the Yankees did relatively little at the trade deadline, acquiring Dustin Ackley in a minor trade with the Mariners and that's all. The team was connected to almost every available pitcher but nothing came together, mostly because the Yankees were reportedly unwilling to deal their top prospects. That strategy is both understandable and very debatable.
At the owners meetings in Chicago this week, Hal Steinbrenner told Paul Hagen it was essentially his idea to make those top prospects off limits, mentioning several by name. Here's what Hal said:
"I really don't think we had the type of glaring need that you would address by giving up one of your top Triple-A prospects," the managing general partner said Wednesday during the quarterly Owners Meetings. "I just wasn't going to do it, especially not for a loaner, a guy you're only going to have for three months or so."

…

"Again, I didn't want to give those kids up," Steinbrenner said. "We've been looking at them for two, three years now. They've progressed perfectly, and they're all sitting there at [Triple-A] Scranton/[Wilkes-Barre]. Any one of them could contribute now if need be. We've already seen that in Luis Severino the last two starts. Greg Bird and Aaron Judge. Rob Refsnyder is there. James Pazos, some of the pitchers you've seen. Gary Sanchez is having a good year. So we've got some talent in Scranton, and we're not going to give it up."
Bird was called up earlier today, in case you missed it. He'll serve as a backup at first base and DH for the time being. There's really no way to get him in the lineup without sitting Alex Rodriguez or Mark Teixeira, so we'll see how he's used going forward.
Many of the team's top prospects are in Triple-A right now — or in MLB, in the case of Bird and Severino — and those are the most valuable prospects because they're so close to helping. It made sense to hang onto them … and I also think it made sense to move some of them (not all!) for help at the deadline. The Yankees had obvious needs (pitching, second base) and they were in first place after not going to the postseason the last two years. Would have been cool to get some upgrades.
Anyway, Hal and Brian Cashman and pretty much everyone in the organization said this past offseason the Yankees will rely more on younger players going forward, and it wasn't just talk. They've walked the walk this year by calling up Bird, Severino, Jacob Lindgren, Slade Heathcott, Mason Williams, and a bunch of others throughout the summer. It's fun! As long as it doesn't hurt the team's chances of playing in October, of course.