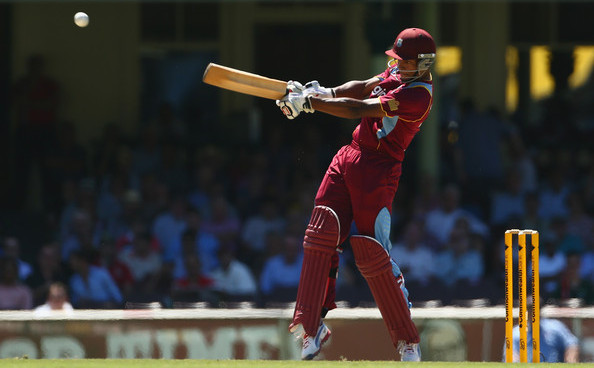 The Yankees handled some major offseason business on arbitration filing day yesterday. They agreed to new one-year deals with Michael Pineda and Dustin Ackley, and exchanged figures with Aroldis Chapman, Didi Gregorius, Nathan Eovaldi, and Ivan Nova. They can still work out contracts with those four players. They aren't necessarily headed for arbitration hearing now. Anyway, here are some assorted links and notes to pass along.
Yankees scouted cricket player Kieran Powell
Here's a fun little story. Kieran Powell, one of the best cricket players in the world, is attempting to transition to baseball. Jack Curry says the Yankees had a scout on hand for his workout Wednesday. Powell, 25, is from the West Indies, and last summer he spent eight weeks working with former big leaguers to develop baseball skills. From Jared Diamond:
Following a contract dispute with the West Indies team, Powell's agent sent footage of Powell to major-league teams, catching the eye of scouts from the Los Angeles Dodgers. They arranged for Powell to spend eight weeks last summer training in Southern California with two former Dodgers players to start the process of dropping his "cricket habits" and learning the nuances of baseball. (Powell declined to reveal which ex-players worked with him.)
Powell headed to the IMG Academy in Florida to continue training following his crash course with the Dodgers. He's been working with Tim Raines Jr. and former Yankees farmhand John-Ford Griffin. Here's some video of him in the batting cage.
There is almost no overlap between baseball and cricket at the pro level, so Powell would be a pioneer. The games are similar in that you're hitting a ball with a bat, but the swing mechanics are very different. (Cricket involves an extreme uppercut, for example.) Both games do require top notch hand-eye coordination though, and Powell has that.
Curry says the Yankees aren't interested because they didn't see any standout baseball skills, and one evaluator went as far as telling Wally Matthews, "He sucks. He's not worth any time." Ouch. I am curious see how Powell does on the diamond though.
Teams required to provide Spanish interpreters
According to Jerry Crasnick, teams will be required to provide full-time Spanish interpreters for players beginning next season thanks to a new directive implemented by MLB and the MLBPA. Many clubs already have interpreters while others rely on coaches or other players to translate during media scrums. Teams routinely hire individual interpreters for Asian players, but not Spanish players.
Carlos Beltran has been pushing for full-time Spanish interpreters for years, and in fact David Waldstein says Beltran reached out to the MLBPA to make it happen. Most notably Beltran spoke out after Pineda spoke to the media without an interpreter following the pine tar incident two years ago. "It's a problem, of course, because he can't express himself the way he wants to," said Beltran the next day when he found out Pineda did not have a translator.
Roughly 25% of players come from Spanish speaking countries these days, so this is long overdue. I'm surprised it took this long for MLB and the union to get something done. You'd think they want to help players who are attempting to communicate in their second language. Hopefully the league implements a similar program in the minors. Of course, the MLBPA has been hanging minor leaguers out to dry for years now, so who knows.
MLB not close to changing replay rules for slides
MLB is not close to changing the instant replay rules for overslides, reports Jon Morosi. Those are the nitpicky plays where the the player comes off the base for an instant. Stuff like this:
I hate that. Yes, the rules say the player is out, but man, I don't think that's what anyone intended when they wanted expanded replay. If the player completely overslides the base, yes, then replay. But a little pop up off the bag like that? Especially when it's the result of the impact of the slide? I feel like that should be off-limits from replay. Either way, no rule change is coming. Stay on the base.
ESPN releases early Sunday Night Baseball schedule
A few weeks ago ESPN announced the early season portion of their Sunday Night Baseball schedule. As always, the Yankees will be among the most featured clubs. Here are their games:
April 10th: Yankees at Tigers
May 1st: Yankees at Red Sox
May 8th: Red Sox at Yankees
July 17th: Red Sox at Yankees
The back-to-back Yankees-Red Sox games in early-May made me laugh. ESPN still pumps up the rivalry even though it's been four years since both teams were good at the same time. At least some more teams will be involved in Sunday Night Baseball next year, including the Astros and Diamondbacks. The Astros haven't played on Sunday Night Baseball since 2013 and the D'Backs haven't been featured since 2008.
Also, ESPN announced a new Sunday Night Baseball booth: Dan Shulman remains as play-by-play man and will be joined by Jessica Mendoza and Aaron Boone. Curt Schilling will be moved to other broadcasts and John Kruk is going to be an in-studio analyst. Having a pro-Yankees guy (Boone) in the booth will be a welcome change.