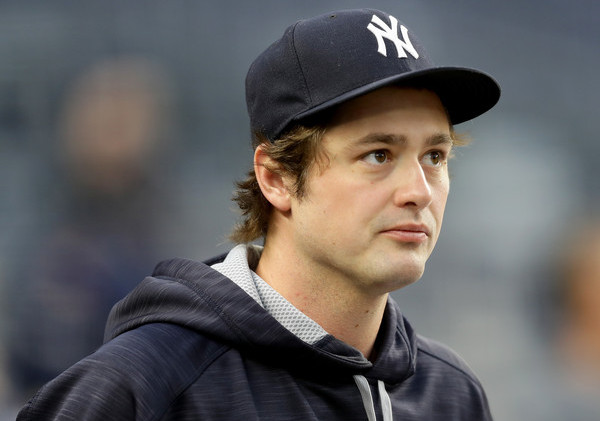 According to Buster Olney (subs. req'd), the Yankees are currently fielding offers for Andrew Miller, Aroldis Chapman, and other players. Executives with other clubs tell Olney the Yanks are prepared to discuss Brian McCann, Carlos Beltran, Brett Gardner, Michael Pineda, Ivan Nova, and Nathan Eovaldi as well. I'm sure they're willing to talk about others too.
"The clock is ticking," said Brian Cashman on Olney's podcast (transcription via MLBTR), "and the more that we stay in this mode that we're currently in, I think it's going to force us into some tough decisions that we didn't want to be in. There's some time on the clock, but it's getting late, as people would say."
One rival executive told Olney his team made an "aggressive" offer for one of New York's end-game relievers and that the Yankees are seriously considering it. Who is that team and what is their offer? Good luck getting that information. My guess is the Yankees have received a ton of offers for their bullpen arms — and other players too — some more serious than others.
The good news for the Yankees is a number of contending clubs are dealing with major bullpen issues right now. We saw what the Rangers are working with last week. The Giants bullpen blew another lead last night, and the Marlins blew a 6-0 lead Monday even with Fernando Rodney in tow. The Nationals and Dodgers could use relief help. So could the Red Sox, but I can't see a trade happening there.
Either way, the Yankees should be in sell mode and it would be wise to make everyone available, not just the impending free agents. I'm glad they're listening on guys like McCann and Eovaldi, not that I expect them to actually be moved. There's no point in halfway rebuilding. The Yankees have been toeing the line between rebuilding and contending too long. Either go all-in and sell or don't bother, you know?
The Yankees won last night — it was one of their best all-around performances of the season, in fact — but are still only 41-42 with a -27 run differential on the season. They're seven games back in the AL East and four games back of the second wildcard spot with six teams ahead of them. The Yankees have literally the worst record among AL playoff hopefuls. They're four games back of a wildcard spot, then next up is the A's at 9.5 games back.