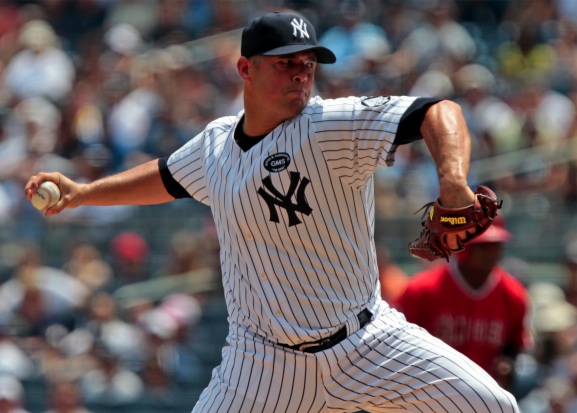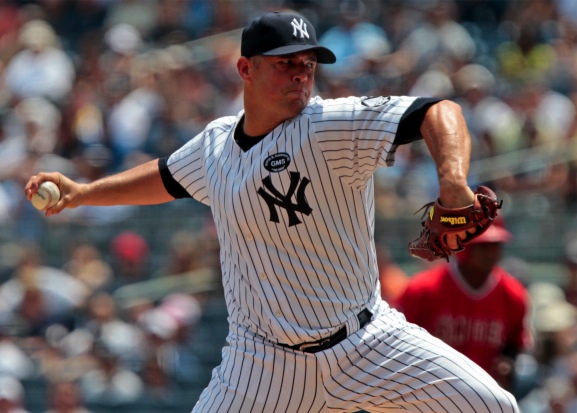 It's Javy day, and the Yanks' coaches have their work cut out for them. Vazquez, brought in to give the Yanks some quality innings from the back of the rotation this season, has hit a speed bump as he suffers through a dead-arm period. After running through May, June and July with an 8-4 record and a 3.29 ERA, Vazquez's stuff has all but deserted him.
Over his last three outings, Vazquez has gone 0-2 with a 7.24 ERA, but those numbers tell only part of the story. Against Boston two weeks ago, Vazquez was throwing low-80s fastballs, and he hasn't regained the velocity he flashed earlier in this summer. Opponents have hit .306/.403/.597 off of him over his last 13.2 innings, and he's allowed four home runs while walking 12. Earlier this week, it took him 106 pitches to get 12 outs.
The Mariners may very well be the cure for what ails him. Against Seattle this season, Vazquez has pitched quite well. In 13 innings over two starts, he's allowed just three runs on nine hits and four walks while striking out 15. He was in line for the win in his last outing, but an eighth inning Joba collapse gave the Mariners the win. Seattle will counter with Jose Vargas who is 9-5 with a 3.15 ERA. In his July 8 start against them, Vargas held the Yanks to one run on nine hits over seven innings, but the Bombers rallied late against the Seattle bullpen to take the game.
The lineup please:
Derek Jeter SS
Nick Swisher RF
Mark Teixeira 1B
Robinson Cano 2B
Marcus Thames DH
Jorge Posada C
Austin Kearns LF
Curtis Granderson CF
Eduardo Nunez 3B – First Major League start
The game starts at 1:05 and will be on the YES Network.
A-Rod Injury Update: Joe Girardi updated the media on the State of A-Rod this morning, and the news, while not very different from what the team said last night, it sounds as though A-Rod won't be available any time soon. "I don't expect him to play this series, and I'm not sure he'll even play in Toronto," Girardi said. Clearly, having him attempt to play last night was a mistake.