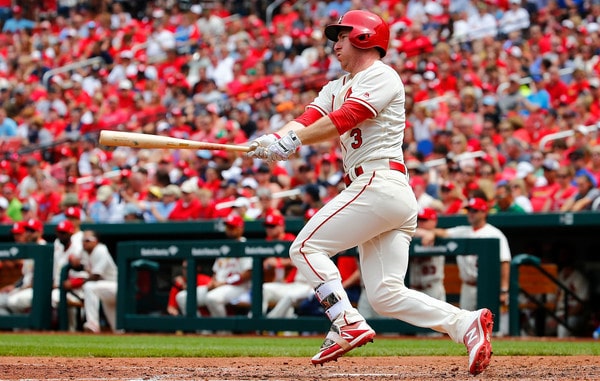 The hot stove is starting to get real hot, folks. Within the last week we've seen Robinson Cano and Edwin Diaz get traded to the Mets, Jean Segura land with the Phillies, Patrick Corbin sign with the Nationals, and Nathan Eovaldi re-sign with the Red Sox. The Winter Meetings begin next week and already some Very Big Things have happened.
The Cardinals got in on the action earlier this week when they acquired Paul Goldschmidt, arguably the best first baseman on the planet, from the Diamondbacks for youngsters Luke Weaver and Carson Kelly, prospect Andy Young, and a competitive balance draft pick. Kelly's a personal favorite, but I'm not sure there's a future stud in that package. Seems more quantity over quality.
Anyway, St. Louis plans to put Goldschmidt at first base (duh) with Matt Carpenter shifting back to third base, where he has been a consistently below-average defender in his career. This isn't quite moving Miguel Cabrera to third base to accommodate Prince Fielder, but it's close. The Cardinals will live with the defensive hit at third to add Goldschmidt to the middle of their lineup. I would too.
Adding Goldschmidt gives the Cardinals a surfeit of infielders. They have Goldschmidt and Carpenter on the corners, Paul DeJong and Kolten Wong up the middle, Jedd Gyorko and Yairo Munoz on the bench, and top 20 organizational prospects Ramon Urias, Max Schrock, and Edmundo Sosa all slated to return to Triple-A next season. Infield depth is good. Gotta have it.
St. Louis has enough infield depth that trading an infielder to address other roster needs is doable if not inevitable. Gyorko is believed to be the most expendable — that was the case even before the Goldschmidt trade — and that makes sense seeing how he's the oldest and most expensive among the non-starters. Spending $9M on a bench guy might be too much even for the Cardinals.
The Yankees need an infielder to replace Didi Gregorius, and now that Goldschmidt presumably makes Gyorko even more expendable than he was coming into the offseason, I think it makes sense for the Yankees to reach out to St. Louis about a trade. Another right-handed hitter doesn't help balance the righty heavy lineup, I know, but Gyorko brings other stuff to the table makes up for it. Let's talk this out.
1. The Yankees have had interest in Gyorko in the past. Specifically at the 2015 trade deadline. Jon Heyman reported the Yankees offered then top prospect Jorge Mateo to the Padres for Craig Kimbrel and Gyorko, but San Diego said no. Gyorko's contract was underwater at the time. It was one of those "we'll take on that bad contract if you give us that good player" trades a la Cano/Diaz. The Padres dumped Gyorko on the Cardinals a few weeks later and he turned his career around. St. Louis got good value from the contract. Point is, Gyorko was on New York's radar at one point.
2. Gyorko can hit. Not exceptionally well but at an above-average rate. Over the last two seasons Gyorko has produced a .268/.343/.447 (111 wRC+) batting line — his wRC+ in his three years with the Cardinals: 112, 112, 110 — with good walk (10.3%) and strikeout (20.6%) rates, and 31 homers in 883 plate appearances. He's annihilated lefties (150 wRC+) and been league average against righties (98 wRC+). A solid if not serviceable bat.
The downside here is Gyorko's declining contact quality. His ISO has dipped from .253 to .200 to .154 the last three years and the contact he's made suggests that's no fluke. The numbers:
| | Exit Velocity | Hard Hit Rate | Barrel Rate | xwOBA |
| --- | --- | --- | --- | --- |
| 2016 | 87.7 mph | 36.1% | 10.2% | .342 |
| 2017 | 86.5 mph | 31.4% | 8.2% | .332 |
| 2018 | 87.3 mph | 31.3% | 7.6% | .322 |
(Here's the definition of a Barrel. In a nutshell, it is the best possible contact in terms of exit velocity and launch angle. The MLB average barrel rate is 6.1% of plate appearances.)
A clear downward trend. The Yankees love their exit velocity, they fully buy into it as an evaluation tool, and Gyorko might not meet their standards. He is more or less league average (and trending down) when it comes to driving the ball. The walks and the on-base skills and the ability to mash lefties are nice, and hey, unimpressive contact quality doesn't necessarily rule Gyorko out as trade candidate. It's just something to be considered.
The bottom line here: How comfortable are the Yankees (or any team, for that matter) projecting Gyorko to be an above-average hitter in 2019? Can he maintain the 110-ish wRC+ he's posted the last few seasons another year? If he declines, can he still be league average? Steamer projects Gyorko has a .248/.321/.421 (103 wRC+) hitter in 2019, for what it's worth. That seems like something you can live with from an eighth or ninth place hitter.
3. He can play all over the infield. Gyorko is a third baseman by trade and and a good one at that. Good enough that the Padres and Cardinals have been comfortable playing him at second base and even shortstop. Over the last three seasons he's been a +6 DRS defender at second and a +24 DRS defender at third. Shortstop didn't go so well (-3 DRS) and I wouldn't want him playing there full-time anyway. In a pinch? Sure. Full-time? Nah.
The Yankees could stick Gyorko at second base while Gregorius is out with Gleyber Torres shifted over to shortstop. Then, when Gregorius returns, the Yankees could either move Gyorko to third base (his best position) and move Miguel Andujar elsewhere, or use Gyorko as a utility guy who plays all around (he's also played some first base). That's something you worry about when the time comes though. For now, Gyorko can capably step in at second base while Gregorius is sidelined. That's the key here.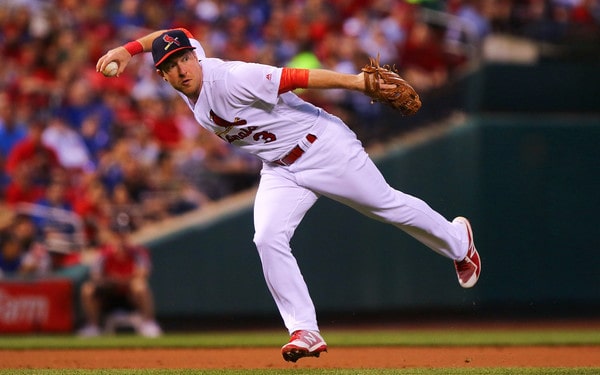 4. The money works. Holy cats does the money work. Including the $1M buyout of his $13M club option for 2020, Gyorko will be paid a total of $14M in 2019. Do you know what his luxury tax hit will be in 2019? $920,000. Well, it'll be $916,666.67 to be exact, but yeah. Gyorko will have a six-figure luxury tax number next season. Let me explain.
Back in the day the Padres signed Gyorko to a six-year contract worth $35.5M. The average annual value of that contract (and thus luxury tax hit) is a mere $5,916,666.67. Let's call it $5.92M to make life easy. The Padres were so motivated to unload Gyorko three years ago that they agreed to pay $2M of his $6M salary in 2017, $2.5M of his $9M salary in 2018, and $5M of his $13M salary in 2019.
The Collective Bargaining Agreement makes this clear: Any portion of a player's salary paid by another team is subtracted from his luxury tax hit in that season. You just can't receive credit against the luxury tax if the salary paid by the other team exceeds the player's luxury tax hit. (There's a special provision for opt-out clauses. That's why things work differently for Giancarlo Stanton and the $30M the Marlins will pay him down the road.) Here's part of the relevant text from Article XXIII(C)(2)(b)(iii) of the CBA:
Any cash consideration that is included in the Actual Club Payroll of the payor Club shall be subtracted from the Actual Club Payroll of the payee Club in the same Contract Year in which it is added to the payor Club's Actual Club Payroll. Notwithstanding the foregoing, an assignee Club may not receive an aggregate credit against its Actual Club Payroll(s) for cash consideration received in an assignment that exceeds the sum of (a) the total amount of the acquired Player(s) Salaries that are included in the Club's Actual Club Payroll(s) following the assignment, and (b) any cash consideration paid by the assignee Club to another Club in a subsequent assignment of the acquired Player(s) that is attributable to those Players.
The $5M the Padres are paying Gyorko in 2019 is subtracted from his $5.92M luxury tax hit, hence the $920k luxury tax number for 2019. Pretty cool, huh? This means nothing to the Cardinals because they won't come close to the $206M luxury tax threshold next year. It'd mean a lot to the Yankees though. If the Yankees trade for Gyorko, they'd owe him $9M in real money ($13M salary plus $1M buyout minus $5M from Padres) but he would only count $920k against the luxury tax payroll, and that's the number the Yankees seem to be most focused on.
(The low luxury tax number makes it an easy move to back out of too. If the Yankees trade for Gyorko and he stinks, releasing him and eating a $920k luxury tax hit is much easier to swallow than releasing a guy making $5M or something like that. It'd be a relatively low risk move.)
5. What would it take? This is always the hardest part. I honestly have no idea. The Padres traded a mid-range prospect (Enyel De Los Santos) to get one year of Freddy Galvis last offseason. The Blue Jays traded two mid-range prospects (Jared Carkuff and Edward Olivares) to get one guaranteed year of Yangervis Solarte plus two club option years last offseason. Do those trades work as benchmarks for a Gyorko trade? I dunno.
The money could be a significant factor in a potential Gyorko trade. The Cardinals opened each of the last three seasons with a payroll in the $150M range and right now, after the Goldschmidt trade, they're at $149.5M when you include projected arbitration salaries and all that. St. Louis might be very motivated to unload the $9M in Gyorko and thus willing to salary dump him for a minimal return. If not, giving up a mid-range prospect or two (Nick Nelson? Garrett Whitlock?) would be a-okay with me.
* * *
I should note that keeping Gyorko would make sense for the Cardinals. Carpenter is a poor defender at third and Gyorko would be a good defensive caddy. Wong could also play his way out of the lineup again, which has happened a few times over the years. That would open up second base for Gyorko. The Cardinals want to contend and keeping Gyorko as a (expensive) bench piece might not be a bad idea, especially because he mashes lefties and Jon Lester, Cole Hamels, Jose Quintana, Josh Hader, and Felipe Vazquez all pitch for division rivals.
For all I know the Cardinals might be willing to up payroll next season in an effort to win the NL Central or at least get back to the postseason as a Wild Card team. They have a lot of money coming off the books next winter (Gyorko, Goldschmidt, Marcell Ozuna, Michael Wacha, Luke Gregerson) and it could be they're open to running a high payroll in 2019 before getting things back in order in 2020. I dunno. If not, and Gyorko's salary stands in the way of doing other things this winter, I think the Yankees would be smart to swoop in and try to work out a trade.