Got a dozen questions for you this week, including a bunch about prospects. We're starting to get an overwhelming amount of questions each week — I had over 50 marked for consideration this week — and I'm trying to answer as many as I can each Friday. Don't take it personally if yours is not included. Keep sending them in.
Brendan asks: If some of these prospects stay hot (Aaron Judge), when is the earliest we could expect a call up?
Judge is the one guy who I think will get moved up sooner rather than later. The Yankees said they started him with Low-A Charleston because he didn't play at all after signing last year and they wanted to take it slow, but now that he's showing no rust and is raking, a quick move up to High-A Tampa is in order. As for other everyone else, I think we're still a good two months or so away. The season is young and most promotions don't come until midseason, after each league's All-Star Game.
Toki asks: Now that Dante Bichette Jr. is hitting (SSS), who has the higher ceiling among Bichette and Eric Jagielo?
Jagielo, no doubt. It would still be Jagielo for me even if Bichette had hit well these last two years. I have less questions about Jagielo's all-around offensive game as well as his defense. Maybe Bichette will have a higher offensive peak if it all works out, but I think Jagielo projects to be the better all-around player and it really isn't all that close. Bichette's been great this year, but three weeks do not erase the last two years.
Upstate Yanks asks: When are we going to see Mark Montgomery come up? Could be a future late-inning guy no?
Probably in the second half and yes. I actually think I ranked him too high in my Preseason Top 30 — Danny Burawa jumped him on the depth chart before getting hurt — and I'm not quite as bullish as I was last year at this time. The slider still misses bats though, and has long as that continues to happen, he'll project to be a late-inning arm.
Glenn asks: I know he's only been in the system a short time but it always seems like Caleb Smith is putting up nice numbers. Is there potential in him for the future?
Oh yes, absolutely. Smith might be the best sleeper in the organization right now. The Yankees grabbed him out of Sam Houston State with their 14th round pick last year, gave him $100k, and he has a 1.78 ERA (~2.24 FIP) with a 26.7% strikeout rate in 65.2 pro innings. That was before yesterday's 13-strikeout performance. The walks are a bit high (9.2%) but Smith is a big lefty (listed at 6-foot-3 and 200 lbs.) with a low-to-mid-90s fastball and two legit offspeed pitches (low-80s slider and changeup). Is he the next Randy Johnson? No, but there's legit MLB potential there.
Dan asks: Peter O'Brien is hitting the cover off the ball, what are the chances he gets called up to AA this year? Since he seems to be completely blocked at C, do you see the Yankees moving his position? Same questions for Gary Sanchez: if his bat can make an impact in the next couple of years, is there any chance they try him out at a different position, because he's blocked by McCann? Do you see him being promoted to AAA this year?
O'Brien to Double-A will definitely happen at some point. That will be one of the midseason promotions I mentioned earlier. He'll eventually move off catcher because he's a pretty bad catcher, not because he's blocked. O'Brien worked out at third base last year but that didn't work. They're giving right field a try early this year. I assume first base is next. As for Gary Sanchez, he should stay behind the plate as long as possible regardless of Brian McCann and whoever else is ahead of him on the depth chart. He's way more valuable there. Let him develop behind the plate and worry about where he fits into the MLB roster when the time comes. If nothing else, staying behind the plate makes him more attractive to other teams in trades. As for the promotion to Triple-A Scranton, yeah I think that will happen later this summer.
Jack asks: Among the following 4: a) would you rank the most likely (if any) to succeed as a major league regular, and b) has the ability to stick at 3B at the majors: Jagielo, DBJ, Andujar, Austin.
To answer the first question, I'd rank them Jagielo, Tyler Austin, Miguel Andujar, and Bichette. I had Austin over Jagielo in my Preseason Top 30 but they were right next too each other (almost interchangeable) and Austin has dealt with some injury problems in recent weeks. As for sticking at third base, I'd have them Jagielo, Andujar, Austin, and Bichette. I'm not married to the order of the last two and I wouldn't argue Bichette over Austin. Jagielo and Andujar are legit third baseman. The other guys are maybes at the position who are better off elsewhere.
Paul asks: Too early, I know, but so far the only Yankees worthy of All-Star berths are Masahiro Tanaka and maybe Jacoby Ellsbury, right? Nobody else is standing out to me. Who do you think the fans will vote for? Derek Jeter seems like a good shot considering he's Jeter and has avoided falling on his face. Anyone else?
I think Jeter will win the fan vote by a mile at shortstop. Who will take votes from him? Jose Reyes? That's the only other reasonable candidate and he's hurt all the time. The current AL shortstop landscape is a wasteland. Jeter has hit well this year and I think he'll go to the All-Star Game. Tanaka and Ellsbury are both worthy right now — Ellsbury's not a maybe for me, he's been too good to be on the bubble — and I think Carlos Beltran will get some consideration, though there are always a ton of qualified outfielders. McCann also has a shot, especially if his recent offensive surge is a sign he's getting back to being himself at the plate. The AL catching crop is weak, though Jason Castro and Matt Wieters are legitimate alternatives.
Matt asks: Could the Yankees look to make a deal with the Cubs for Starlin Castro, being that he had sort of a rocky season last year with the organization, and the presence of their prospect Javier Baez (though he is struggling now) seemingly on the way? Obviously depending on how he performs, what do you think it would take to get a deal done for Castro at the end of the season?
Yes, I think so. Obviously it depends how he rebounds from that disaster last year. Castro isn't a shortstop — I don't know what he is, really. Maybe a second baseman? — and he's a hacker at the plate, but he has some power and speed. He also just turned 24, so he's still very young with the potential for improvement. The contract is scary if you don't think he'll rebound (owed $49M through 2019), but that's the Cubs' problem. I'm interested but I want to see what happens this year. There haven't been many players like Castro traded over the years, so figuring out what it would take to get him is mighty tough. How do you value him? As a future star or just an okay infielder?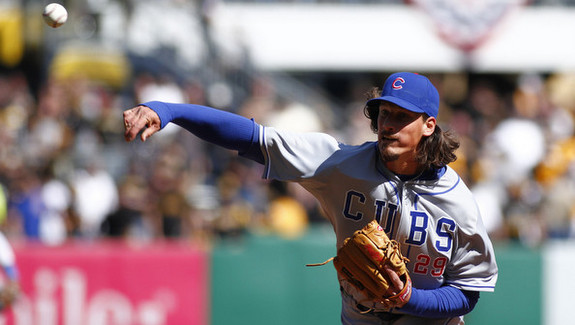 New Guy asks: Now that Ivan Nova is out for a while, what would it take to make Jeff Samardzija a Yankee? I've always liked him and he is always liked to trade rumors. Are you interested?
I was about a year ago, but Samardzija didn't improve much (if at all) last season and this year is more of the same. His strikeout rate this year is actually way, way down, but it is still very early. Samardzija strikes me as a classic "whole is less than the sum of the parts" guy, like Edwin Jackson and A.J. Burnett. The stuff says he should be an ace and you keep waiting for him to turn into an ace, but he leaves you waiting and waiting. All while he'll show enough flashes to keep you interested. Samardzija is affordable ($5.345M in 2014, free agent after 2015) and he's a fine mid-rotation horse, but he's already 29 and I'm not sure how much longer you can wait for him to live up to the potential. The Cubs are marketing him as an ace and he just isn't that.
Josh asks: You just did a piece of the Yanks trying to make a move for Cliff Lee. What do you think about Kyle Kendrick. Younger, and would come a lot cheaper. Hasn't had a great start, but maybe they could buy low.
I'm not a fan of Kendrick. He's a solid back of the rotation type who limits walks and gets grounders, but he is surprisingly expensive ($7.675M this year) and I'm not sure an upper-80s sinker/low-80s changeup righty is someone I trust in the AL East. I'd rather give David Phelps a try before giving up prospects for Kendrick. Lee is (still) an elite pitcher and I'm not a fan of cutting corners when it comes to those guys. Play the price and add a true difference maker. No one gets upset over traded prospects in October.
Joe asks: Watching the Yankees so far this season, they are definitely going 1st to 3rd and 2nd to home A LOT more than previous years. Was wondering if you could do a comparison between this year and previous years.
Sure can. These numbers do not include last night's game (couldn't wait around for Baseball Reference to update overnight), but here are the team's first-to-third numbers (small sample size, yadda yadda yadda):
| | 1st to 3rd Opps. | 1st to 3rds | 1st to 3rd % | Overall XB% |
| --- | --- | --- | --- | --- |
| 2014 | 40 | 16 | 40% | 48% |
| 2013 | 275 | 65 | 24% | 35% |
| 2012 | 280 | 78 | 28% | 37% |
| 2011 | 287 | 71 | 25% | 38% |
| 2010 | 328 | 87 | 27% | 38% |
Joe is correct, the Yankees have absolutely been going first-to-third more often this season. They've been taking the extra-base in general — score from second on a single, score from first on a double, etc. — more often as well. The league average for taking the extra-base is around 40% and the Yankees were a bit below that the last few years. This year they are well above-average.
The reason for the improvement is pretty obvious. Ellsbury, Yangervis Solarte, Kelly Johnson, and Brian Roberts are quicker than the guys they replaced, and both Jeter and Beltran are very smart base-runners who make up for their lack of speed with instincts. I think their first-to-third and overall extra-base rate will come down a bit as the season progresses just because guys will start to get tired and stuff like that, but they should still be quite a bit better than the last few years. Between all the defensive shifts and better base-running, this is a new breed of Yankees baseball.