Seven questions for this week's mailbag. Use the Submit A Tip box in the sidebar to send us anything throughout the week, mailbag questions or otherwise.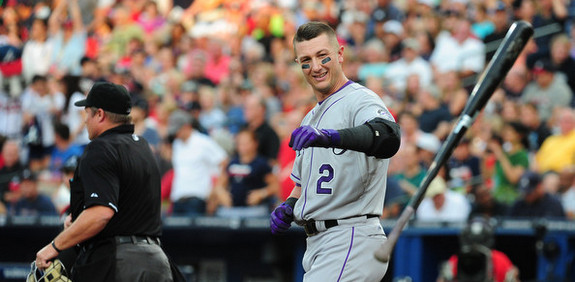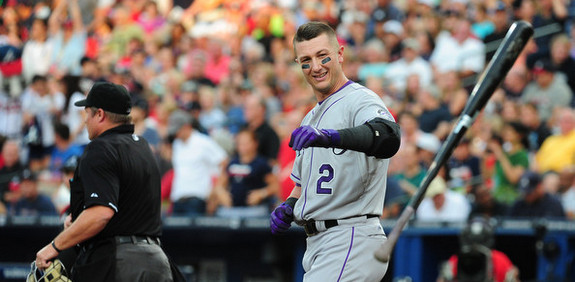 Anthony asks: After Derek Jeter retires at the end of the season, could you see the Yankees trying to swing a trade for Troy Tulowitzki? The Rockies could use some catching depth — what would a package headlined by Gary Sanchez look like? And given the length of his current contract, would such a trade make sense?
Well, the Yankees could try to swing a trade for Tulowitzki, but I'm not sure they have the pieces to get it done. This isn't a Sanchez plus two or three okay prospects thing. Tulowitzki may be owed a ton of money ($118M from 2015-20) and he is injury prone, but he's also the best all-around shortstop in baseball when he's on the field. It ain't particularly close either. It's going to take an enormous package to land him.
Tulo will turn 30 after this season and given how much salaries have inflated the last year or two, his contract is actually something of a bargain. Don't you think he'd get a lot more than six years and $118M if he hit free agency next winter? He'd blow right past that. Tulowitzki is so good that 120 games of him and 42 games of some replacement level shortstop is still arguably the best shortstop in the game.
I can't think of a comparable player who was traded in recent years — maybe Prince Fielder? — but the Rockies would be right to ask for two top young players and another two pieces. If the Yankees offered me Sanchez, Ivan Nova, Eric Jagielo, and Jose Ramirez for Tulo, I'd probably say no because I can plug only one of those right into my big league roster. There's way too much value in a shortstop who can hit*, play defense, and is signed to a below-market contract. The Yankees could try for Tulowitzki after the season and I hope they do, but their farm system would have to take a huge step forward in 2014 to get Colorado's attention.
* Tulo has a 130 wRC+ at home and a 138 wRC+ on the road over the last three years, so he isn't just a product of Coors Field.
Ryan asks: Any idea why Shinnosuke Abe never tried to make the jump to MLB? He appears to be a power-hitting catcher who also hits for average and gets on base well. Those are rarities in MLB (obviously why the Yankees went after Brian McCann so hard). Any idea why he was never posted? I know the Japanese league is more like AAAA, but it seems like he could've been a decent catcher in MLB looking at his statistics. He's 34 now, so this is more of a question of the past, not about the future.
Abe (pronounced Ah-bay) turns 35 next month and he is one of the best catchers in Japanese baseball history, if not the best. Here are his career stats:
Year
Age
Tm
G
PA
2B
3B
HR
RBI
BB
SO
BA
OBP
SLG
OPS
2001
22
Yomiuri
127
428
18
0
13
44
31
79
.225
.293
.373
.666
2002
23
Yomiuri
127
511
26
0
18
73
46
81
.298
.377
.478
.854
2003
24
Yomiuri
94
370
15
1
15
51
40
52
.303
.392
.500
.892
2004
25
Yomiuri
108
436
22
1
33
78
43
87
.301
.391
.625
1.016
2005
26
Yomiuri
130
534
16
0
26
86
51
78
.300
.365
.498
.863
2006
27
Yomiuri
129
497
26
2
10
56
35
76
.294
.349
.427
.776
2007
28
Yomiuri
140
580
20
0
33
101
57
76
.275
.355
.513
.868
2008
29
Yomiuri
125
484
27
0
24
67
44
66
.271
.350
.502
.852
2009
30
Yomiuri
123
462
20
2
32
76
34
87
.293
.357
.587
.943
2010
31
Yomiuri
140
569
27
2
44
92
58
91
.281
.368
.608
.976
2011
32
Yomiuri
114
437
21
0
20
61
35
66
.292
.363
.500
.863
2012
33
Yomiuri
138
555
22
1
27
104
69
47
.340
.429
.565
.994
2013
34
Yomiuri
135
529
17
0
32
91
86
59
.296
.427
.564
.991
13 Seasons
1630
6392
277
9
327
980
629
945
.290
.371
.520
.891
From what I understand, Abe wanted to play in MLB but the Yomiuri Giants were not willing to post him. They did the same thing to Hideki Matsui years ago. (Matsui signed with the Yankees after qualifying for international free agency.) Abe qualified for international free agency after 2009, but according to a report passed along by Yakyu Baka, he gave up on coming to MLB because his English was not good and his numbers had slipped in recent years (I assume he was referring to 2006-08). Obviously his performance rebounded.
Abe probably isn't coming over to MLB at this point, so he'll have to settle for being an NPB Hall of Famer and arguably the best catcher the country has ever produced. Oh, and he's also the first (and so far only) man to ever hit two homeruns in one inning during the World Baseball Classic (video). That's kinda neat. How many homers would he have hit in Yankee Stadium with that swing? All. He would have hit all the homers.
Kevin asks: As long as he's productive doesn't Alfonso Soriano seem like the next candidate for the Yankees to go year-to-year with on one-year deals? I'm sure they can continuously find 400+ at-bats for him as long as he's still hitting it out of the park and isn't terrible in the field.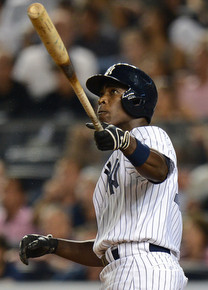 I think so. Soriano just turned 38 but he can still hit, making up for his low OBP with power. If he adjusts well to being a DH regularly, he makes sense for a lot of teams as a year-to-year guy. (Red Sox, anyone?) The Yankees could use him as a part-time DH and part-time outfielder in the coming years, especially against left-handed pitchers.
What's a reasonable salary? I don't know, maybe something like $6-8M? That would be awesome. The team can definitely find a spot for Soriano on the roster in the coming years if he's willing to go one year a time. He's a real nice guy to have lying around at the right price.
Elliot asks: Because Brett Gardner received an extension vs. a new contract, is his salary for luxury tax purposes next year (189 is moot for 2014) calculated $11.72 million as 1/5 of $58.6 million, or is it $13 Million next year (12.5 + .5 for the guaranteed money from the buyout)?
I'm so happy the plan to get under the luxury tax threshold is kaput because trying to figure out "tax hits" was a pain in the ass. Anyway, Brian Cashman confirmed to Chad Jennings that the extension acts as a new contract that starts next season for luxury tax purposes. Gardner's tax hit this year will be $5.6M (the one-year deal he signed to avoid arbitration last month) and then it'll be $13M from 2015-18 (the guaranteed dollars spread across the guaranteed years of the new extension). Things will get complicated if the 2019 club option is exercised, but that's a very long ways off. The current Collective Bargaining Agreement expires before then anyway and who knows what'll happen to the luxury tax system. No point in thinking about it now.
Andrew asks: Do you think Gardner's extension is a bit of a warning klaxon to the prospects?
Nah, I don't think Gardner's extension has anything to do with the prospects. I think the extension was simply about signing a productive player for the next few years rather than dealing with a potential bidding war after the season, when he was scheduled to become a free agent. None of the team's top outfield prospects are close to making an impact and besides, there are three outfield spots. There's always a way to squeeze someone in if they earn the playing time. Gardner is a good MLB player right now and those are the guys you keep regardless of who is coming up through the system.
John asks: Did Mariano Rivera set a record for most time as a player in the Yankees organization? I can't think of anyone else under contract for 23+ years.
I don't even know how to go about looking this up. The Play Index says Rivera and Derek Jeter currently hold the record for most seasons with at least one game played for the Yankees at 19, and Jeter will make it 20 in a few weeks. Mo spent parts of six years in the minors before making his MLB debut while Jeter was down for parts of only four seasons. (Remember, some of those MLB and MiLB seasons overlap.) Mickey Mantle and Yogi Berra both played at least one game in 18 seasons with the team and they spent hardly any time in the minors. Jorge Posada played in 17 seasons with the Yankees and had another five or so years in the minors. Jeter, Mantle, Berra, and Posada seem like Rivera's only real competition here, and since the Cap'n is retiring after the season, Mo's spot is safe for the foreseeable future.
Sad Sally asks: Is Johnny Damon the most underrated player of our lifetime?
Was Damon ever underrated? I never thought so. He was obviously very good for a very long time, and in a few years he should garner some Hall of Fame votes. I don't think he belongs in Cooperstown but voting for him would not be insane. Know who I think is more underrated than Damon? Mike Mussina. The guy had a career of almosts — almost won a Cy Young, almost threw a perfect game, almost won a World Series — until winning 20 games in his final season and I feel like he gets overlooked because of his lack of hardware. Moose is a Hall of Famer in my opinion and it sure seems like a lot of people don't realize how great he was, maybe because he played at the same time as Greg Maddux, Pedro Martinez, Randy Johnson, and other all-timers. Easy to get overlooked in that era.