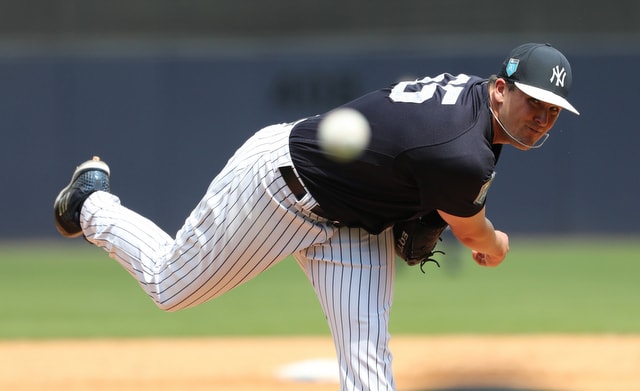 The Yankees have not yet made an official announcement, but the 2018 Opening Day roster is set. Domingo German was optioned out Saturday, and Brian Cashman told Pete Caldera that Jonathan Holder will be in the Opening Day bullpen as the eighth reliever. Here is the Opening Day roster:
CATCHERS (2)
Austin Romine
Gary Sanchez
INFIELDERS (6)
Greg Bird
Brandon Drury
Didi Gregorius
Ronald Torreyes
Tyler Wade
Neil Walker
OUTFIELDERS (4)
Brett Gardner
Aaron Hicks
Aaron Judge
Giancarlo Stanton
STARTING PITCHERS (5)
RHP Sonny Gray
LHP Jordan Montgomery
LHP CC Sabathia
RHP Luis Severino
RHP Masahiro Tanaka
RELIEF PITCHERS (8)
RHP Dellin Betances
LHP Aroldis Chapman
RHP Chad Green
RHP Jonathan Holder
RHP Tommy Kahnle
RHP David Robertson
LHP Chasen Shreve
RHP Adam Warren
DISABLED LIST (2)
Jacoby Ellsbury (oblique)
Clint Frazier (concussion)
Cashman said German is going to Triple-A Scranton to remain stretched out as a starter. German and Luis Cessa are presumably the sixth and seventh starters in whatever order. Usually when a sixth starter is needed, it's more about who's available to pitch that day rather than who the team wants to pitch that day though.
Anyway, there are no surprises with the Opening Day roster. We were just waiting to find out the identity of the eight reliever. Wade played well in Spring Training and won a roster spot, and the Drury trade and Walker signing all but guaranteed Miguel Andujar and Gleyber Torres would begin the season in Triple-A. They'll be up soon enough.
Obligatory reminder: The Opening Day roster and the end-of-season roster tend to look very different. Here is last year's Opening Day roster, for example. Holder is keeping a roster spot warm for Ellsbury, who has already resumed playing in Grapefruit League games. He could be back soon. Frazier's concussion looks to be more long-term, unfortunately.
The Yankees begin the season against the Blue Jays on Thursday, March 29th. There are still five days to go before the season opener, so the Opening Day roster could change if someone gets hurt — example: Drury taking a pitch to the elbow yesterday, though he escaped with a bruise — but hopefully that won't be the case.