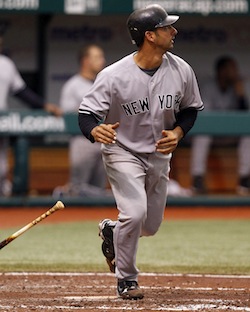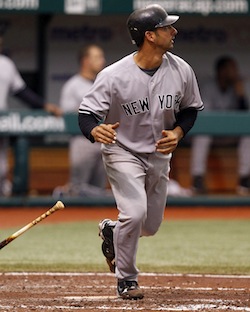 Last night's win was a typical Yankees' offense kind of win. They worked the count and put together prolonged at-bats against some young pitchers, eventually scoring the winning run on three straight walks (the first of which was intentional). Two of their nine walks on the night came from the DH spot, the first by Jorge Posada and the second by pinch-hitter Andruw Jones. Jones has been coming around of late, with three hits (two homers) and the walk in his last eight plate appearances. For Posada, the walk was a rare offensive contribution.
Less than a month ago, 22 days in fact, Joe wrote this post explaining how Jorge's season had turned around starting with the west coast trip through Seattle, Oakland, and Anaheim. He had hit .312/.437/.613 in 119 PA from the start of the trip to the date of the post, bringing his season line up to .245/.366/.412. Posada was up to a 101 wRC+ at the time of the post, which in sabermetric jargon means he was one percent better than league average offensively. Considering where he'd come from (bottomed out at .147/.250/.393 on May 10th), that was a minor miracle.
Except it didn't last. In the 22 days since that post, Posada has hit just .232/.290/.429 in the admittedly small sample of 62 PA. You can take it back further though, the slump began a little earlier in the month, with that 1-0 loss to the Indians and Carlos Carrasco in Yankee Stadium in early June. Since then, Jorge has hit just .225/.282/.408, which has dropped his season line to .224/.331/.384, an 88 wRC+. He's once again well below the league average, and the Yankees are once again getting some of the worst production out of the DH spot (third worst, to be exact) in the AL.
As we saw last night, Posada is again starting lose playing time like he did back in May. Jones pinch-hit for him against the left-hander last night, and he made a DH appearance against a lefty in Toronto. He also played left one of those games while Curtis Granderson made his first ever appearance as a DH. With Alex Rodriguez on the shelf for another month or so, the Yankees can't really afford to sacrifice offense from what should be a premium offensive spot any longer. So what happens now?
Flat out cutting Posada has been in the back of everyone's mind seemingly all season, and it seemed like the Yankees came dangerously close to doing that during that little incident against the Red Sox. Jorge's rebound saved his job for a bit, but he's a limited defensive player that wouldn't exactly be tough to replace as the backup first baseman, especially with Eric Chavez on the mend (yes, Chavez's health is far from a sure thing). Jones could continue to get more playing time and Joe Girardi could shuffle players in and out of the DH spot for what he calls "half a day off," but then you're talking about more playing time for Chris Dickerson or Brandon Laird in the lineup. That's not exactly ideal.
There's always the trade market, and Buster Olney says that while the Yanks have talked with the Mets about Carlos Beltran, they're only interested in a pure salary dump. Beltran is the best hitter available and the Amazin's are sticking to their guns about wanting a top prospect in return, and they're reportedly willing to eat most of the money left on his contract to secure that kind of return. There's guys like Josh Willingham and Ryan Ludwick, who could probably be had for much cheaper and provide an upgrade over Posada. Beltran's the sexy name, but I'm fairy certain the Yankees could find a competent DH on the trade market without giving up a top prospect, someone to hit sixth or seventh once everyone's healthy. Jesus Montero is apparently considered a non-option at this point, so there's no reason to talk about him again.
Between Mark Teixeira's current slump and Posada's continued fall from grace, the Yankees are getting below-average production from two spots typically counted on for some thump. Logically, there isn't much of a reason to expect Jorge to rebound even though he very well might, this is only 70-something plate appearances after all. The Yankees can't really afford to wait around forever to find out though. The trade deadline is less than two weeks away but A-Rod doesn't figure to come back until two weeks or so after that, so if the team wants to beef up the DH spot, now's really the time to do it.