I skipped out on the mailbag last Friday because it was a day game, so let's make up for it today. I've got a total of nine questions, so I tried to keep the answers brief. Use the Submit A Tip box in the sidebar anytime you want to ask something.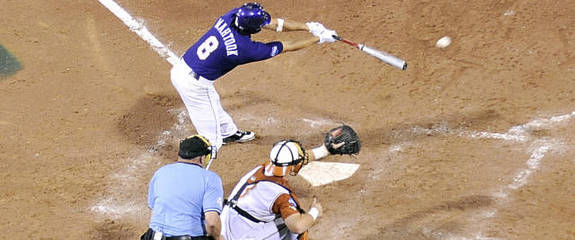 Tucker asks: Just curious, if the Yankees hadn't signed Rafael Soriano, which pick would they hold and who was taken then?
The Yankees gave the Rays the 31st overall pick, which Tampa used to take LSU center fielder Mikie Mahtook. Keith Law and Baseball America ranked him as the 15th and 21st best prospect before the draft, and he figured to come off the board relatively early as one of the top college hitters available. Mahtook is likely to be a right fielder down the line, but he's a righty hitter that offers good speed and should hit for averae and decent power. I'm not a huge Mahtook fan, but if the Yankees kept that pick and took him, I'd be thrilled. Huge value.
Bart asks: Do you think the Yankees take a chance on either Kazmir or Cantu now that they're available?
Kazmir's unquestionably a minor league contract only guy, no doubt about it, but I'm fairly certain Cantu is completely useless. He's hit just .212/.287/.367 in his last 670 plate appearances, his defense at first and third is awful, and he's swinging at more and more pitches out of the strike zone despite seeing fewer and fewer pitches in the zone. I'm surprised to see that he's still 29, but I'd don't see anyone on the bench I'd take Cantu over. I'd give anyone a minor league deal, and hey, Triple-A Scranton could use a backup first baseman/third baseman/designated hitter, so he makes sense in that regard. For the big league team though? Not right now.
Ben asks: I was wondering how the Yankees could have had a deal in place with Brian Gordon while he was still property of the Phillies organization. Is this not considered tampering? Is this type of thing okay with minor league free agents that have out-clauses? Just hoping for a clarification.
It's a permission thing. The Phillies sent a memo to the other 29 teams last week indicating that Gordon had an opt-out and they were not planning to promote him to the bigs, which essentially gives teams permission to negotiate a deal with him and his agent.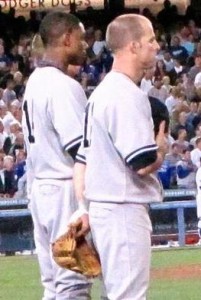 Ryan asks: Would there be any merit to switching Granderson and Gardner in the OF? Other than having a "conventional" power hitting LF and a speedy, OBP oriented CF, would there be any defensive difference with Gardner in CF and Granderson in LF?
Certainly, I think there's some merit to it. Brett Gardner appears to be the superior defender in terms of jumps and read and pure range based on the eye test, though Curtis Granderson is no slouch in that department. I like how the Yankees have brought Granderson in and have him playing a little shallower this year since his strength is going back on the ball. It's impossible to trust Gardner's defensive numbers in center only because his playing time has been sporadic out there, but I think the difference over the course of the season would be five or so runs saved by flip-flopping the two. Not negligible, but not a massive upgrade.
J.R. asks: Now that the season is more than 1/3 over, how would you rate Betances and Banuelos? Both seem to be doing well but walking a ton of guys.
They've both been fine, certainly not great but also far from terrible. We've know that Dellin Betances' control and command were question marks, they always has been, so his hit or miss starts (no walks in one, five in the next) were expected. Command was Manny Banuelos' calling card though, and he's already walked ten more this year than last in 5.1 fewer innings pitched (five fewer batters faced). That's fine though, remember he just turned 20 in Spring Training and is in Double-A. His age-appropriate level in Low-A right now. They both just need to keep working at it, but remember that Banuelos is still way ahead of the curve.
Conny asks: What's the scouting report on Jose Gil? He's having a fine season at Trenton as Romine's caddy. He looks like he could be a good backup catcher. He seems to have a good throwing arm. He also looks like a capable offensive player, he has a little pop, can steal an occasional base. Is his hitting this season an aberration or has he turned a corner in his development?
It's more small sample size than anything. He's hitting .274/.368/.487 in 133 Double-A plate appearances, but it's also his third straight year spending time at the level. Gil's always done a good job of throwing attempted basestealers out (34% success rate in his career, which is fantastic), and that's really I know about his defense right now. The Yankees clearly don't think he's going to become anything great because he's just been a backup catcher that bounces between levels the last few years, filling in whereever a backstop was needed. I want to see more before saying his turned a corner, and a lot more at that.
Sam asks: If you need a stolen base, who would rather be on first? Nunez, Gardner, Martin, Granderson, or Cervelli (he's veeeeery fast for a catcher, Suzyn)?
Eduardo Nunez and it's not particularly close right now. For whatever reason Gardner just can't steal bases anymore, at least not as well as someone with his skill set is supposed to. Granderson's success rate isn't all that great this year either, and I'm not going to ask a catcher to steal a base for me. Nunez has stolen eight bags in nine chances this year, and over the last two years his success rate in the minor is 78%. He's the lesser of several evils right now.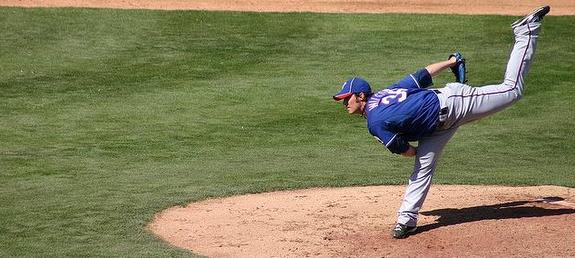 Justin asks: I've heard rumors that C.J. Wilson is looking for A.J. Burnett money, obviously that's a little steep but if he fell into the Jorge De La Rosa/Ted Lilly range do you think he fits this offseason since there is almost no other decent SP available?
If he falls into that range, which is three years and $35M or so, then I'd certainly want the Yankees to be all over him. I just can't see it though. Wilson is a) the same age A.J. Burnett and John Lackey where when they hit the market, and b) he's flat out better now than they were when they were free agents. There's also the left-handedness to consider and the fact that he's succeeded in a hitter friendly park. I won't do it, but I think you can also make a case that Wilson will age better than those two since his arm doesn't have nearly as many miles on it after spending all those years as a reliever. If he continues to pitch like he is now the rest of the season, I think that five-year, $82.5M contract is a starting point for he and his agent, not a settling point.
Zach asks: At what point in the season can we expect minor league promotions to begin? Who are likely candidates to move up for each level?
Very, very soon, as in this week. The High-A Florida State League played its All-Star Game over the weekend and the Low-A South Atlantic League will get its out of the way early this week, and that's usually when these things start to happen. As for actual promotions, here's what I'm guessing will happen…
3B/OF Rob Segedin from Low-A Charleston to High-A Tampa
3B Rob Lyerly from Tampa to Double-A Trenton
LHSP Josh Romanski from Tampa to Trenton
RHRP Chase Whitley from Tampa to Trenton
There will be several more promotions, but those are the only moves I see as absolute no-brainers. Calling up Jesus Montero and promoting Austin Romine from Trenton to Triple-A Scranton would make sense as well, but Romine's injury threw a big wrench into that. Both J.R. Murphy and Slade Heathcott (currently on the DL) have cooled off after hot starts, but they've been in Low-A since for more than a full year now following last season's early-June promotion. I say promote Murphy but not Heathcott. Slade has really, really cooled off (.209/.261/.287 since May 1st).
Banuelos and Betances are still walking guys and need to work on fastball command, and I don't see any reason to rush them. Promoting them now just makes the command stuff more difficult since they'll have to figure it out against tougher competition. And besides, the SWB rotation is pretty full at the moment. Shane Greene (currently at Charleston) and Kyle Roller (Charleston but currently injured) could be in line for promotions as well.