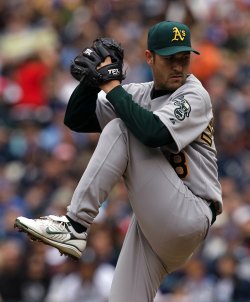 It appears as though the Yankees have found a target to help fill one of their pitching vacancies. ESPN's Jerry Crasnick reports that the Yankees "are stepping up their pursuit" of right-hander Justin Duchscherer. We've seen the Yankees and Duchscherer connected before, at the 2009 trade deadline and then again last off-season. With a couple of questionable spots in the rotation, plus the perpetual need for bullpen arms, Duchscherer could fill a number of roles on the 2011 Yankees.
Duchscherer established himself as a quality relief pitcher from 2004 through 2007, when he produced a 3.69 ERA (3.81 FIP) in 256 innings. The A's then decided to try him in the rotation, and it was for the most part a success. In 2008 he made 22 starts and pitched 141.2 innings to a 2.54 ERA (3.69 FIP). Unfortunately, that's when injuries started to take hold.
During the 2008 season Duchscherer missed 62 days due to injury, 21 with a biceps strain and 41 with a right hip strain. The hip was the most problematic issue, since he had missed much of the 2007 issue after undergoing surgery on his labrum (similar to Alex Rodriguez). Duchscherer then missed the entire 2009 season after having bone spurs removed from his elbow. He returned to open the 2010 season in the A's rotation, but after five starts he again needed hip surgery, this time on the left side.
Because of the injuries, and particularly because of his hip issues, it's hard to imagine Duchscherer making much of an impact in 2011. While he has experience in the bullpen he apparently prefers to start, though for good reason. He suffers from Irritable Bowel Syndrome, and finds that the uncertainty of bullpen life worsens the condition. Considering his physical issues with starting, I'm not sure how well he fits here. Then again, with his combination of issues I'm not sure how well he fits anywhere.
We've yet to see anything regarding terms of a potential deal, but I'll echo Larry from Yankeeist: there is no way this comes in a dime higher than the $1.75 million Duchscherer made last year, and could certainly be a split minor league/major league deal. I like Duchscherer and I think if healthy he can be an effective fourth starter on the team. But that's a rather large if. The Yanks have the money, so they might as well go ahead, but I wouldn't expect much from this move, much as I want to.