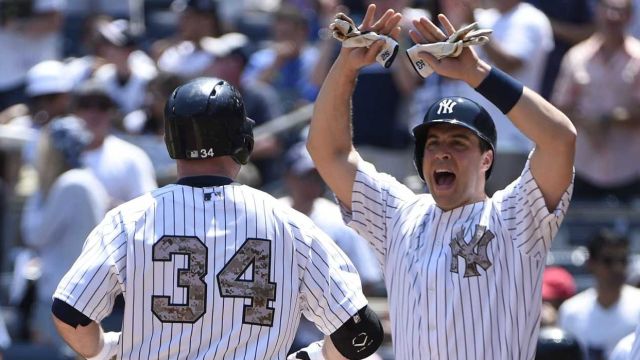 Chicks dig the longball, right?
14 runs. Five homers. Seven extra-base hits. Win!
Well, I guess that's one way to break out of the worst slump by a Yankee team in nearly 20 years. The Yankees entered this week having lost 10 of 11 games for the first time since 1995, and responded by pounding the Royals 14-1 in the series opener on Monday afternoon.
They also snapped a season-high six-game losing streak — and did so in historic fashion: It is the first time ever that the Yankees snapped a single-season losing streak of six-or-more games with a blowout win by 13-or-more runs. (On a side note, in 1902 they did end an 11-game winless streak, that included a tie, by beating the Tigers 15-1).
They wasted no time in trying to stop the skid, scoring eight times in the bottom of the first inning — a frame that included three homers, a double and four singles. It was their most first-inning runs since taking a 12-0 lead on July 30, 2011 against the Orioles. The last time they crushed three homers in the first inning of a game was August 6, 1999 at Seattle.
With nearly every guy making a positive contribution, let's highlight two notable career-firsts: Slade Heathcott crushed his first homer and Jacob Lindgren pitched in his first game.
Heathcott put together an impressive line in his first four major-league games: 5-for-12 (.417), HR, double, three runs, three RBI. The only other Yankee outfielders in the last 100 years to hit .415 or better with that many runs scored and RBI in their first four career games were Joe DiMaggio (1936) and Joe Lefebvre (1980).
Lindgren pitched the eighth and ninth innings, allowing no hits or runs, to finish off the win. He's the first Yankee age 22 or younger to pitch at least two hitless innings in his major-league debut since Stan Bahnsen in 1966.
Streakin'
After winning one game in a brutal two-week span, the Yankees won for the second time in two days … against the team with the best record in the league. Baseball, folks.
Mark Teixeira provided the power and Adam Warren the pitching, leading the Yankees to a 5-1 win on Tuesday night. Teixeira drove in four of the team's five runs with a first-inning homer and a fifth-inning double. It was his 377th career home run, tying Norm Cash and Jeff Kent for 70th place on the all-time list.
Warren put together the best starting pitching performance of his career, holding the Royals to just one run on two hits in 6 1/3 innings. It was his third straight quality start, giving him an ERA of 2.75 over his last three turns. In that span (May 13-26), all other Yankee pitchers combined for three quality starts.
Big Mike is back
The Yankees completed a sweep of the defending AL champs (yes, I really wrote that) with a 4-2 win on Wednesday afternoon, giving the team some much-need momentum heading into its west coast trip.
Michael Pineda bounced back after getting roughed up in his previous two starts, giving up one run on six hits with eight strikeouts in 6 2/3 innings. His signature slider was back in form, netting him seven whiffs on 18 swings against the pitch. Pineda had gotten just six whiffs on his slider in his previous two outings combined.
A-Rod, of course, did the milestone thing again. His three-run homer in the third inning gave him 1,995 career RBI, which broke Lou Gehrig's American League RBI record and moved him into sole possession of third place on the all-time list (or at least since 1920 when RBI became an official stat).
Despite allowing an unearned run, Dellin Betances kept his 0.00 ERA intact by striking out the final two batters in the eighth inning. He hasn't allowed an earned run in any of his 23 appearances this year, the third-longest such streak to begin a season by any right-hander. The only righties with longer streaks are Todd Worrell (25 in 1995) and Brad Ziegler (29 in 2008).