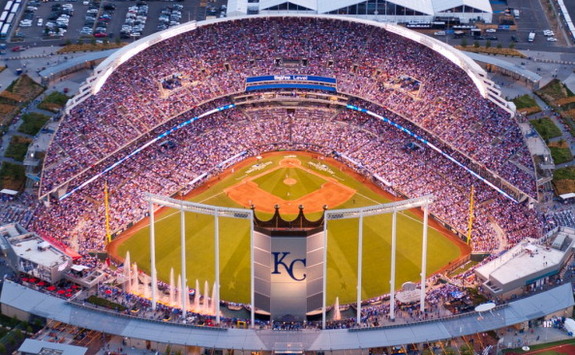 Today was supposed to be an off-day. Instead, the Yankees are in Kansas City for a quick little one-game series against the Royals. The two teams are making up their June 9th rainout game. The Royals took two of three during the rained-shortened four-game series back in June.
What Have They Done Lately?
Manager Ned Yost's squad lost to the Rangers yesterday, but they won two of three games in the series and have won a ridiculous 24 of their last 31 games. That surge has them sitting atop the AL Central at 72-57 with a +35 run differential, the fourth best record and fifth best run differential in the American League.
Offense
The Royals average 4.15 runs per game with a team 94 wRC+, so they are a below-average offense overall. It's worth noting they have baseball's lowest strikeout rate at 15.7%, nearly two full percentage points lower than the next lowest team (Athletics at 17.5%). The Yankees have the sixth lowest at 18.5%. Anyway, 1B Eric Hosmer (91 wRC+) is out with a hand problem and is the team's only injured position player.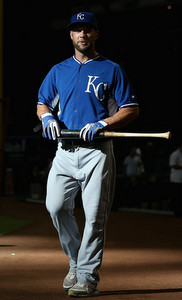 Yost's lineup is built around OF Alex Gordon (126 wRC+), who has emerged as one of the best all-around players in the game these last few years. He's every bit as good as Brett Gardner in left field defensively. Probably better, really. DH Billy Butler (99 wRC+) is having a very poor year by his standards. C Salvador Perez (96 wRC+) is a budding star and the duo of OF Josh Willingham (121 wRC+) and OF Raul Ibanez (60 wRC+) give the all-important veteran presents.
OF Norichika Aoki (89 wRC+) and 2B Omar Infante (80 wRC+) set the table from the one-two spots in the lineup — good thing the Yankees didn't give Infante four years, huh? — while OF Lorenzo Cain (108 wRC), SS Alcides Escobar (89 wRC+), and OF Jarrod Dyson (97 wRC+) provide speed. All three have stolen at least 20 bases. (The Royals lead the AL with 112 steals, 20 more than the second place Yankees.) 3B Mike Moustakas (80 wRC+), IF Christian Colon (182 wRC+ in very limited time), and C Erick Kratz (78 wRC+) fill out the rest of the position player crop.
Pitching Matchup: RHP Michael Pineda (vs. KC) vs. RHP James Shields (vs. NYY)
Figures. The Yankees are in town for one night only, and they still get stuck facing Kansas City's best pitcher. The 32-year-old Shields has a 3.28 ERA (3.69 FIP) in 27 starts and 178.1 innings this season, though his strikeout rate (7.22 K/9 and 19.2 K%) is his lowest in five years. He still limits walks (1.82 BB/9 and 4.8 BB%) and does a decent job of keeping the ball in the park (0.96 HR/9 and 10.1 HR/FB%) and getting grounders (45.1%). Lefties (.327 wOBA) have a bit more success against Shields than righties (.311 wOBA). A mid-80s changeup remains his go-to pitch, but Shields has scaled back on it a bit this year and is throwing more low-90s four-seamers and mid-80s cutters. He also throws an upper-70s curveball on occasion. The Yankees scored one unearned run in six innings against the ex-Rays righty back in June.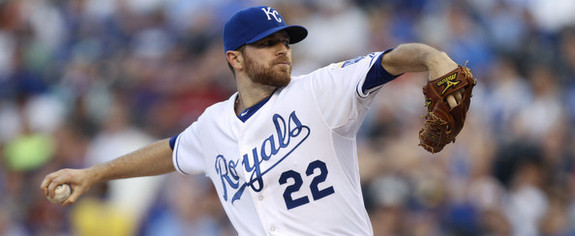 Bullpen Status
The reason David Robertson and Dellin Betances are only "arguably" the best closer/setup man tandem in baseball is because RHP Greg Holland (2.14 FIP) and RHP Wade Davis (1.30 FIP) exist. They're both outstanding. Throw in the super-hard-throwing RHP Kelvin Herrera (2.87 FIP) and you've got the best late-game trio in the game. None of the three pitched yesterday either.
The rest of Yost's bullpen includes LHP Bruce Chen (1.59 FIP), LHP Francisley Bueno (3.06 FIP), RHP Aaron Crow (5.45 FIP), and RHP Jason Frasor (3.52 FIP). Both Frasor and Crow threw an inning yesterday. Joe Girardi's bullpen, on the other hand, is a bit of a mess after this weekend's series with the White Sox. Robertson has pitched in three straight games and surely won't be available tonight. I guess that makes Betances the closer du jour. Check out out Bullpen Workload page for recent reliever usage, then check out Royals Review and Royals Authority for the latest and greatest on the Royals.