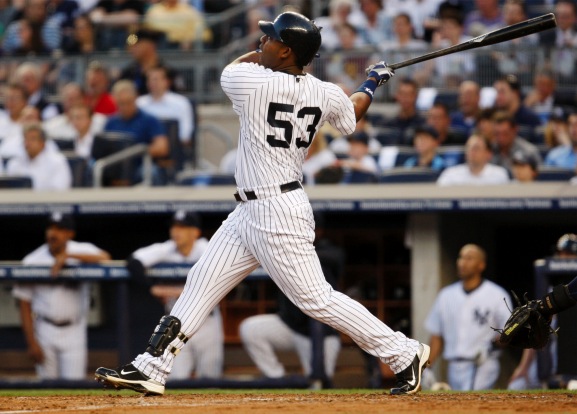 The Yankees have recalled Juan Miranda from AAA Scranton and have sent Kevin Russo back to the minors, reports Ben Shpigel. Miranda is in the lineup tonight as the Yanks' DH, and he will be batting eighth against Tampa's James Shields.
For the 27-year-old Miranda, this is his second stint in the Bronx this year. In his previous stay, he hit .217/.294/.435 with a pair of home runs in 51 plate appearances. Recently back from a minor injury, he had been on a tear at AAA over his last ten games, hitting .459/.545/.838 with three home runs and eight doubles. On the season, his minor league line is .291/.380/.509 with 10 home runs in 175 at bats. He certainly can mash the ball.
Russo has long been the Yanks' odd man out. He made a splash during the Subway Series in the Yanks' 2-1 win over the Mets in May and, a few days later, helped down the Twins 3-2. Since then, however, he hasn't hit or played much at all. He's had just 28 plate appearances over the team's last 36 games, and he's just 3 for 24 in that span. He's far better off getting regular playing time in Scranton than he is warming the bench in the Bronx.
For Miranda and the Yankees, this could be a semi-permanent move until or unless the team finds a true DH, and it could also be a trade showcase. If the Yanks want to make a move in a few weeks without selling the farm, Miranda could be the perfect trading chip. It could also spell the end to Francisco Cervelli's playing time as well because the Yanks would prefer to use Jorge at catcher while Marcus Thames and Miranda share DH duties. Either way, this is a move that was a long time coming.